As soon as you take the plunge to expand your family from one to two there comes the decision over how you are going to get both children out and about. This is of even more consideration if your oldest is still using a buggy themselves. This is where the buggy board comes in. With a small outlay, you can get an extra ride-on for your baby pram to keep your toddler from getting tired when walking longer distances.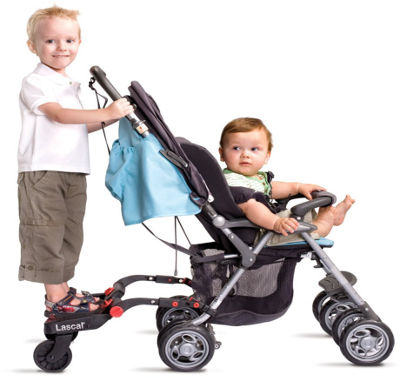 The buggy board suits children that are able to walk a reasonable distance and you can buy universal buggy boards that fit different styles of prams and pushchairs. If you don't want to buy a new double buggy/ don't have space for one but your toddler is still needing a rest on long walks then this is a great compromise. Even more importantly, your toddler will be thrilled to be riding behind the pram as it's clearly super-exciting and very grown up. In fact, is there an adult version available?!
Which universal buggy board should I buy?
So for those of you who have stumbled across this post and don't actually know what the heck a buggy board is (thanks for reading all this way 🙂 ) then here goes: A buggy board is a platform with wheels on that you can attach to the back of your pushchair or pram for your older child to stand on when you are pushing your younger child in the buggy or pram. Some of them even have little seats so your child can rest their bottoms!
Tip: Make sure the buggy board you get is universal (e.g. will fit all prams and pushchairs) and note the dimensions of the board so you can check you won't be kicking it all the time!
Lascal Maxi BuggyBoard
The Lascal Maxi BuggyBoard is the market leader when it comes to buggy boards- no real surprise as Swedish company Lascal designed the original buggy board. The Maxi BuggyBoard consistently comes top in customer ratings and is the best-seller when searching for buggy boards on Amazon. So a much-bought product with good reviews seems a great place to start your search.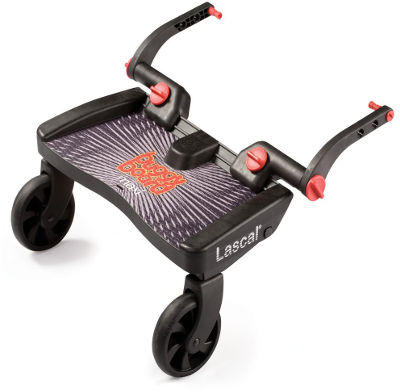 The Lascal Maxi BuggyBoard boasts compatibility all current pushchairs. Continuous testing with new pushchairs on the market each year has yet to find one that the buggy board isn't compatible with which is a very reassuring claim. The Maxi can take children from age 2 up to around 6 years old (20 kg/ 44 lbs) so you can have a rider for as long as you need it.
The buggy board will easily move up kerbs and around corners with a smooth movement and it is easy to fit as well as move between different pushchairs if you have a main and a car pushchair for example. The Lascal Maxi also hooks up onto your pushchair when it's not being used so you don't have to have it trailing behind the buggy if your child isn't riding it.
The video below gives you good advice on how to fit the BuggyBoard- added bonus no tools are needed!
The Maxi comes in a number of different colourways- black, red, and blue.
Lascal Mini BuggyBoard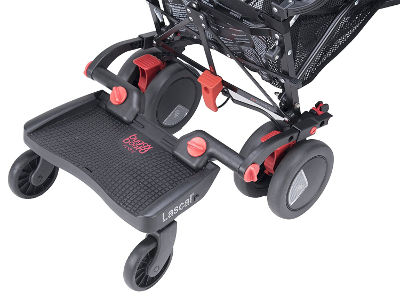 If you think the Maxi is going to be a bit big for your needs or you only ever take out a more compact stroller then Lascal also do a Mini BuggyBoard that caters to your requirements. The Mini (as the name suggests) is a more compact version with lower suspension and a smaller board. It will still hold up to 20 kg (so up to an average size five year old) and has the same easy fit system as the Maxi. It also comes in different patterns so make sure you take a look to find the perfect fit for you.
Lascal Buggy Board Saddle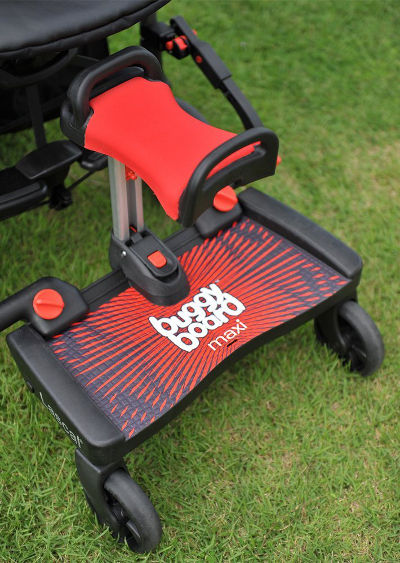 You can also get a seat for the BuggyBoard Maxi that you clip in place to the board and then fold down after use. This makes your buggy board even more versatile as your child can sit for a longer length of time. However, the seat is a similar price as the buggy board so buying both is a bigger investment- worth it if you know your child will use it for a while.
There is a discount to be had if you buy the buggy board with the saddle as a one off purchase- it sometimes comes in different colour versions so keep checking the link.
Buggy board seats with a backrest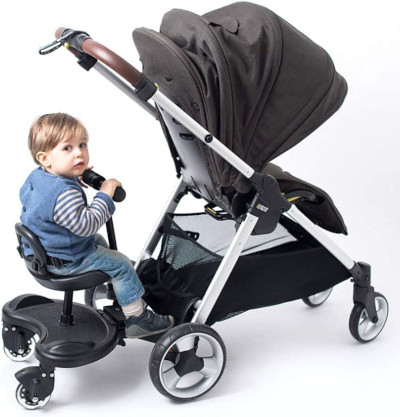 Another type of seat that gives your child a bit more support on their buggy board is one that comes with a back rest. A few different sellers have these available, they don't come cheap though so think if you will get the value for money out of it that you want.
A buggy board seat with a back rest is a really good option if your child is likely to want to use it for longer journeys or is a bit younger so might need more or better support to help them sit comfortably. Buying one of these instead of getting a double buggy might not work out to be loads cheaper, but will be a lot easier to store and to push around.
Generic buggy board with saddle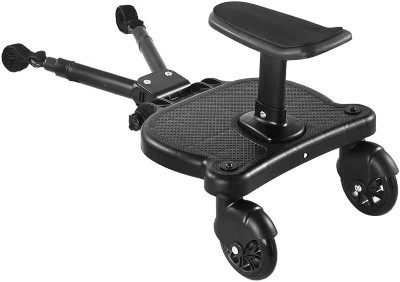 Also available on Amazon are a number of sellers with this buggy board design available. It looks a fairly basic type of buggy board with a 33 x 26 cm board and a removable saddle. It has a maximum weight limit of 25 kg and the manufacturer recommends this to be suitable for children aged 2 up to 6 years.
The attachment arms are adjustable so can be used to fit most prams or pushchairs.
Buying a buggy board: final thoughts
A buggy board is a great idea if you have two young kids but you don't want the hassle or expense of buying a new double pushchair. As long as your eldest child is happy, you can easily pop one of the buggy boards onto your baby's pram or pushchair and they can have a rest during long walks. With all the added seat options you can even give your elder child a more comfortable ride.