If you're travelling long-distance with children then the likelihood is they will want a nap or some sleep at some point along the way. Make it comfortable with the best kid's travel pillow. These come in a variety of different designs depending on what will suit your child the best.
For younger children or toddlers you will need a thinner travel pillow so it sits comfortably around their neck. If you're doing a lot of car travel then you might want to look at seatbelt travel pillows instead of neck pillows.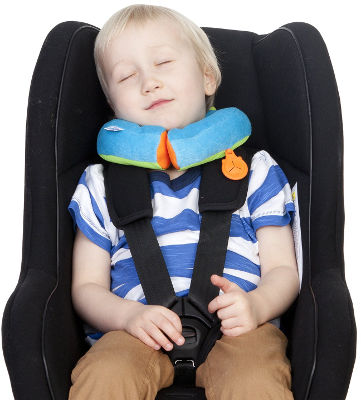 Children's Travel brand Trunki make this fun and comfortable travel neck pillow in lots of bright designs. The pillow is perfect for toddlers as it is thinner in design and has a clever front fastening magnet so that the pillow stays together under the chin to support your toddler as they sleep. The pillow also has a little grip attached so that their favourite snuggler or blanket can be kept in reach while they drop off.
Let your child pick their favourite neck pillow design- there are cat, dinosaur, fox, lion and monkey pillows amongst others.
Customers on Amazon have praised the Trunki travel neck pillow:
" Perfect for my son, who's 2 and a half. Likes it so much he wears it around his neck at home and treats it like a toy. "
" What I like about this is particular is the magnetic ends which gently close so that if your child's head falls foward they are still supported. "
" I decided to give this neck pillow a try and it actually worked, it stopped him from falling sideways or any awkward positions. "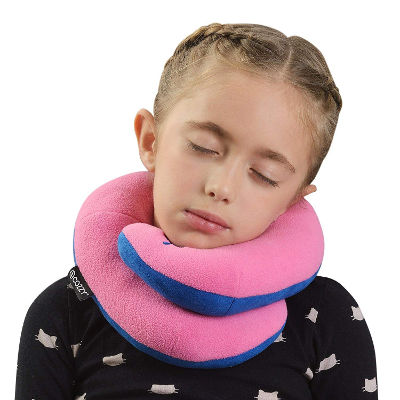 Another great kids travel pillow that supports their chin while they sleep. When your child is having a nap while seated it is always the chin support that is lacking in the neck pillows that are more readily available at airports or service stations. Without good neck support, you child's head will still flop and because child car seats are more restrictive with their head movements (for obvious safety reasons) then they can't shift position and pillow to get good chin support.
The BCOZZY travel pillow solves this by having an overlapping design at the front to provide comfortable support. An added bonus of this travel pillow is that it can go in the washing machine so you can wash off any dribbles! It comes in loads of fun colours so there should be one to suit your child.
Amazon customers are happy with their purchase:
" Lovely travelling pillow. It supported my son head with no problem. Highly recommend "
" We recently took our 7 year old on a 2 week road trip to France and Spain – and BCOZZY provided her with the support she desperately needed. No more uncomfortable neck positions and grumpiness whilst trying to take a well deserved nap. "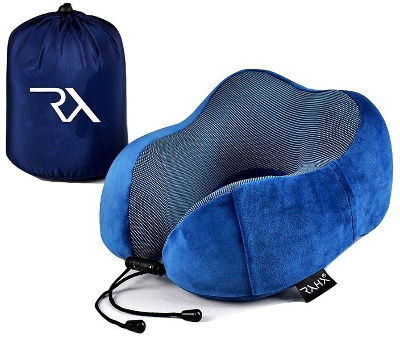 This travel pillow is designed for adults so will be too big for smaller children. However, it will be perfect for any teenagers you have travelling with you and they definitely get grumpy if they don't get enough sleep!
The pillow has an ergonomic design that moulds to the contours of your head and neck, hopefully giving you the best sleeping posture. The adjustable drawstring a the front is designed to keep the pillow snug under your chin when you are fast asleep, stopping your head from rolling. The pillow uses memory foam- perfect for forming the right shape for your head as well as being able to scrunch up small in the supplied bag.
Customers on Amazon have this to say about their pillow:
" It is by far the most comfortable travel pillow I have ever owned. "
" I've tried a few pillows for long haul flight and have finally found one that is comfortable – I even managed to nod off for an hour or so which is very rare. "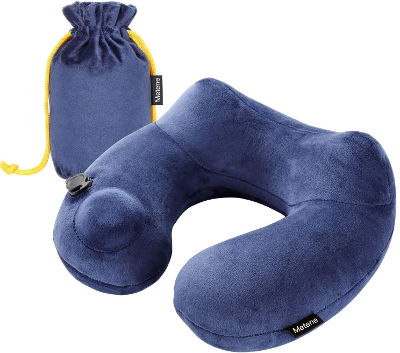 This travel pillow is one of the best rated inflatable pillows available on Amazon. Being inflatable means it's really easy to store and carry so makes it perfect for flights where you have limited baggage allowance. The pillow is adult-sized so more suitable for teenagers than younger children.
The pillow inflates using a button and you can easily adjust the amount of air in the pillow to get the perfect support for your head and neck. The travel pillow is ergonomically designed for good sleeping posture and has a soft and washable cover. It also comes with a bag for easy packing.
Customers on Amazon have praised this neck pillow:
" There is a button built into the pillow that you can press repeatedly in order to inflate it. Brilliant feature! Once inflated, the size is perfect to fit around my neck. Once deflated, it is very compact. "
" This solves the problem. Just done a ten hour journey and dosed off quie happily. Work up feeling great, my neck did not hurt and my husband is happy because he said I was not snoring "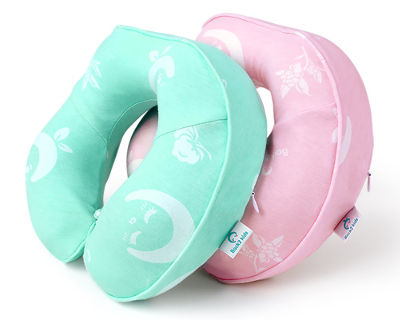 This travel pillow has the ergonomic design of adult pillows but sized to fit children. The soft cover is breathable and removable so can be washed easily. The soft interior will support your child's head and neck and will squish to the correct position for your child.
The neck pillow has a loop and toggle at the front to keep it held together under their chin for even better support. The travel pillow comes in either blue or pink depending on what your child would prefer.
Customers from Amazon have this to say:
" Good quality, supports well, looks good too "
" The pillow is made from lovely soft material and ideal size for our daughter which is 18months at the moment. "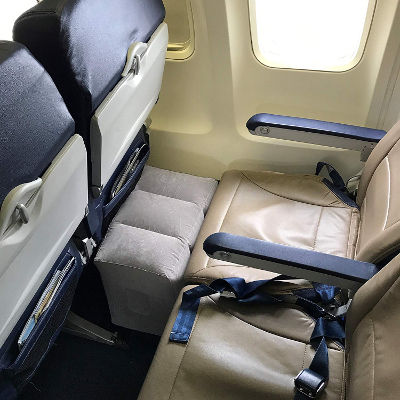 So this travel pillow isn't a neck pillow but is actually a pillow for the footwell area when you are flying with children. Inflate the cube and pop in front of their plane seat then you have the perfect space for playing or sleeping. Especially useful if you have toddlers- instead of them trying to nap sitting up or flopped across your lap, they can now nap using this for their feet and leave you free to enjoy the movies!
This one from DOCAZOO is easy to inflate and deflate and comes with its own bag to pack down into.
Amazon buyers have this to say about the pillow:
" I used this on a 12 hour flight with two kids aged 2 and 5. They are worth every penny, as they allow the child that extra few inches to rest their legs when sleeping. "
" These were brilliant for our kids on our long haul flights. They easily inflated on board, were simple to fold down and pack away, turning the kids' seats into a sort of flat bed. "