Our daughter has had her Trunki ride on suitcase since Christmas and it has now been used for a few trips away including our family holiday to Florida. I thought a review is probably in order as we've had a bit of time to decide on the good and not so good aspects of the Trunki.
Overall, we were really excited to use it but in the end, I don't think we would recommend it to other people. Some things are really great about it such as being a sit on suitcase, the strong design, great range of colours and types that can be purchased. However, as a children's suitcase I think it's a bit lacking in space and flexibility.
Using the Trunki sit on suitcase
Obviously, the major selling point of the Trunki is that as well as being a suitcase your child can sit on it and push themselves around, or you can pull them along on it. The design is really good for this- our three year old can easily move around on it, the wheels are smooth and the shape of the Trunki with the 'horn' handles seem to be just right.
Pulling it along using the detachable Trunki strap is just as smooth (our daughter wasn't thrilled with this as she prefers to be in control!) The Trunki was also easy for our daughter to pull along herself using the strap even when it was full.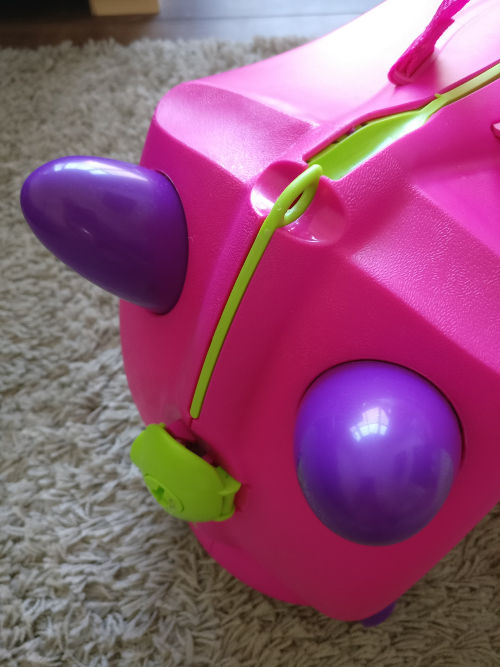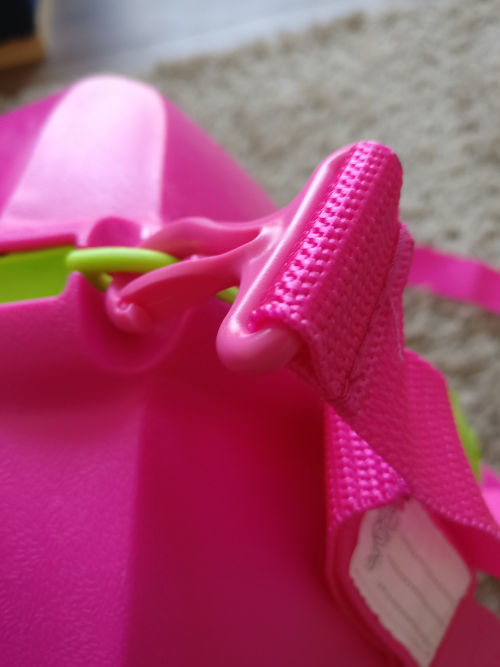 I love the bright colours of our Trunki (our one is called Trixie), the shocking pink is really vibrant and I love the contrast with the green detailing. The clasps to hold the case together are strong and were child proof (this may be seen as a plus or a minus depending on what your children are like). The carry handles were also comfortable.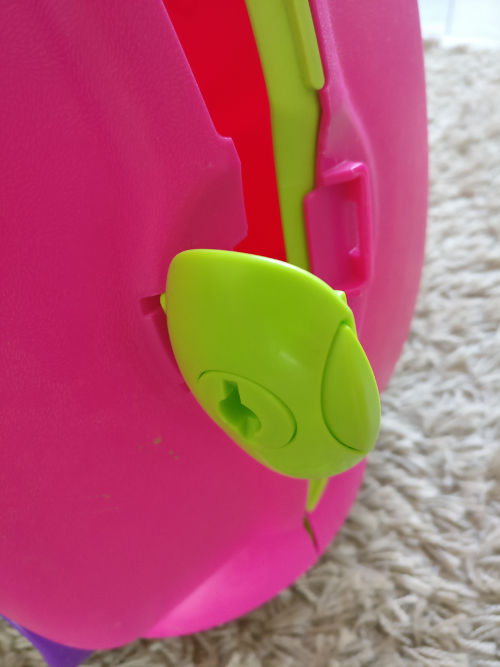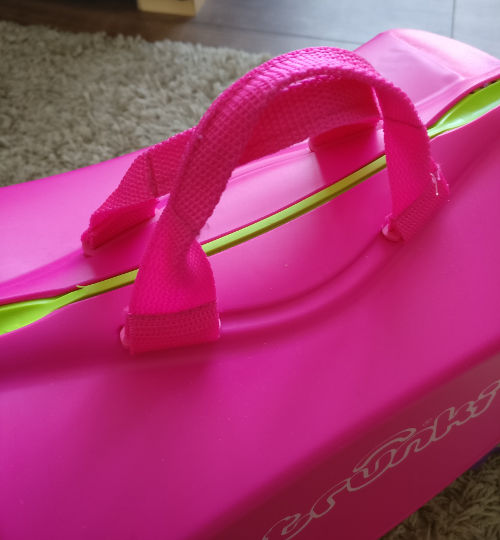 What's it like to pack the Trunki?
Many of my issues with the ride on suitcase come when I start to pack it. Because of the hard case design the suitcase opens centrally which makes it awkward to pack fully. It may be my inexperience with these types of cases (we've always had soft cases), but I kept trying to pack it and then getting thing poking out the sides or everything would flop out before I could get the case closed.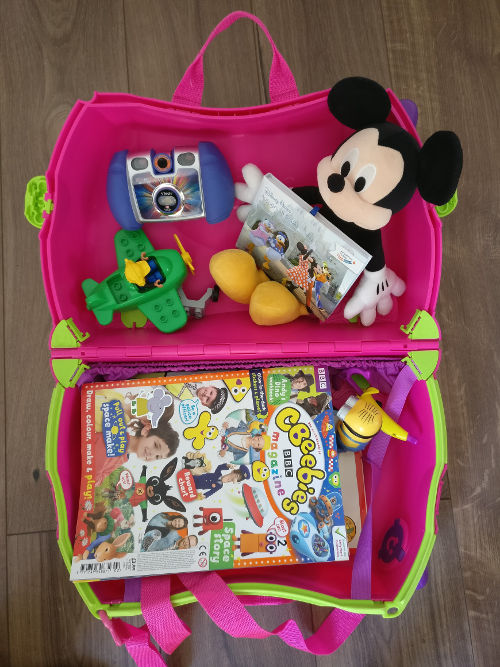 One side of the case does have elasticated straps to use so you can hold it in place a bit. I guess the technique is to always move that side on top of the other to close the case. Our plan was to use the Trunki as our daughter's hand luggage for the flight so that she could have all her things to do on the plane it there. But because of the awkward way to open and close the case it would have been really impractical. There isn't enough space on a plane to open a Trunki easily and things would have fallen out or got lost. It was much easier to use a backpack that you could easily get things in and out of.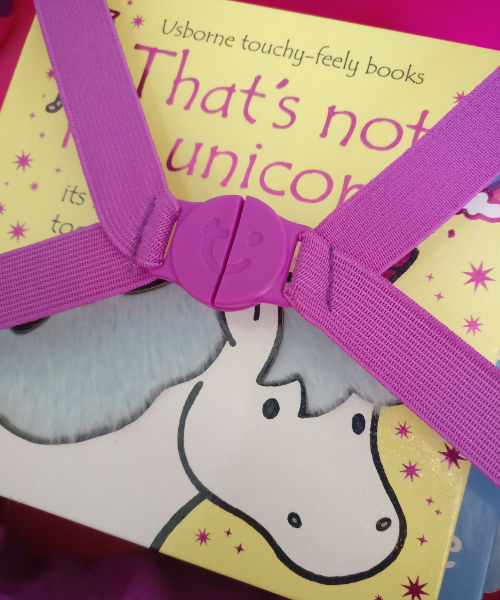 Another issue with hard suitcases is that things can't be squashed in. If something is too big to go in the Trunki it just won't fit (like my daughters Peppa Pig toy in the picture below), however, in soft cases there is some give so it might actually go in easier. This meant that you can't really fit loads of hard toys or books in the Trunki. It's much better as a case for clothes as you can keep squeezing more in. In my opinion that doesn't make it the best bet as a children's suitcase as it means you can't actually fit in all the things they want to take!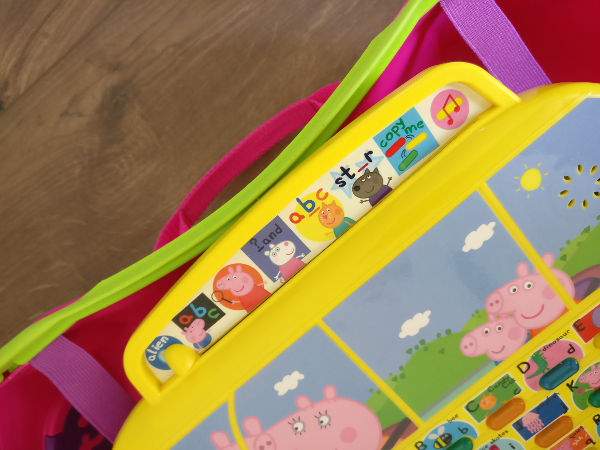 How easy is it to carry?
My final issue with the Trunki was that if my daughter wasn't actually sitting on it then it was a bit annoying to have to carry through the airport. Even though the handles are comfortable, it is still a hard bag that bangs around your legs and what with having a backpack each as well as the buggy and our daughter there are not many hands left for anything else (e.g. passport and boarding pass when going through customs). I spent a lot of time picking up and putting it down or dragging it along awkwardly without our daughter sat on it.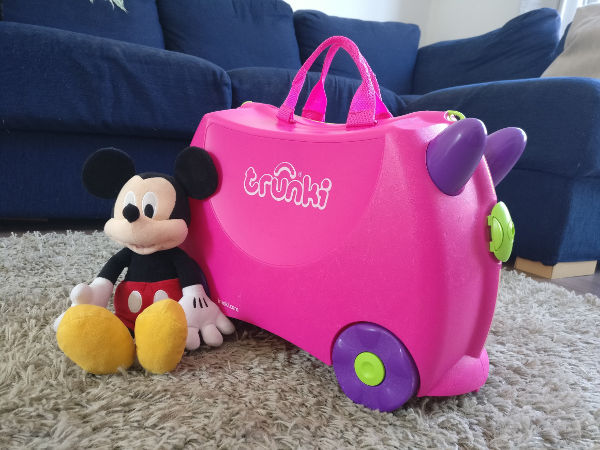 Trunki ride on suitcase review: final thoughts
I'm a little bit disappointed that the Trunki wasn't as good as I was hoping. Whilst it looks great and is clearly really well built and should last for ages, the actual reality of using it as a suitcase and taking it on a flight was a letdown. I don't think I would bother taking it with us on a flight again unless our daughter was keen to be riding on it more of the time or was more interested in pulling it along herself. I will still use it to do weekend trips as it is still able to hold enough toys and books to keep her happy for a few days away.