If you're looking for the best toys for a 3 month old baby, then we have a great list of toys large and small that will be perfect for your inquisitive baby.
When your baby gets to 3 months old they will have a little bit more control over movements and a bit more strength. They can keep their head more steady, reach out and sometimes grasp things with their hands. They will also be able to kick their legs a bit. Toys that can support this development include anything that can be easily held in their hands like rattles and teethers, play gyms and mobiles that can be reached and kicked and sensory toys that aid discovery of their world.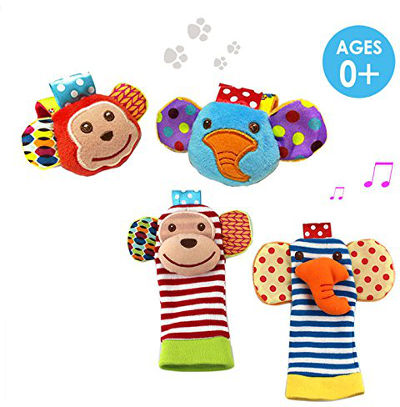 These wrist and foot rattles are just perfect for young babies as there's no need for your child to have a strong grip to enjoy them. Pop them on and your baby can move their arms and kick their feet to make sounds and have fun. They provide lots of sensory exploration with fun and colourful animal designs made of soft and scrunchy material. They would also make a lovely gift for a baby shower or newborn present.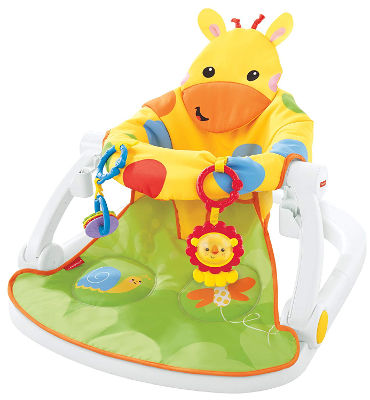 This Giraffe Sit-Me-Up Floor Seat is from the respected children's product company- Fisher-Price. Relied upon by parents across the world to make well designed and useful products for babies, this sit up chair is no different. Helps your baby see the world in this fun and soft chair so they can investigate toys and rattles that you clip onto the front bar.
It comes with a snack tray for when you start to wean and is easily portable to take with you when you need it. The cover is also washable so no need to worry about any spit ups or mess.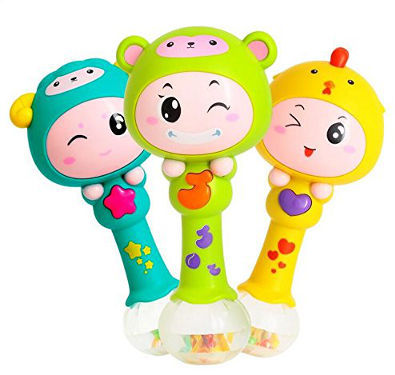 These fun and colourful musical rattles encourage exploration and give great 'cause and effect' feedback to promote play. When the rattle is shaken quicker, the music gets quicker too. The rattles have tactile grips perfect for little hands and have a large button to toggle between different sound settings. The cute faces also offer recognition building when your baby is a bit older and starting to differentiate faces.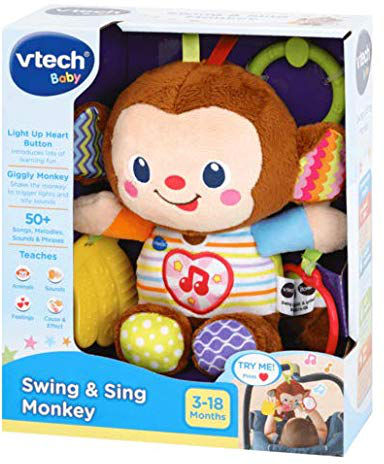 This cute cuddly monkey is a great toy for when you are out and about. The toy can easily be clipped to a baby carrier or pram to provide your baby with sensory stimulation while you're busy with shopping or driving. The monkey has lots of different fabrics and textures for your baby to explore and a tummy button that triggers songs and music for your baby to listen to.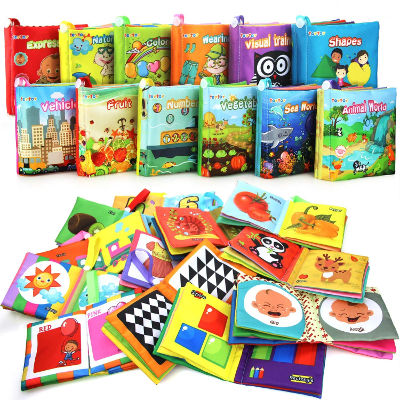 Your baby is never too young to have their first book and these tactile soft books are the perfect start. 12 different titles will keep your little one amused as they get to grips with the different pages and fun pictures.
The books are machine washable so once your baby has finished using them as a teething toy(!) they can go straight in the washing machine. Little loops at th spine mean they can easily be attached to the pram or car seat and won't get lost once your baby is able to cast.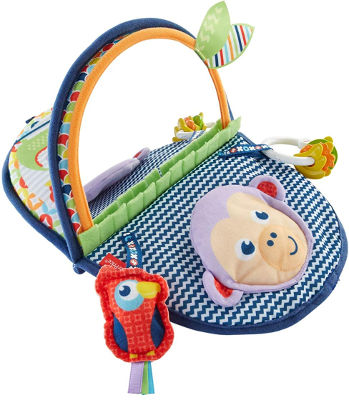 Tummy time is an important part of your baby's development- strengthening their neck and core muscles and encourage gross motor skills. Some babies aren't happy on their tummy so anything that will encourage them to do it is a win.
This fun toy props up in front of them and has a mirror so they can discover themselves (an important skill in itself). The fabric has crinkle panels as well as tag toys for gripping and pulling to provide all-round sensory stimulation.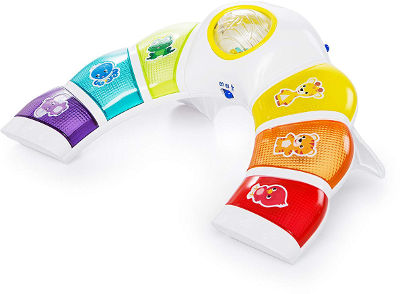 Another fun toy that can be used to encourage tummy time, the Baby Einstein light bar activity station is a great toy for a young baby that will be played with over the coming months. Like a small keyboard, the activity station has large buttons to be pressed with different sounds and colours.
The curved shape fits neatly around them while sitting or lying so that all the buttons are in reach. Lots of stimulation and motor development required. It also features different languages (English, Spanish and French) if your household is bilingual.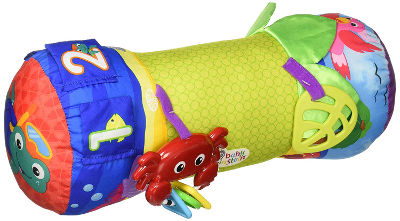 Also encouraging tummy time, the prop pillow is another great toy to have for a little baby. This fun pillow has a crab rattle and leaf teether to discover within an arms reach as well as crinkle fabric for sensory exploration. The roll gives your baby extra support as they are starting out on their journey to crawling and can be used when they are more mobile as something to push and chase after.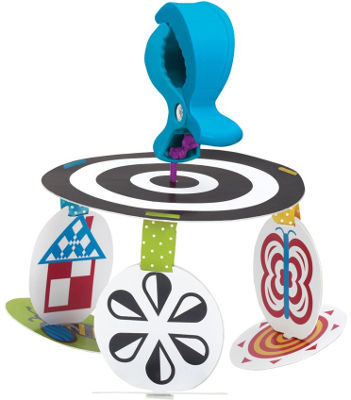 The Manhattan Toy Company who have made this travel mobile are renowned innovators in using black and white patterns to stimulate and engage babies. This mobile to go is a perfect example of their ethos, fun monochrome shapes and patterns that will get your baby reaching and looking at their mobile. A great travel product that can be attached to prams and car sears and will fold down small when not in use.