Colic is quite a common digestive condition in babies and can be so hard for you to experience as well as solve. It's also hard to diagnose in young babies as the signs are similar to others so if you suspect colic it is always best to get advice from your health visitor or GP.
As colic is caused by feeding, a change in bottle to one that is designed to lessen specific symptoms is a good idea. We have a few bottles to recommend that are the best anti colic bottles available.
Symptoms of colic
Crying for more than 3 hours a day, for 3 days a week for at least one week.
Your baby is hard to soothe and settle
They show signs of being uncomfortable such as clenching fists, going red in the face, and arching their back or bringing their knees to their stomach
Your baby has a rumbly tummy and is very windy (burping and passing gas)
Tips to help a colicky baby
Along with taking a look at the best bottles for colicky babies below, make sure you're helping to soothe your baby with these tips:
Have your baby as upright as possible when feeding to reduce the amount of air being swallowed
Wind your baby thoroughly after every feed
Try to soothe your baby by rocking them either over your shoulder or in their pram or crib
If they are really unsettled a warm bath may help to soothe them
White noise can really help to distract them if they are in pain from colic
Make sure to keep feeding them as usual so they will continue to thrive
Look after yourself- long periods of time with an upset baby will bring you down so ask for help from friends and family if you're struggling
What are the best anti colic bottles?
Every bottle brand does an anti-colic bottle so some of the process of finding the best one will be trial and error. What works best for your baby might not be the same as what works for another child. In general, they are designed to reduce swallowing of air along with the milk and will have leak-free teats to stop over ingestion.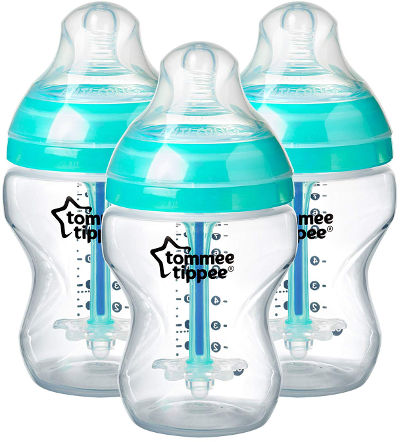 Tommee Tippee are a leading brand when it comes to making products for babies and children and their bottles are no exception to their commitment to advanced parenting products. Their anti-colic bottles have a tube in them that draws the air away from the milk reducing wind for your baby. The tube also has a heat indictor- if the tube turns pink the milk is too hot for your baby to drink.
The star valve prevents leaks from the teat as no milk can travel back up the tube. The teat on the bottle is award-winning in its breast-like feel and design to encourage good latching for your baby.
Do check the comments on this one though, the anti-leak star valve comes in for a bit of a pasting! It appears to be very sensitive to milk that is too warm and the bottles can be stirred but not shaken (the reverse James Bond…) so follow the Tommee Tippee milk prep instructions fully to make sure it is anti-leak.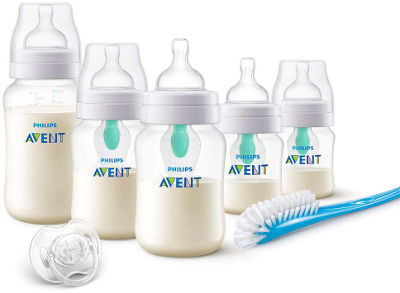 The Philips Avent anti-colic bottles have a similar design with air-free vent that stops as much air getting into the milk, preventing wind. The teat is designed for a comfortable latch and prevents collapse for continuous feeding. The teat also stays full of milk even when horizontal so aids upright feeding- a real plus with a colicky baby.
A big plus with the Avent Anti-Colic Bottles is that the air-free vent can be assembled into classic + as well as anti-colic bottles so you can keep using it when your baby is needing bigger feeds.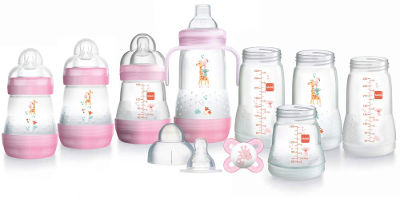 Instead of having a tube or vent component that attaches to the teat, the MAM Anti-Colic system has a vented base to the bottle that reduces the amount of bubbles or air getting into your baby's milk.
These bottles are also self-sterilising- perfect for travel or if you don't have loads of room for a sterilising. Just fill the base with 20 ml of water and blast for 3 minutes in the microwave to sterilise the whole bottle. It's now ready for their next feed.
This starter set is a really good buy for a newborn- it has all the bottles and teats that you will need for their first year, no need to buy anymore as your baby grows.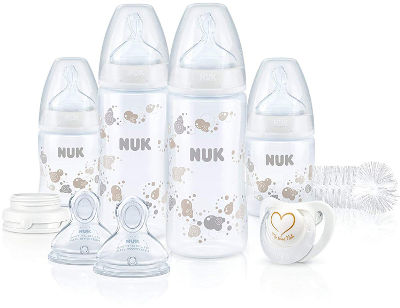 The NUK anti-colic baby bottles have a special vent in the teat to reduce air intake into the milk flow. The teats are modelled to closely mimic the shape of a woman's nipple during feeding to encourage good latching.
These bottles are supplied with medium flow teats to allow easy transition between breast and formula milk or breastfeeding and bottle feeding to support how you are feeding your baby. However, some parents in the comments have found that the medium flow teat is too fast for their newborn, but perfect for slightly older babies. As with most parenting, it will down to trial and error to find the perfect fit for you and your baby.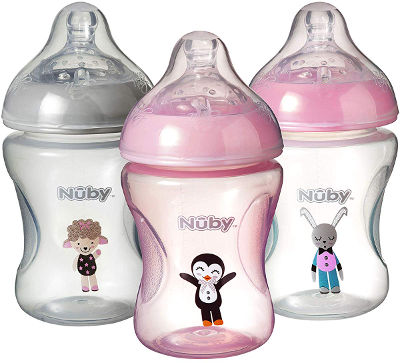 If you need a slow flow teat for your newborn then this Nuby anti-colic bottle set is for you. The teats are breast-like in size and are designed to flex and stretch like a nipple to encourage good latch and feeding. The three valves in the teat helps prevent air being ingested with the milk.
The wide-necked bottle makes it easy for cleaning and for filling and they come with no leak sealing rings so you don't need to worry about spills. Finding the right bottle to suit your baby can be hit or miss so Nuby offer acceptance or money-back guarantee if these aren't the bottles for your baby.