Money boxes are a lovely present for a child and are especially sought after as christening or 'first gift' presents as they are something that the child will use for a long time. A money box as well as being a beautiful gift can also be used to begin teaching older children about savings and budgeting as well as developing counting and sorting skills in younger children. Always remember to supervise younger children when handling money as it is a choking risk.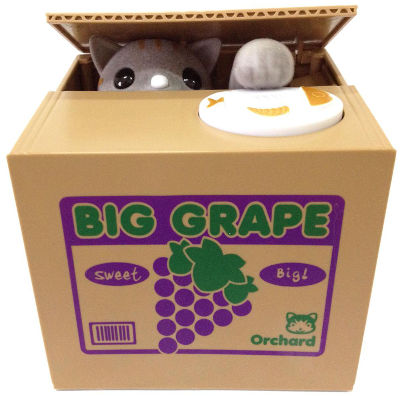 This cute money box comes in a number of different fun designs including the cat with different boxes and a panda. All you do is place a coin on the white spot and the cat will peek out of the box, reach out it's paw and steal the coin into the box. The cat even says 'thank you' once it's taken the coin. Really good fun for little children and can be played over and over.
[amazon box="B01K9DOEJ0″]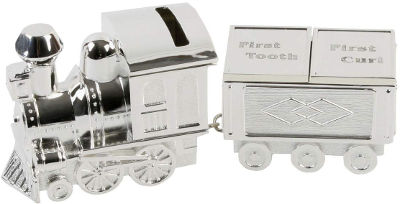 A classic christening style gift and keepsake, this silver plated train money box is highly detailed and will last as your child grows. The money box is the train engine and the carriage has a little lined box to put in your child's first tooth and first curl to keep them safe forever. The train comes presented in a gift box so is all ready for you to wrap and gift.
[amazon box="B001K14IFG"]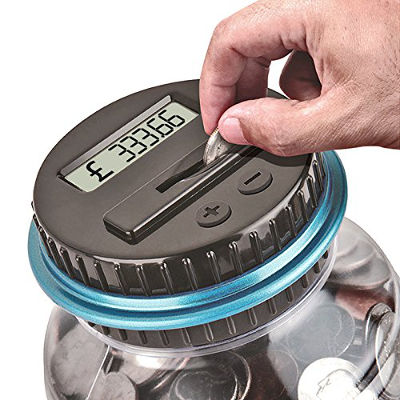 This money box is a great way to keep track of the money you have stored. Once you put a coin in the slot the digital counter will add it to the total. All English coins can be recognised and counted by the money box so your child will always know how much money they have saved. The money box is a great incentive towards saving for a bigger purchase and will encourage saving.
[amazon box="B0741294HZ"]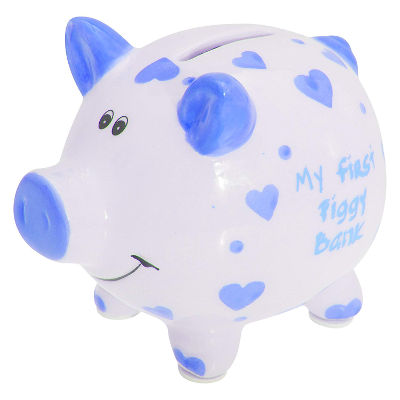 We couldn't have a best selling money box list without at least including one piggy bank. This one is pretty much a classic of the kind: cute and round piggy on all fours with a slot in the back to keep all your money. The piggy bank is ceramic so keep it out of little hands until you're sure they won't drop it. The cute hearts make it a perfect gift for a birthday boy or girl.
[amazon box="B01I4FH38Y"]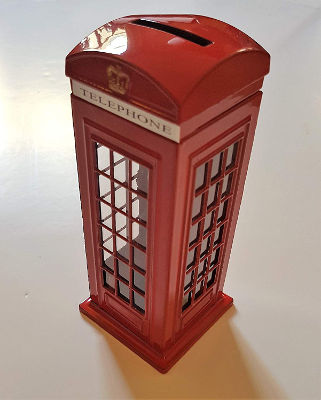 I love this cute telephone box design for a money bank. It has two advantages as the perfect shape: tall enough to fit in lots of money and windows so you have the added excitement of how full your money box is. Sadly, a lot of children probably won't even recognise a telephone box so you will feel quite a lot older than your years trying to explain about the time before mobile phones!
[amazon box="B0758JS7FG"]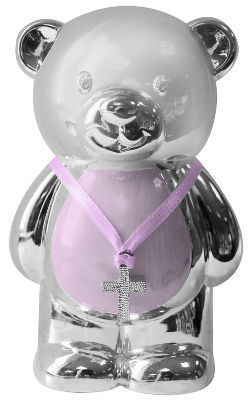 Another lovely keepsake money box that will be perfect as a christening or first birthday present. This silver plated teddy bear is in a really sweet upright design with a pink coloured tummy and includes a small cross on a ribbon. The money box also comes in a blue version so you can choose which colour you prefer.
[amazon box="B007B9P0BM"]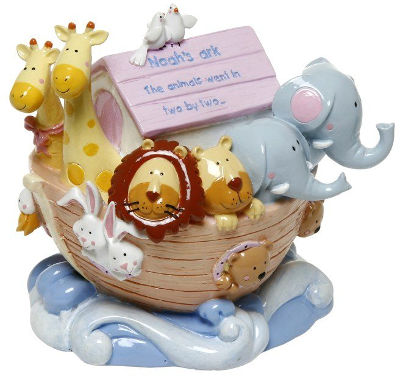 This Noah's Ark money box is a lovely design with loads of room for all the coins your child gets given over the years. The ark is afloat on the sea with a little pink hut and a number of animals- all in pairs of course. The giraffes, lions and elephants happily look out from the edge of the ark and other animals are arranged around the edges. The all important doves are also included, perched atop the boat.
[amazon box="B002TS4LBU"]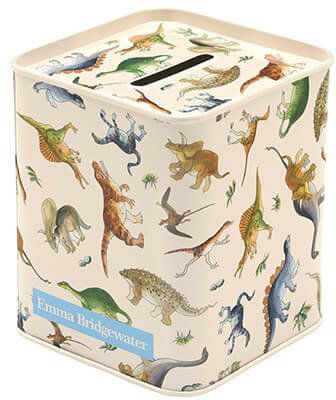 Emma Bridgewater does some really lovely designs on homewares and this money box is no exception. The simple tin is child-friendly with curved edges and a fun dinosaur design. Your child will love looking at the different dinosaurs to spot their favourite and the tin will make a satisfying rattle every time a new coin is dropped in. If you follow the Amazon link you will also see a load of other fun money tin designs from Emma Bridgewater to suit your child's preference.
[amazon box="B00281ALL2″]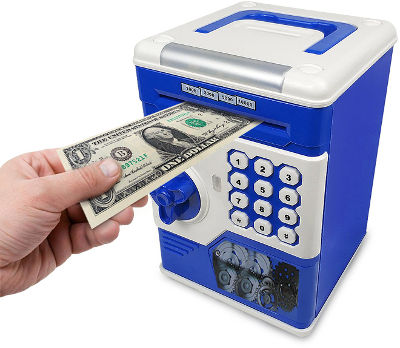 This money bank will be a big hit with older children as it has a built in passcode to use to access their money. Looking like a little safe, coins go in the top slot and notes can be fed into the slot at the front. The money bank automatically coils notes for easy storage in the box. The machine also has lights and music for even more fun.
[amazon box="B076K9GZXZ"]
So this isn't strictly a money box (but it could be used as one if you want) it is actually a coin matching game. It comes with pretend money that are based on English coinage so teaches recognition of coins. The game involves making the right amounts for items on cards so also teaches maths, currency and financial awareness. A fun game for ages of 6 and over.
[amazon box="B00UX80A90″]