One of the essentials that you need with a new baby is a baby changing bag or nappy bag. For a long time at Kid Transit we have been wanting to sell the best baby changing bag we can as we know it's something our customers will want and need. Through a lot of research and trialling of different products and styles, we have designed a simple, stylish changing bag that is the perfect proportions to use on any pushchair or pram as well as being comfortable to carry.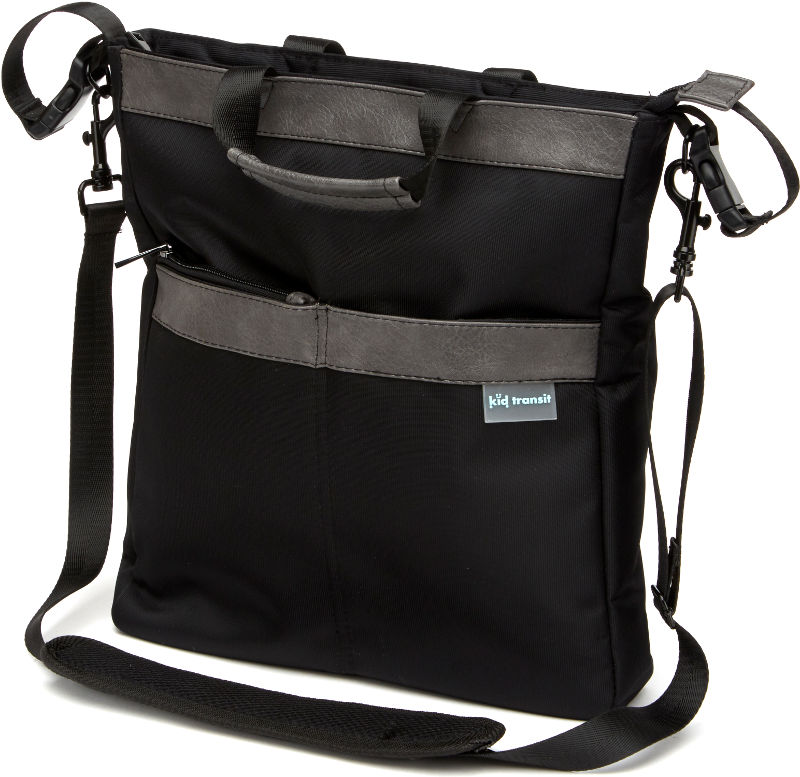 Through our own experience and from friends and family we realised there was a gap in the market for a stylish baby bag that had enough room to be used for a full day, but was streamlined enough to hang easily on a pram or buggy. Other changing bags or backpack style changing bags we bought were great for stuffing in the kitchen sink, but were way too bulky to hang neatly on our stroller without knocking our knees or getting in the way when the seat was reclined.
Our solution was to develop our own changing bag that was part bag part stroller organiser and an all round useful product. The nappy bag we now sell is made using the toughest of materials so will last through at least one child and is packed with features to help parents easily transport all they need for a fun day out.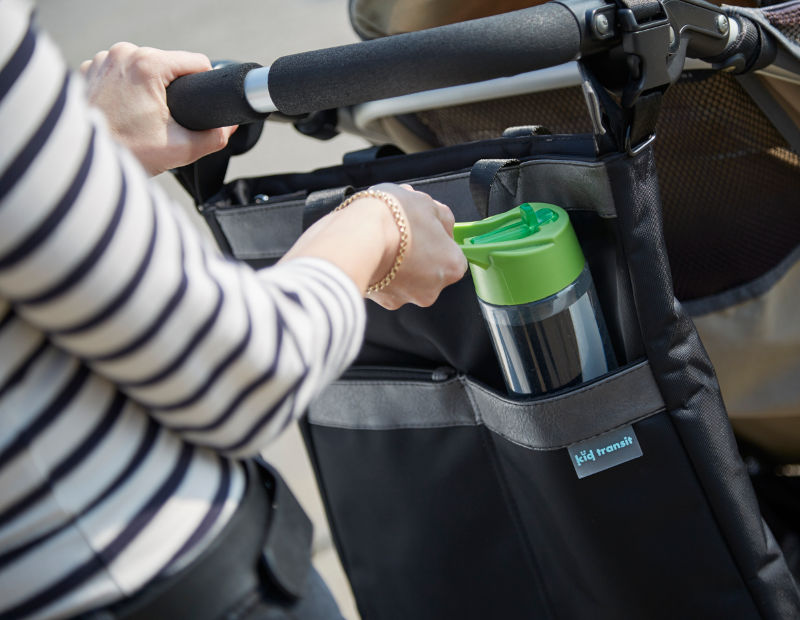 [amazon box="B07MZ412QB"]
The best things about the Kid Transit changing bag
Strong wipeable fabric
Removable shoulder strap for easy carrying
Comfortable grab handles
Durable pram/ pushchair clips for easy attachment to either one or two handled pushchairs
Reinforced fabric trim
Bottle holder outside front pocket
Zipped outside front pocket for easy access to snacks or wipes
Zipped outside back pocket for safe storing of valuables
Zipped inside pocket for valuables
Inner compartments to store nappies and wipes securely
Large bag volume for spare change of clothes and food
Sleek black finish to blend with any style
Slimline design sits flat on back of pram
Top bag zip for security or during wet weather
Find out all the details about our baby changing bag over on Amazon.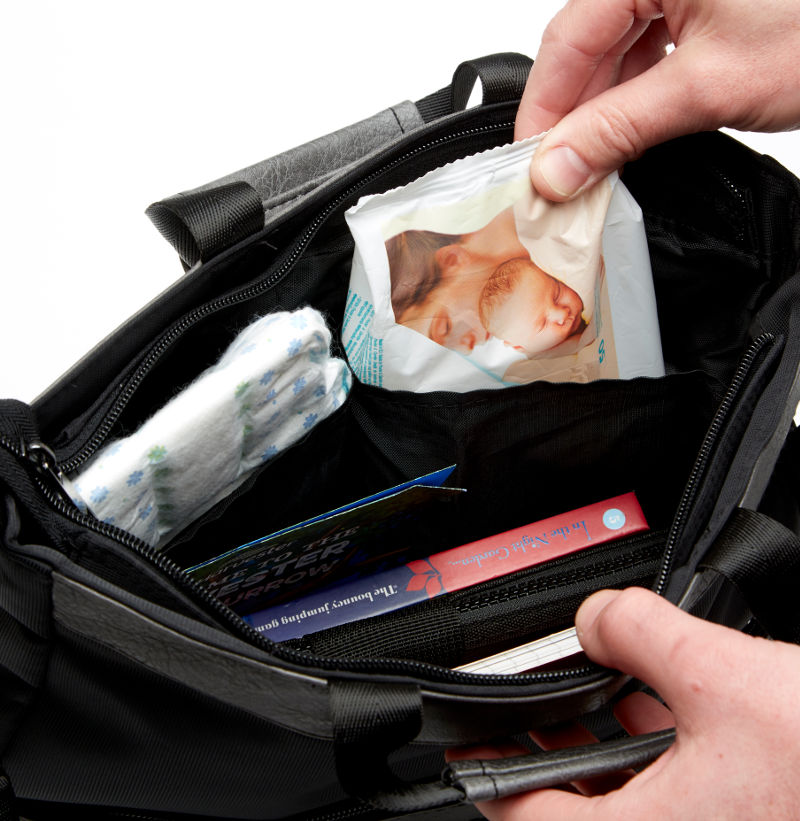 Baby changing bag essentials
Getting the balance right between taking everything you need for a day out but not being weighed down with things that are only useful occasionally is down to a lot of trial and error. Some things that you view as completely essential (spare dummy perhaps) will obviously not be needed in the bag of a baby who doesn't use one.
However, this list is a good starting point to get you considering those things that you should try and find space for in a changing bag and those that are less critical.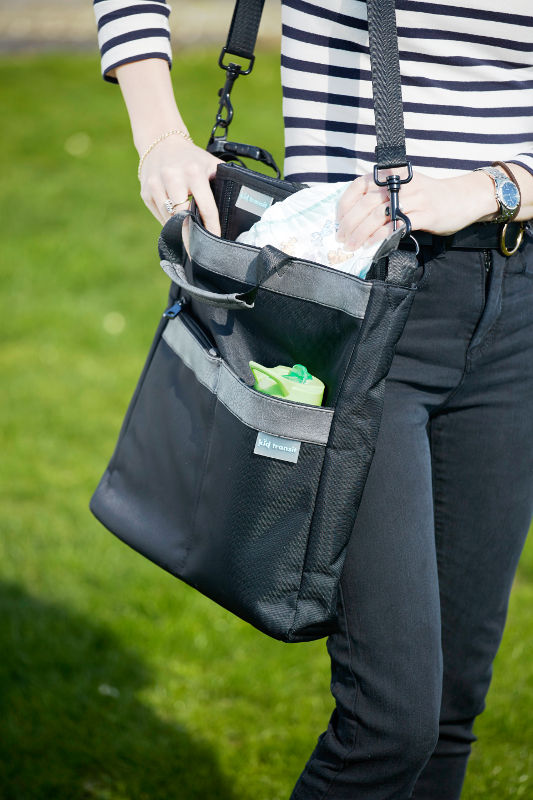 Must-haves:
Nappies- whether you use disposable or reusable you should expect to change them after every wee or poo to give you an idea of the number needed
Wipes
Nappy bags- these are really useful not only for bagging smelly nappies but as mini rubbish bags or for wet clothes if a leak happens
Change of clothes- especially important if your baby is prone to poosplosions or you're potty training!
Drink or bottle- depending on what age your child is
Snack- if going out for any longer than an hour!
Maybe haves:
Dummy or another type of soother to help your child sleep or calm a tantrum
Toy, book etc- if you're going out for a long time or your child needs to be sat quietly then something to occupy them will be useful
Muslins- useful if your baby is still being winded
Changing pad such as the one the comes as part of our travel changing mat
[amazon box="B07MZ412QB"]
Best baby changing bags
If our changing bag isn't quite what you're looking for, here's a couple of nappy bags that we like almost as much as ours!
Changing bag backpack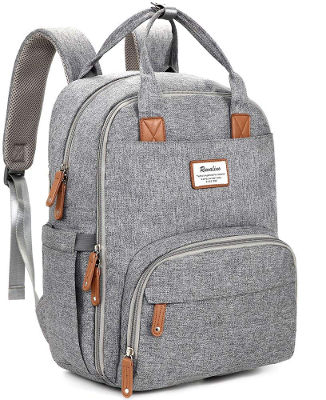 The backpack style changing bag has become more and more popular over the last few years perhaps coinciding with the rise of baby wearing- if you don't have a pram with you then a changing bag needs to be carried comfortably. The bestseller list on Amazon for changing bags is dominated by backpack style bags and this one comes top of the list.
The bag is a sleek, neutral grey marl material with stylish leather look details on the zips as as extra support for the handles. With plenty of space and pockets all the things you need for your baby and for you can easily be stored in the bag. Insulated bottle pockets also ensure your baby bottle will be kept at the right temperature.
Customers are really happy with the bag and praise the amount of space (can be used for baby and toddler) as well the good quality, padded fabric.
[amazon box=" B07G1S17KG,B0731TBBWF,B01LNN1Z9C "]
Handbag style changing bag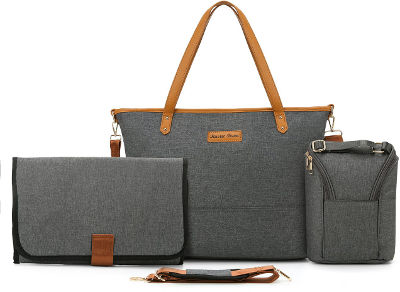 If you don't want to be carrying around a changing bag that looks like a changing bag then a handbag style one is the best idea. It will look sleek and stylish from the outside (and would easily pass as a work bag or day bag) but has all the added pockets and extra bits that you expect from a good changing bag.
This one is in the perennially popular shade of grey with contrast trim. The bag comes with similarly styled changing pad and separate insulated bottle bag that can be removed if you don't want to carry it with you all the time. Lots of space and pockets means you will always have a place to put all the bits and bobs you need for your baby.
Customers are impressed with how robust and well-made it is for such a reasonable price.
[amazon box="B07F7YL5V1,B00WUKPQIE,B072KD1PV8″]
Where to buy the Kid Transit Baby Changing Bag
If you want to buy our nappy changing bag (and we really hope you do!) it is always available from Amazon. You can use the link below to find all the details and purchase straight away.
[amazon box="B07MZ412QB"]
We always give great customer service along with your purchase so if you're not completely happy with the bag we will refund or replace with no questions asked. If you are really happy with our changing bag then we would love you to leave a review on Amazon so other customers can understand just what you liked about it.