Babies and toddlers seem to like nothing better than to make a lot of noise. Encourage this (if you dare) by getting them some musical instrument toys from our list of Amazon bestselling must-haves.
Sometimes the best toys are also some of the simplest: and what could be simpler than a toy that you just have to hit or shake to get your noisy reward? From the glockenspiel, to drums, to maracas and shakers we have all the top hitters (pun intended) to turn your baby or toddler into a musical maestro. If the noise gets too much you might have to put in the earplugs!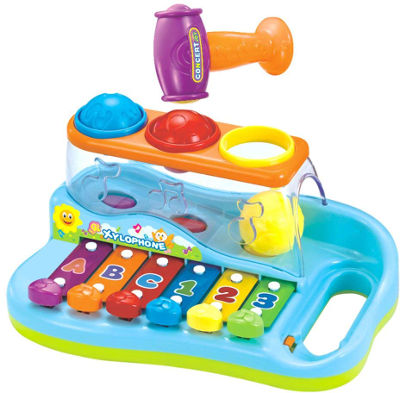 This cute and colourful baby xylophone also comes with a fun interactive hammer and ball game to play for your baby to develop their motor skills. The keys on the xylophone are toned so the sound wont grate after your child has played it for the millionth time. Rounded edges and chunky handles makes it suitable for children 12 months and older.
Let your baby explore noise making from a young age with one of these vibrant musical instrument sets. With different instruments to discover, your child is sure to find one that they love to rattle and bang. Including a timbrel, maracas, sand eggs, shaker hand bells and drum this set has so many options for your baby and you to make great music with.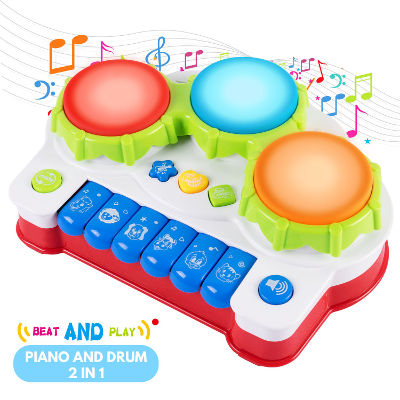 This multiple musical instrument combines piano and drums so your toddler can make different noises using the keyboard or drum beats using the different colour drums. The keyboard can be set to make noises like a number of different instruments including guitar, trumpet and saxophone as well as animal noises to develop your child's senses.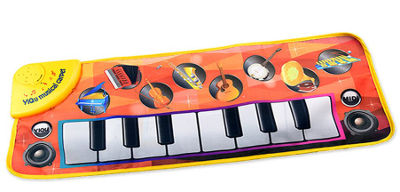 Get your toddler up and moving and grooving to the music with this fun floor piano. Just roll the piano mat out onto your floor and let their feet make sounds as they walk on the different keys and instrument pictures. Older kids will also enjoy making fun tunes and rhythms using the different notes. The mat works using batteries so no risk of trailing leads tripping your dancing toddler up.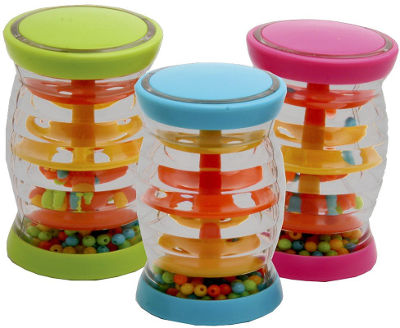 These Rainboshaker musical instruments are super popular in the playgroup I visit with babies and toddlers alike. Easy to hold, brightly coloured and really easy to get different fun noises out of. Either shake loads or just gently tip up and down to make the 'rain' noise. Perfect size for babies to grip and enjoy.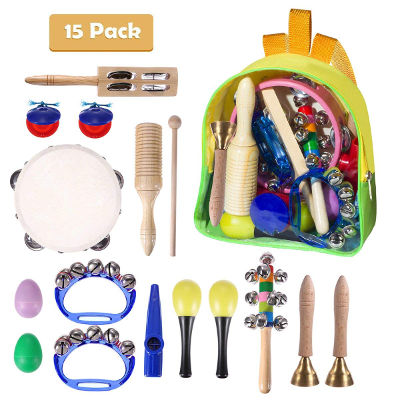 This set has every instrument your toddler could dream of and they all come nicely packaged in a backpack so they can be stored away at the end of the day. 15 different instruments include: maracas, shaker eggs, castanets, sleigh bells, jingle stick and the parents favourite: a kazoo! A perfect set if you have more than one child as there's enough for even a large family to join in.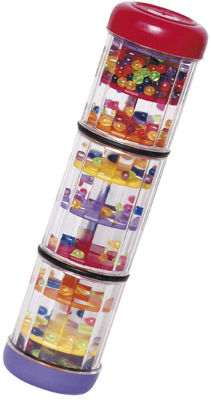 A bigger version of the Rainboshaker, this stick one makes lots of lovely noise when tipped up and down mesmerising your little one. Babies especially love playing with these types of toys as they respond to even small movements to make the cascading rain sound. The colourful beads and soft noises will hold their attention for a while. Suitable from 6 months.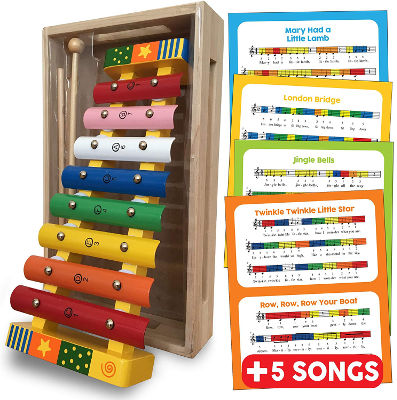 This traditional xylophone is a present that will grow with your child. When younger they can enjoy hitting the metal keys to begin discovery sounds and rhythm. As they get older, they can use the included song sheets with colour coded notes to play nursery rhymes. Each key is coloured and number to make it easy for your child to correctly play the tune.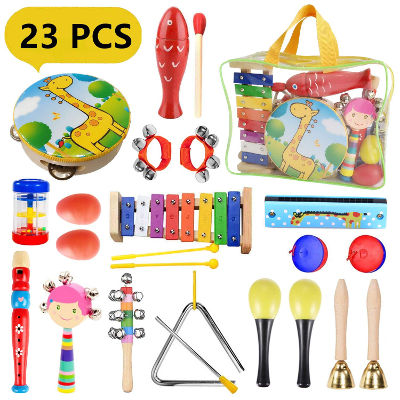 This is the biggest musical instrument set on the bestseller list featuring 23 different pieces for endless playing opportunities. Including a xylophone, tambourine, bell shakers, triangle and recorder you can make loads of fun music with your children. The instruments are made of wood and metal for long lasting fun and a lot are decorate with fun designs and bright colours. A great set and perfect as a present.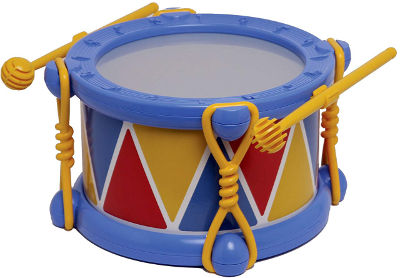 No list of musical instruments for children would be complete without a drum. The best present to inflict on other people, but think carefully before buying one for your child, especially baring in mind they might want a full drum kit in a few years time! This one is simple, but effective. Two beaters gives your child plenty of practice developing rhythm and control and the drum is properly tuned to give a good tone to their banging.