Children like nothing better than to 'help' pack for a holiday or weekend away. Get them even more excited with their very own suitcase designed specifically to make packing and travelling easier for kids. All these kids suitcases have something that is sure to appeal to children- either bright colours and fun designs or loads of pockets for all their treasures. Some of them even have a specific pouch for their favourite cuddly toy.
The children's suitcases aren't just about child-friendly patterns. They also function really well as suitcases / bags that can hold all the important things your child wants to take as well as room left over for boring things like clothes and toiletries!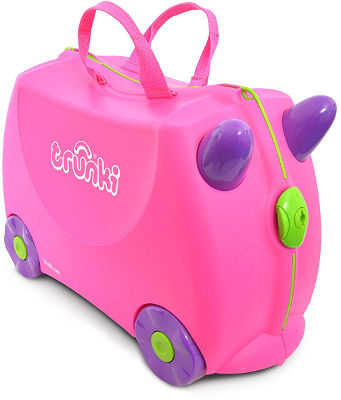 The iconic Trunki is the number 1 best seller when it comes to children's luggage and all the different designs dominate the Amazon top sellers when it comes to buying a kid's suitcase. This Trunki in the bright pink with purple and lime green accents is top of the pile. It has plenty of room for all your child's bits and pieces, handy carry handles as well as a shoulder strap/ pull along handle and, of course, wheels so the Trunki is also a ride on. Our pre-schooler loves her Trunki and always asks for it when we go away.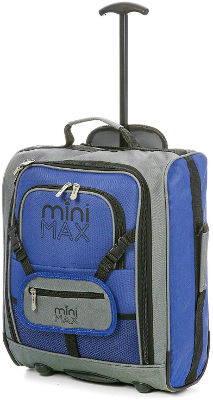 The MiniMAX cabin bag for kids isn't the bright, funky design of other bags but it has been designed really well with kids in mind. And the minimal design is likely to suit older children or teenagers who need a decent bag for travel. The MiniMax comes with wheels and a telescopic handle for easy manouvering through the airport and also has backpack straps so it can be carried if hands-free is required. A big selling point is the front pouch which can be adjusted to fit your child's favourite cuddly toy. Strapped to the front, it won't be taking up precious space in the bag. Top opening pockets make it easy for your child to access things while on a plane or train without having to get the full bag open.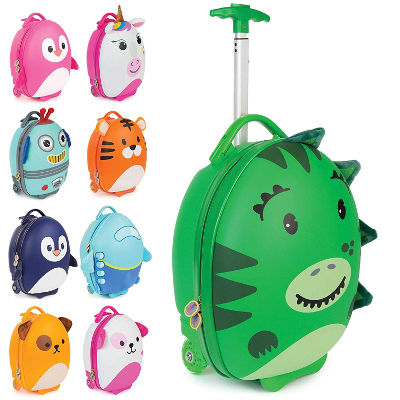 The Tiny Trekker comes in loads of fun designs including dinosaur, strawberry, unicorn (obviously) and shark so you should be able to find one to suit even the pickiest of toddlers. Not the roomiest of bags, but perfect for a weekend away and will conform to cabin baggage measurements. The telescopic handle and wheels mean it can be easily pushed along and the hard casing makes it stand up to bumps and bashes.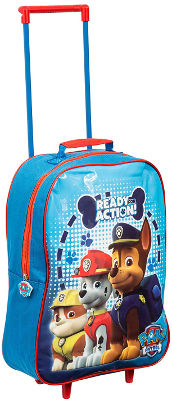 If you have a dedicated Paw Patrol fan in your house then this trolley bag will be a safe bet to make their holiday even more fun. The bag itself is fairly basic with a large zip pocket and pull up handle to wheel the bag around with. However, the bag is spacious and the fabric is strong and wipe-clean to put up with a bit of banging and scraping. The main draw is the Paw Patrol branding, just make sure your child's favourite character is on the front!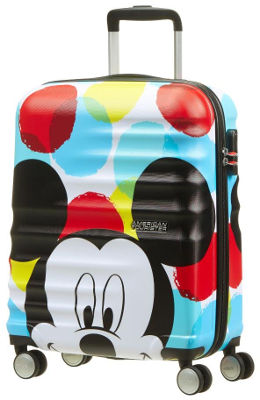 This suitcase is probably more of an adult suitcase with a kid-friendly design. You will definitely not miss it coming round on the baggage carousel with the bold Disney style- chose between a number of different Mickey or Minnie Mouse based designs. The suitcase itself is extremely well-made: a hard outer shell with textured surface protects against bumps and scrapes. The roomy interior will hold all you need for even the longest of holidays. The suitcase is really easy to wheel with 'spinner' type wheels so that the case is perfectly maneuverable in all directions.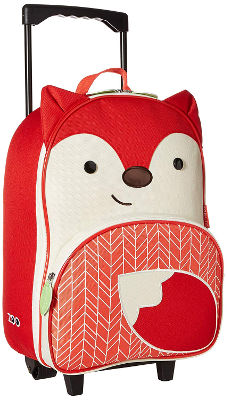 Get your child one of these cute and friendly pieces of luggage from the Zoo range by Skip Hop. Including a fox, giraffe, owl and butterfly there is certain to be an animal that your child will love. Skip Hop are renowned for making stylish bags with loads of function and this one is no exception. The retractable handle and smooth wheels make it easy to whiz about the airport, the front pocket is perfect for all those things needed for the journey, and the main pocket has loads of space for clothes and toiletries.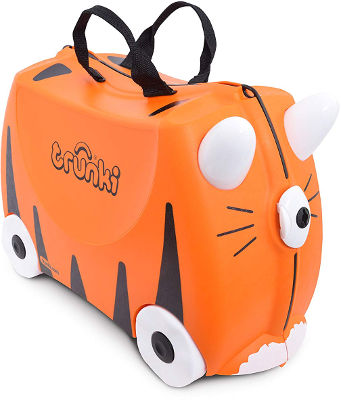 We couldn't resist including another Trunki as they are so popular on the Amazon best seller lists. This one is a really fun tiger design that will appeal to all the wild ones out there! With the classic ride-on design as well as a roomy internal compartment for all their essentials, it should keep boredom at bay even on the longest of journeys.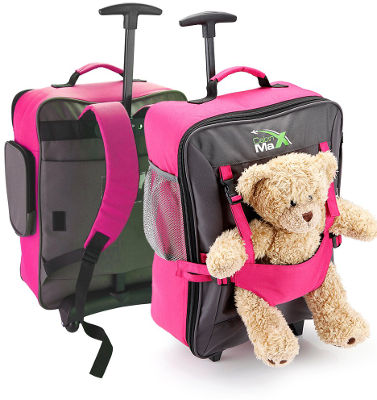 Similar to the MiniMAX, the Cabin Max isn't the brightest of bags but it does have loads of design details that make it perfect for children. The front pouch is designed specially for carrying a favourite teddy or doll so they don't take up any room in the main compartment. A side mesh pocket is great for bottles. The bag has both a telescopic handle for wheeling it around as well as shoulder straps for hands-free carrying. Finally, the back of the bag has a wide sleeve that can be slid over the handle of your luggage for easy stacking and carrying.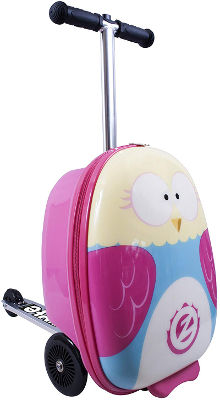 This clever suitcase combines a scooter and a hard shell bag for fun as well as storage when going on holiday. The scooter footrest neatly folds into the back of the bag, doubling as a handle. The bag has enough storage for a few days travel, or as a cabin bag for long haul travel. It comes in loads of different animal designs, so be sure to find the best one for your child.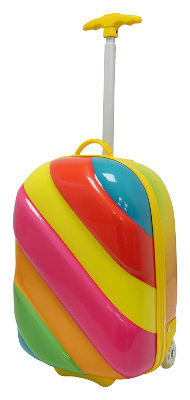 None of the bells and whistles of some of the others in this list, however this Rainbow Suitcase is very well-made and has a really kid-friendly bright design. The solid, multi-colour case is unlikely to get lost when travelling and the spacious interior will fit all they need for a short break. Internal straps and zips make it easy to organise all your packing.