During the spring and summer months, the weather gets warmer and you can get outside in the garden with your children more often. Encourage them to learn about the natural environment with a children's gardening set. All of these are designed for little hands to use and enjoy so they can help you garden from a young age. If you have an allotment, then a mini garden tools set or children's wheelbarrow can be put to good use as they grow their own vegetables and flowers.
Encouraging interest in a child's environment and surroundings is an important development milestone, and buying the right kid's gardening tools can help foster their interest in how things grow. You can even have a little plot set aside for a kid's garden so that they can choose and grow whatever they want.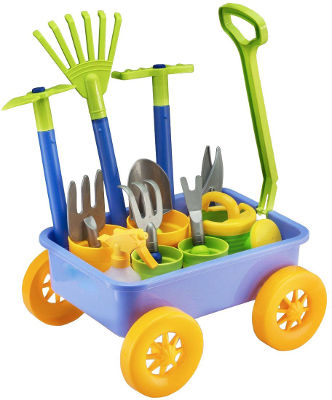 This plastic garden toy has everything in it for your toddlers to begin tending their own garden. The handy pull-along wagon has a place for all the garden tools and has large wheels to make pulling on grass or gravel easier. The set includes a rake, watering can, pruners, trowel, spray bottle and plant pots. Sure to bring lots of imaginative digging and planting play when they are outside with you.
Find the best price for the set on Amazon.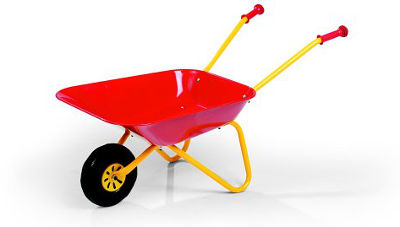 A children's wheelbarrow is a brilliant toy for having fun in the garden with. This one is a mini version of an adult's wheelbarrow- made of sturdy metal with rubber hand grips in lovely bright colours. With the robust construction, the wheelbarrow should last a while and will withstand a bit of rough playtime! Perfect for transporting all sorts of garden equipment, plants and soil about the garden, it can even be used to help with tidying up when playtime ends.
Find the best price for the wheelbarrow on Amazon.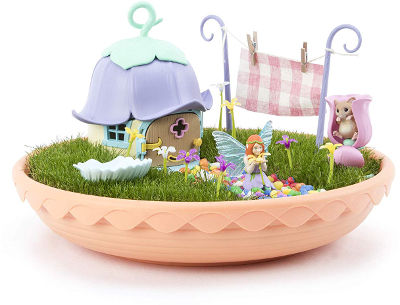 Gardening can be magical and this Fairy Garden will spark your child's imagination as well as a love for the garden. The set comes complete with all you need to create their own miniature fairy garden including small fairy house, fairy, dormouse and fairy dust. All your gardener needs are some soil for the tray, they then add the grass seed and wait for the garden to grow. Once grown, small world play with the fairy playthings will keep them occupied for ages.
Find the best price for the Fairy Garden on Amazon.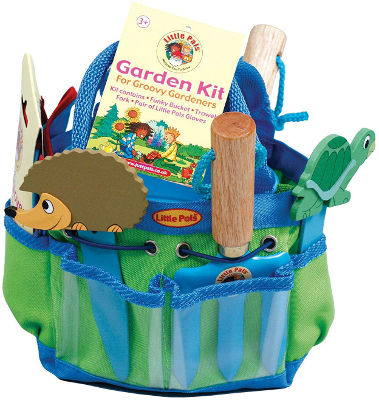 The Children's Gardening Tools Kit has everything needed to inspire a budding gardener in their planting career. All the tools are kid-friendly versions of 'proper' gardening tools and are made with the best materials- the trowel and fork are metal with smooth wooden handles. Also included are kid's gardening gloves to stop their hands getting really dirty, a metal bucket and two fun plant markers. The full set comes inside a handy canvas bag to help with carrying and storing. Available in different colours, there's sure to be one that will appeal to your child.
Find the best price for the gardening tools set on Amazon.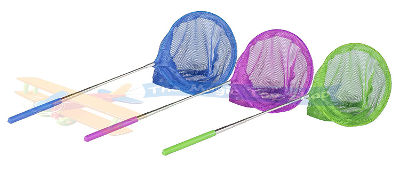 If you have a pond or beach nearby or if your child really likes bugs then consider getting them a little net. Easy to use, these ones have telescopic handles so that you can safely 'catch' a fish from the edge of a pond. Perfect for rock-pooling when you're on holiday, shrimps or crabs can be scooped up in the net and transferred to a bucket easily or just looked at and put back in the pool. They can also be used in your back garden for catching anything flying- make sure your child knows to be gentle with anything that they catch.
Find the best price for the fishing/ bug net set on Amazon.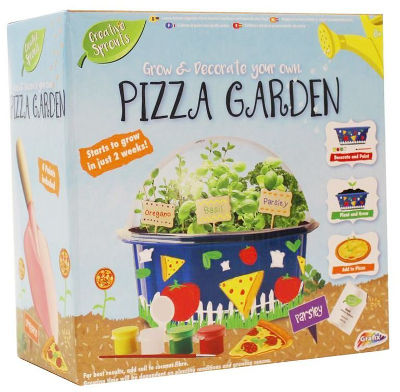 This product is marketed as a 'Grow Your Own Pizza' kit which is slightly misleading as actually this is a herb growing kit. However, that shouldn't detract from the fact that it is a well thought out first growing kit for budding gardeners. The brightly designed propagator comes with stickers and paint so your child has something to do while waiting for the herbs to grow. The grow time is short so first shoots should come through within two weeks, stopping your children from getting bored with it.
Find the best price for the fishing/ bug net set on Amazon.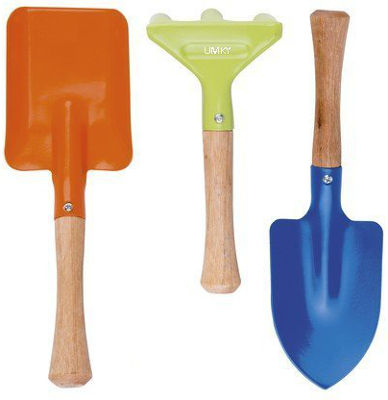 This high quality children's garden tools set are built to last with easy to hold wooden handles on strong metal tools. The set includes a spade, trowel and mini rake for hours of digging either in the garden or the sandpit. A great little gardening set that would also make a good present along with some seeds and pots for a child's birthday.
Find the best price for the children's gardening tool set on Amazon.
I've yet to meet a child who doesn't love playing with water whether it's jumping in puddles, splashing in the bath or using a spray bottle. Turn that fun into something useful by getting them a children's watering can. They can fill it up themselves from a tap or water butt and then water the plants (or each other) in the garden. This watering can is made of bright red metal with both a top and side handle for easy pouring.
Find the best price for the children's watering can on Amazon.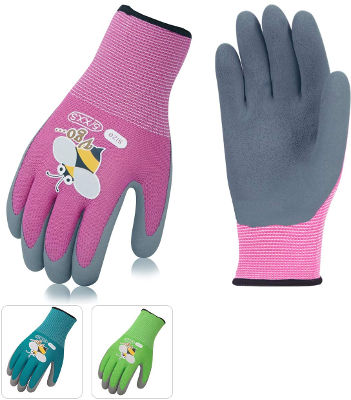 Protect your child's hands and make the clean up easier with a pair of gardening gloves. These ones have a foam latex coating for good grip and easy cleaning and a polyester lining to keep your child's hands comfortable. The gloves fit really well so won't impair dexterity and come in two sizes so you can choose the best fit. The gloves have a kid-friendly design on them as well as a secure wristband to stop dirt getting in or the gloves from slipping off.
Find the best price for kid's gardening gloves on Amazon.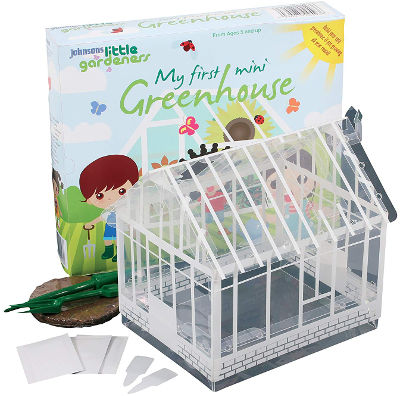 Not everyone will have access to a garden or backyard, but that doesn't mean you can't do some gardening. This My First Mini Greenhouse kit comes with everything needed to get growing indoors. You just need to find a bit of space on a windowsill or shelf to pop it on once the seeds have been planting. Inside the kit, you get a little greenhouse propagator, seeds, compost disk, widger, dibbler, plant tags and complete growing guide to make sure your seeds turn out great.
Find the best price for mini greenhouses on Amazon.