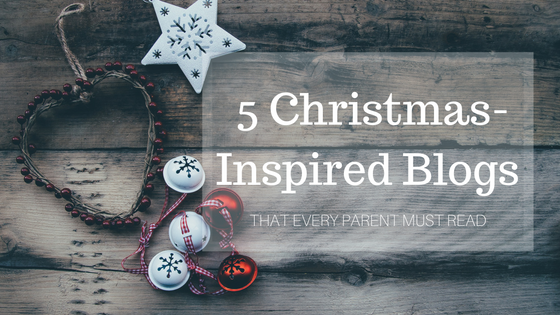 It's that time of the month again when we round up some of our favourite posts from mummy and daddy bloggers. This week, we're loving all of the Christmas-inspired articles that offer tips and tricks on creating a delightful family holiday.
Mother of two, Fiona, has put together a gift guide for those still searching for inexpensive stocking fillers. She took inspiration from The Works Christmas Shop to pick up a selection of small gifts for young children. Colouring books, sweet treats and festive hand puppets made it onto her list. 
Usually, Fiona blogs about her life with her two boys and husband, as she snaps away on her camera. Follow her on Twitter, Instagram and Pinterest.
Stuck on which Christmas film to watch this December? Tina, who blogs over at Adventures of Mummy and Me, has got you covered. Choose between classic films such as The Snowman and Home Alone and contemporary favourites like Frozen. Perfect for a cosey afternoon on the sofa with your little ones!
Tina blogs about her daily adventures with her little boy, as well as his journey of dairy and egg free weaning. Follow their story on Twitter, Instagram and Facebook.
Kathy, who writes over at Penney Lane, has an adorable way of entertaining the kids this Christmas. If you have a play den or wendy house, why not let the kids add some festive decorations? It'll be a great family tradition in years to come, and you might be surprised by their seasonal skills!
The Irish blogger posts about her travels with her two kids and husband. She believes in creating lovely memories and experiences. You can follow her on social media: Twitter, Instagram and Facebook.  
Tips for Buying Second Hand with The Motherload
The Motherload is an online community for parents, where you can get non-judgemental advice, whilst having a giggle at the same time. Guest writer, Jill Mission (who you can find on Twitter and Facebook) has written an insightful post on buying second hand Christmas presents. A little strapped for cash? Or just curious? Be sure to read this fantastic article.
You can get involved with The Motherload Community on Twitter, Facebook and Instagram.  
This Peppermint Creams recipe looks good enough to eat! Lyndsay is currently expecting her first child in February 2017 and writes about her life with her better half Vanessa and their puppy Robbie. Follow the recipe to make delicious treats for the festive period, hand them out to friends and family or scoff them all yourself!
You can follow Lyndsay on social media, she's on Facebook, Twitter and Instagram.
Are you a mummy or daddy blogger? Get in touch and you too could be featured in one of our round ups!