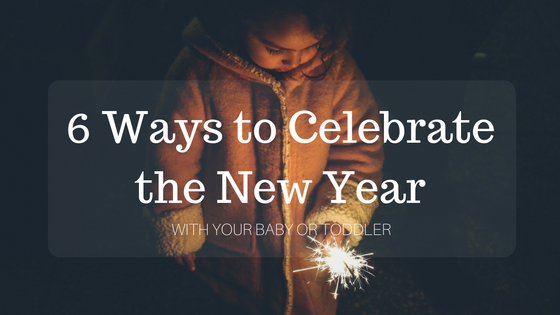 When you have a young child or baby, it's easy to forget about late night New Years Eve parties and celebrations. It's tempting to put the kids to bed early, whilst mum and dad enjoy a glass of wine in front of the TV. But, you can still mark the occasion and have an amazing time with your toddler or newborn. Below are some hints and tips towards having a fantastic 'Baby New Year'.
Celebrate the New Year early
If you don't want a tired, grumpy toddler tomorrow morning, it might be best if they go to bed at their usual time. You can still count the New Year in, just turn the clocks forward and pretend it's midnight. It's a bit sneaky, but they'll be none the wiser and you'll all have a great time, without them being sleepy and agitated tomorrow.
You could even have your own mini-fireworks display in your backyard. However, perhaps stick the sparklers if you think the loud sounds will scare the kids.
Add some sparkle
Even if you're staying in, get everyone dressed up and decorate the house. Babies love sparkly things, so make sure you have a few streamers and twinkly lights around the living room. In the meantime, pop them in their best frock or frilly suit and take some snaps. Everyone will feel special, making the night even more memorable.
Earlier that day or the day before, ask the kids to make their own party hats and decorations. It's a great way to stave off post-Christmas boredom, and the decks will add a personal touch to your home.
Make a mocktail 
Of course, skip this step if you have a baby – although you can still make a toast with a milk bottle! For toddlers, you can serve party food as well as snacks that they would usually eat. Be sure to make them extra special by using festive plates and serve ware.
Toddlers will love anything fizzy, so treat them to some lemonade or sparkling water in a plastic champagne flute. Alternatively, add some fruit juice and a slice of lemon to create a cheeky mocktail.
Dance the night away
Put on some festive tunes and get them all dancing. Young babies will love hearing the sounds, whilst older children show off their best dance moves. Make a playlist of all of your favourite tracks the day before, with each member of the family making a suggestion. Stick it on shuffle and enjoy your evening.
Make a photo booth
Photos can be very fun, as well as wonderful mementoes to look back on. Young children may not even remember this special night, so be sure to get your camera or selfie stick out to capture all the special moments. You could even set up your own makeshift photo booth. Just peg up a bed sheet or blanket, get the dressing up box out and snap away.
Reflect on your year
Ask the children what they've enjoyed most this year, and what they hope for next year. The grown-ups may be surprised! If you're feeling really creative, get them to write down their favourite memories in a scrapbook or notepad. These will be lovely to look back on in years to come, and a great way to introduce your children to documenting and reflecting.
How will you be seeing the New Year in? Let us know in the comments below or on Twitter and Facebook. If you do have a Baby New Year tag us in your photos on Instagram.