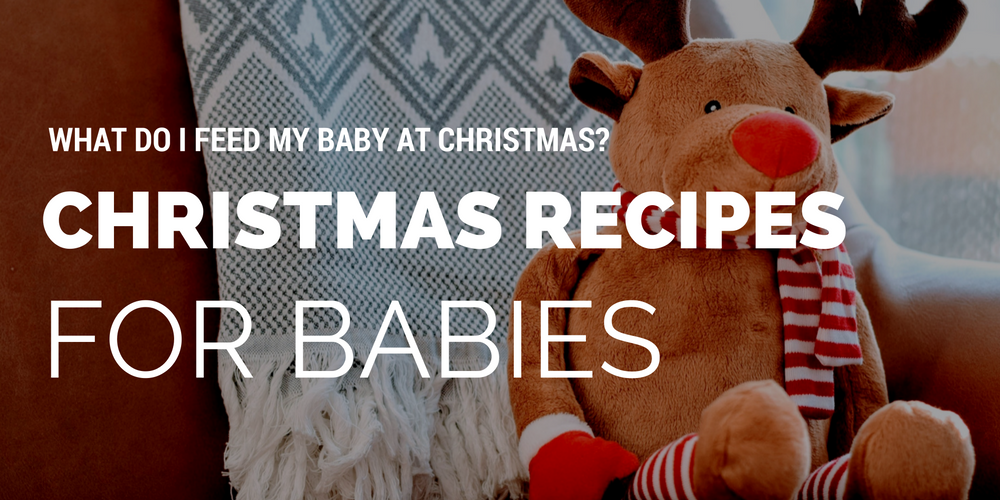 A baby's first Christmas is a magical time, and that's why we have put together several posts about making the most out of this special day. If you're looking for tips on how to make your baby's first Christmas great, click here.
In the meantime, if you're heading to a friend's or relative's house this season, you may want to consult our packing guide.
Today, we're talking about what you can feed your baby at Christmastime. One of the best parts of the holidays is the glorious food and drink, so why let your baby miss out on all the rich flavours and treats?
Below we have a quick guide to what your baby can and cannot eat, as well as a few recipe ideas.
What can your baby eat at Christmas?
First Stage of Weaning
At this point, your baby won't be able to eat any meat. Nevertheless, pureed mash or veg, with a little bit of stock or milk will go down a treat. Mash up potatoes in a potato ricer or mouli, rather than sticking them in the blender with the rest of your vegetables, this way the mixture won't become sticky and starchy.
For extra flavour and nutrition, add in apples or pears, and perhaps a bit of butternut squash.
Second Stage of Weaning
You may want to let your baby try a little bit of turkey. Add a thin slice to the puree mixture and blend it together. Be sure to keep the ratio at 25% meat to 75% vegetables, and don't salt the meat beforehand.
Finger foods
Your baby will be able to enjoy a wide range of textures and flavours. So, ensuring that none of your food is heavily salted, cut up their mini Christmas dinner into small shapes that they can easily pick up and chew on.
Recipes and ideas
Turkey Dinner
Turkey is the UK's bird of choice at Christmastime, so that's why we've put together this recipe that can introduce your baby its lovely flavour.
Ingredients:
1 X Turkey slice
1 X Potato
1 X Medium carrot
A couple of small broccoli florets
How to prepare:
1. Ensure that all of your meat and veg is cooked before beginning this recipe.
2. Blend the turkey first in a food processor, adding a little water or homemade stock. Keep blending until the mixture is fairly thin..
3. Add pre-pureed potato and the rest of the veggies and continue to blend until the puree reaches the consistency you want.
Baby Stuffing
Traditional or commercial stuffing can be quite salty, and there for it's best not to give it to your baby. However, Mummy Cooks has a delicious baby-friendly version of the tasty Christmas treat over on her blog: www.mummycooks.co.uk.
Potatoes
Potatoes are often the staple of Christmas cuisine, and they're perfectly fine to give to baby as long as they are completely free from salt. Mash some up and add some milk for your baby to enjoy
Brussels
Love them or hate them, many people think brussel sprout are the ultimate addition to a festive dish. They are very high in protein making them nutritious for growing babies. Cook them for a short time (7 – 10 mins), making sure you score the bottom with an 'X' to allow the centre to cook at the same rate as the outside.
Only give your baby a few brussels because, as you may very well know, they can cause a lot of gas!
Have you got any recipes for babies at Christmas? Let us know in the comments below, or on Twitter and Facebook.