Quite often it's only when you have all the new baby equipment in place that you realise the glaring problem that should have always been obvious. All babies up to the age of 15 months have to use a rear-facing car seat and it is recommended that you keep your child rear facing for as long as possible if you have a child car seat that offers this. This is great, your child is sat in the back seat, facing behind in their car seat. Then they start to cry. You're driving alone (apart from your baby) on a busy road, or on the motorway with no way of seeing why your child is crying or being able to make eye contact to reassure and soothe them. What to do? Well, you have to hope they will calm themselves down until you can find a suitable place to pull over and see they are OK.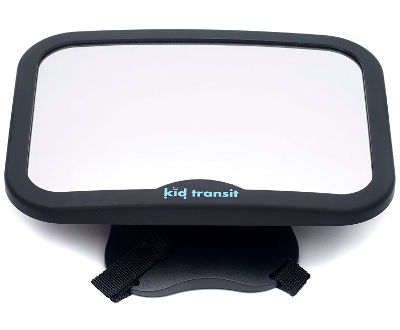 Or, you've read this article and now know that what you need is a baby car mirror! A really simple solution for what could be a big and distressing problem. One of those, 'why didn't I think of it?' moments that seem to occur all the time when you're a parent.
See your child in a rear-facing child seat with a baby car mirror
Here's how it all works. With the rear-facing seat set up all your baby can see is the back of the rear car seats and the headrest. The car mirror attaches to that headrest in front of your baby. So now your baby can see anything in that mirror. You sit in the driver's seat and get a partner, friend, neighbour to angle the baby car mirror so you can see your baby in the rearview mirror and they can see you. Cue lots of happy smiles and giggles as your baby realises she isn't all alone in the back of the car and actually mummy or daddy is still there to look after her.
Phew! Problem solved.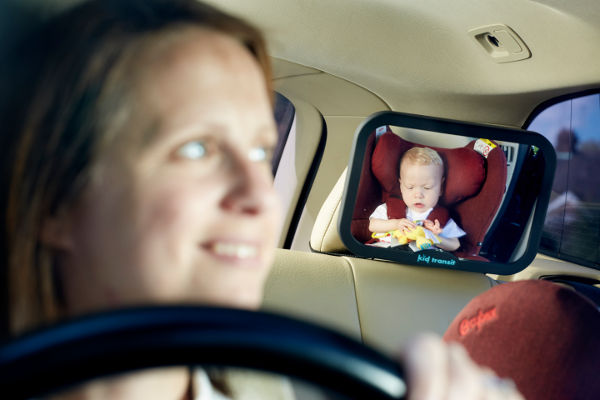 The baby car mirror was our first product at Kid Transit. We loved how simple it is in design and set up but conversely how big a reward you and your baby get from it. Just by putting in a mirror you now give your child reassurance and you can have peace of mind when your baby is upset that you can quickly see what is wrong and decide whether you need to make a stop or not.
I know a lot of first-time parents can be nervous about taking their baby out in the car for loads of different reasons. Hopefully, this will make the first (and every trip) a little bit more relaxing. After all, being able to use your car with your little one opens up a whole new world of possibilities for visits and trips that you will both enjoy.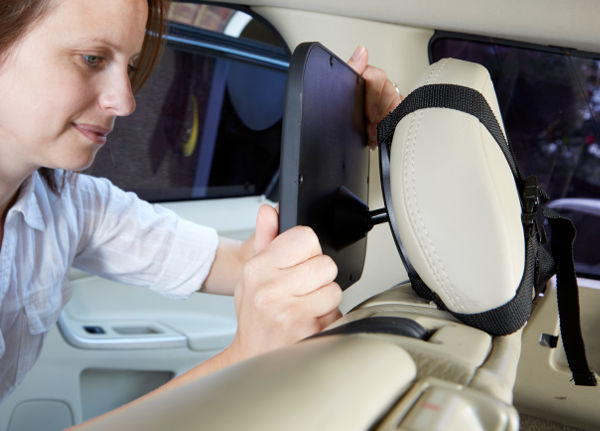 Top features of the baby car mirror
Tilt, swivel, rotate and pivot your mirror to exactly the right position for you to easily see your baby
Large size so that you get a great view of your baby
No sharp corners, soft feel plastic, and shatterproof reflective surface means no risk to your baby
Easy to adjust attachment straps that go on the back seat headrest hold the mirror firmly in place
Here at Kid Transit, we offer a money back guarantee, so if you don't want your mirror for whatever reason once you've purchased it we give you your money back.
Customer Feedback
Here's a few of the lovely comments we've got from customers over on Amazon. Happily, our baby car mirror is a best seller and we have nearly 500 positive comments. You can take a look for yourself if you end up purchasing one.
"It was really easy to install and because it was really good value, I bought two, one for each car so we don't need to swop it over each time we move the car seat between our cars. I would highly recommend this product."

"Once tightly fitted, it wont fall off. The mirror, black plastic and straps are all made from good quality material. I've been using this for nearly five months now."
The comment below is such a great one- basically one of the prime reasons we sell this product and exactly what this article is all about!
"As a first time mother I was anxious having to drive without being able to see my baby in her rear facing seat and my baby cried during car trips because she thought she was alone. After one particularly disastrous drive to visit an aunt I went online to search for ideas about how to keep baby happy while driving and after a while I found this mirror.
This makes driving much more pleasant. Now my baby can see me and I can see her and she smiles at me in the mirror.
I'm so happy with it I want to surprise my friends who are expecting a baby soon with a gift of one of these."
Problem solved.
As with almost everything in life, there is a solution to the problem however big (or small) it seems to be! Make sure you can easily see your baby, and they can see you, in their rear-facing child seat by using a baby car mirror. For a small amount of money and 5 minutes getting the mirror in place, you can have months of happy car journeys.