Taking your baby out in the car can be very daunting even for the most experienced of drivers. One of the biggest problems is not being able to see your baby when they are in their rear-facing car seat so you have no way of knowing what they are distressed about when they start to cry. If you have bought the best baby car mirror for rear-facing car seats then you don't need to worry anymore. Once the baby car mirror is positioned correctly, you can glance in the rear-view mirror and see your baby in their car seat straight away. You can then decide whether you need to pull over or make some eye contact to soothe them.
Kids under the age of 15 months are required by law to be in a rear-facing car seat in the back seat of your car for a lot of good safety reasons- take a look at the video below.
This makes it virtually impossible to see your child without physically pulling over and stopping the car. Obviously, this is not something you want to be doing multiple times on your car journey if your baby gets tetchy easily, and quite often it's not possible to pull over safely anyway. Some babies can be particularly upset when in their car seats and if your baby is like this then any journey with them will be distressing if you don't have a baby car seat mirror.
Finding the best baby car mirror
There are many different rear-facing car mirrors on the market, with varying sizes and quality. Here at Kid Transit, we decided to offer what we think is the best baby car mirror on the market in 2019. As you would expect being a UK registered company, our car mirror is really easy to buy and we offer great customer service if you are not completely happy with your purchase.
Large baby car mirrors
Kid Transit baby car mirror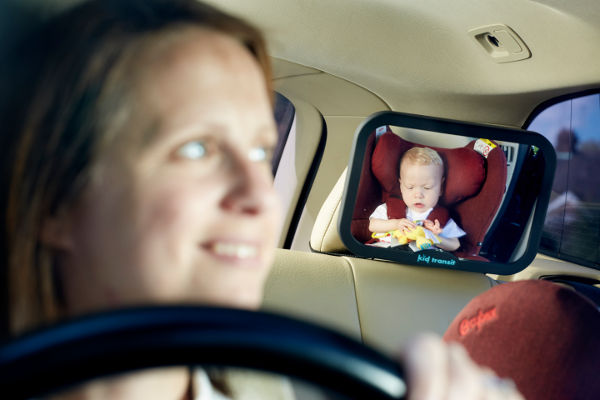 The Kid Transit baby car mirror is a large mirror designed to give you a clear and wide view of your child as you drive. The mirror is made from a polished reflective acrylic (not glass) that makes it 100% shatter-proof, so no need to worry about it breaking near to your child. Using acrylic makes the baby car mirror light and easy to fix in place.
The car mirror is also convex, meaning it is slightly curved out or not perfectly flat. This means the mirror has an increased viewing angle, a clearer reflection since it 'irons out' any bumps in the acrylic, and adds extra strength to the mirror so it will last longer than other versions.
While the acrylic gives a good clear reflection there may be some slight distortion (as you would expect) compared to glass mirrors that you use at home, particularly near the edges. However, you can still see your child very clearly as the reflection is crisp.
How does the Kid Transit baby car mirror attach to the seat?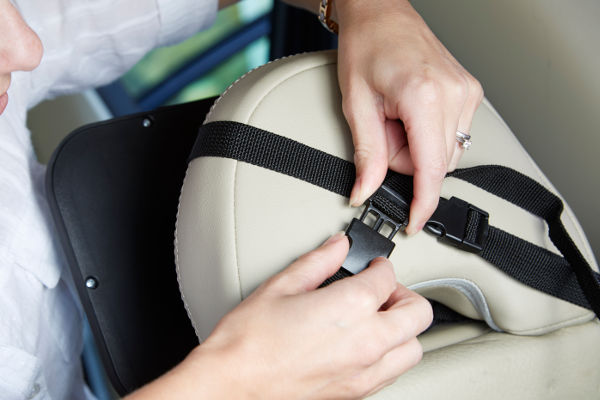 The baby car mirror is really easy to attach using the two sturdy quick-release straps. These straps wrap around the headrest of your rear car seat in different configurations (as shown in the image above), meaning you can fit this mirror to just about every car type that has a rear car seat head rest. The dual-strap configuration provides a very secure attachment that will remain stable when driving and the mirror will not slip, move, bounce or judder when you're moving.
The attachment plate that pushes up against the car head rest has foam padding to ensure no damage is caused to the upholstery, and the main plastic frame is light-weight and made with a soft feel material so if your baby or another child happens to touch or play with it there are no sharp ages. Do remember that it isn't a toy, however much fun it is for your little one to look in the mirror!
Once in position, the Kid Transit baby car mirror can be angled really quickly to get the perfect view of your baby in their rear-facing car seat when you're driving.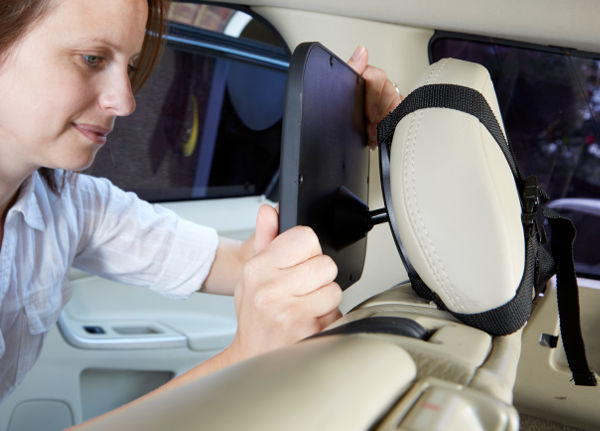 What do our customers say about our car mirror?
Our customers have left us lovely feedback over on Amazon about their experiences with the Kid Transit mirror. Here's a few of our favourite comments:
"Does exactly what we wanted it to do! This mirror gives you great piece of mind whilst driving-enabling you to quickly and safely see how your baby is doing in their car seat by a quick glance in your rear view mirror. It was really easy to install and because it was really good value, I bought two, one for each car so we don't need to swop it over each time we move the car seat between our cars. I would highly recommend this product."
"As a first time mother I was anxious having to drive without being able to see my baby in her rear facing seat and my baby cried during car trips because she thought she was alone. After one particularly disastrous drive to visit an aunt I went online to search for ideas about how to keep baby happy while driving and after a while I found this mirror.
This makes driving much more pleasant. Now my baby can see me and I can see her and she smiles at me in the mirror.
I'm so happy with it I want to surprise my friends who are expecting a baby soon with a gift of one of these."
"Really clear reflection and large mirror. The best I've ever seen. Would recommend. My daughter can see us now too."
If you want more information on the Kid Transit Baby Car Mirror take a look here.
Situations where you might need a baby car mirror
Some babies will happily pass the time during a drive with no problems at all, for others, there will be a variety of reasons that they may become distressed or you may want to be able to quickly check on them by glancing into your rear view mirror.
When your baby starts to cry
To check if your baby has gone to sleep
To check if your baby has woken up
To see if their dummy is still in
To reassure them that they are not alone in the car
If your baby is a silent choker
If your baby has reflux
If you frequently travel on your own with your baby
To make sure they are still comfortable
If you think you will be in any of those situations then take a look at our shop page all about the car mirror.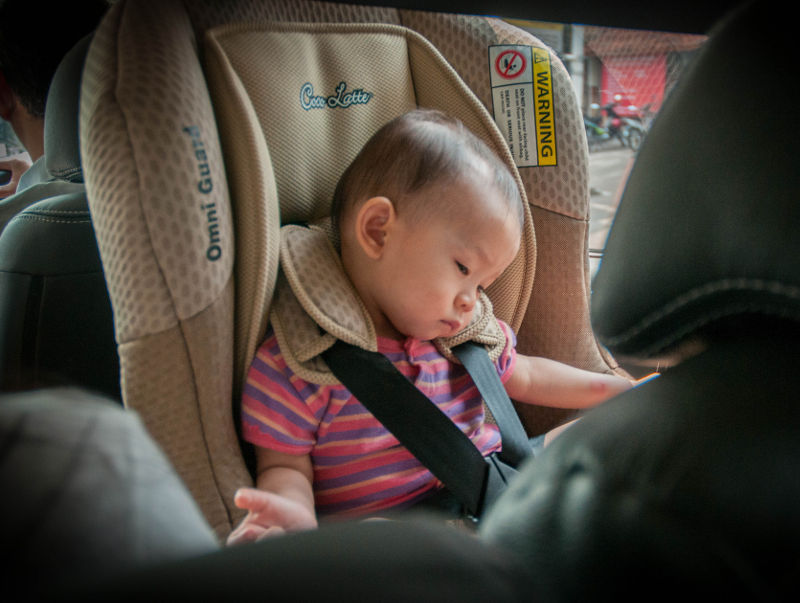 Small baby car mirrors
Diono Easy View Mirror:
The Diono Easy View Mirror is a smaller baby car mirror and is better suited to those who do not want a large mirror in the back of their car. The mirror measures 7″ in diameter and is a circular design, compared to the rectangular design of the Kid Transit mirror.
The mirror tilts and rotates so you can position it for viewing your child and comes with a foam back to help protect your upholstery.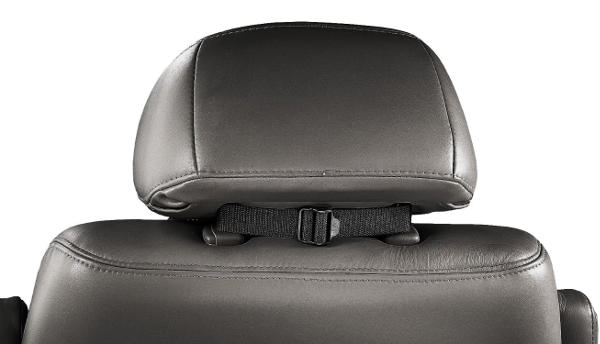 One potential issue with the Diono baby mirror is that it only has one strap that attaches it to the rear seat head-rest. While it is secure it may shift and move slightly as your car bumps along the roads.
The small size of the mirror may mean you don't get as good a view of your baby or you need to reposition it quite often if it takes a knock. It will be less obtrusive in your car when you use the rear-view mirror to view the road behind you.
Final thoughts on buying a baby car mirror
Your child's safety is the most important thing in the world, especially as a new parent venturing out on the road for the first time. Give yourself the peace of mind of knowing that if your baby cries, you can see and reassure them without craning your head and losing focus on driving. Baby car mirrors are specially designed to help you see your baby while driving, so make sure you buy one and avoid a potentially dangerous situation.