When your baby becomes a toddler there is usually a point where you realise they are ready for a bigger bed. The transition to a toddler bed should happen when they are getting too big for their cot or when they can manage to climb well. You don't want to risk your child climbing out of their cot and hurting themselves. To find the best toddler bed for your child you need to have a think about what might appeal to them to make the transition to big bed easier.
We have broken down the choices into different categories depending on what your toddler is into. With any change to routine, remember that it might take a little while for them to get used to it. Some tips to make it easier are: get them involved in choosing the new toddler bed, go shopping for the new bed linen, place the bed in the same position as their cot and take a look at fitting bed guards if your little one is a bit of a wriggler.
Try not to make the transition at the same time as another big change such as a new baby, starting nursery or toilet training. Too many changes to routine can upset your toddler and make them resistant to sleeping in their new bed. Make sure you have all the stair gates you need so that your child won't injure themselves if they go wandering during the night.
Best Toddler Beds for Girls
Best Toddler Beds for Boys
Best Princess Toddler Beds
Best Cars Toddler Beds
Best Toddler Beds for Girls
Sometimes all your little girl wants is a beautiful bed that is completely their own. These charming toddler beds will appeal to most girls as they feature all their favourite characters. Take a look and see if your daughter's favourite is here.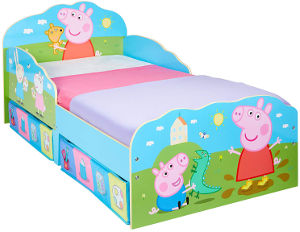 This colourful Peppa Pig Toddler bed will instantly light up your child's nursery. The toddler bed has both Peppa and George having a fun day as well as some of their friends. It's a great way to entice your little one out of her cot. The bed could easily be used in a boy's bedroom as well as it isn't completely girly in it's design.
If you're worried about your toddler rolling over to the floor, the Peppa Pig bed comes with nifty side guards to prevent accidental bedtime tumbles. The bed is also quite low to the floor so if your child likes bouncing on the bed they won't take too much of a fall.
The Peppa toddler bed comes with easy to access underbed fabric storage drawers so you can save space in your child's nursery by easily storing extra bed covers or toys.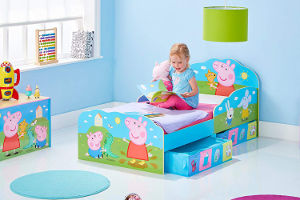 Mattress size for this bed is 140 by 70 cm which you need to buy seperately. Ensure that it fits snug as you don't want a mattress that leaves gaps between the frame where your toddler might get stuck.
The bed comes flat packed for assembly at home but all fittings and instructions are included.
The Peppa Pig bed is popular and has some great comments on Amazon:
"Well packaged, delivered promptly, easy to make up and looks really good in my daughters bedroom, a nice way to get her sleeping in her own big girls bed. Perfect."
And
"Best thing I've ever bought my little girl loves sleeping in it!"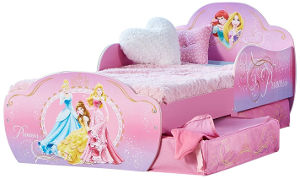 The Disney Princess Toddler Bed is a beautiful bed that has practical storage as well as safety guards. If your little girl hates bedtime, the Princess gives her a hundred reasons to go to bed.
The fun part is the bed's design: the headboard and leg board feature beautiful pictures of Disney princesses to add a girly character for your princess loving child. Curl up with their favourite Disney Princess including Cinderella, Belle and Ariel. They can spend all day playing Princess dress-up and then spend all night sleeping alongside their favourites.
For safety, the bed has side guards that not only look great but are strong too, thanks to the toddler beds MDF construction. The bed is also low to the ground so it should be easy for your child to get into and out of the bed (whether you want them to or not!)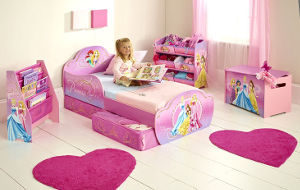 With the Princess toddler bed, your girl's storage needs are sorted thanks to its two underbed storage drawers. You can easily store spare bedding or nightwear so it's always at hand.
No mattress is supplied with the Princess toddler bed so you need to buy one separately. A 140 by 70 cm mattress gives the best fit.
If you want complementary items for your little girl's nursery you can choose from a range provided by the same manufacturer including storage boxes and swing bookshelves- all these items can be found linked to on the Amazon page for the bed.
Here are a couple of reviews from happy parents who bought the Disney Princess Kids Toddler Bed:
"Bought the Disney Princess bed for our three year old and she absolutely loves it. Was worth the money just to see her face when she opened her bedroom door and saw it for the first time."
And
"Lovely beds for toddler, my girls love to sleep on their bed now. Good and sturdy quality of wood, I myself tried to sleep on the bed and does not seems to be weak."
Best Toddler Beds for Boys
If you're looking for the best toddler bed for boys then these three should fit the bill. All have fun designs that would suit most nursery decor and they all combine safety with practicality.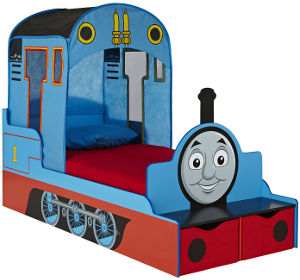 AThomas the Tank Engine toddler bed is the perfect way to transition your baby boy from a cot to a toddler bed. This big boy bed boasts a favourite character that transforms bedtimes into a magical affair. Made in the shape of a locomotive, this toddler bed comes complete with a canopy and a seat. The train like aesthetic all over the bed lets your little boy take a trip to dreamland in style.
The brilliant play of colour on this bed gives it a unique appeal that will have your little boy running to his room every night. The delightful combination of blue, black, and shades of red only serve to complement any theme you have going in a boy's room. The clever use of blue colour in the canopy helps to calm down the playful child before lulling them to deep and peaceful sleep.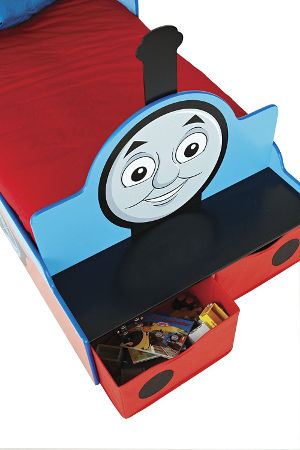 A real space saver, the Thomas the Tank Engine toddler bed boasts two fabric storage drawers to help you keep your boy's room clean and tidy. The handy drawers ensure that your little one has sufficient space to play with his train sets. Similarly, each unit features a bench seat that will come in handy when he has friends to play.
The high-grade MDF construction will last you until your boy grows out of it at the age of five years. With a little bit of creativity, you can reconstitute the bed to achieve a different look as your boy grows.
This delightful toddler bed measures 165 x 73 x 122 cm to fit a 140 x 70 cm mattress.
Ecstatic buyers on Amazon have this to say about their purchase:
"2 year old absolutely loves it…having been to Thomas Land and staying in a Thomas themed room this bed was the next best thing." ,
And
"Cannot explain how great this bed is. It is my 2-year-old son's first bed, and like all parents, I was worried he would be in and out it all night, but I can honestly say he has never got out of bed!"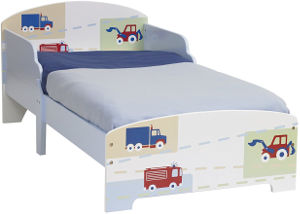 The Vehicles toddler bed is a great way to get your growing boy to take lots of pride in his room while keeping him safe. Colourful vehicle prints on both the head and footboards only serve to give the toddler bed a unique appeal. Protective side panels keep your young prince from tumbling in his sleep, which lets you enjoy your shuteye without worrying about his safety.
The toddler bed boasts a classy design that lends a touch of elegance to your little boy's room. The colourful design complements any theme you might have in the bedroom. The compact nature of the bed means it takes up little space to allow you to fit other items in the room. You can have your pick of matching Vehicle design products including storage units, toy boxes, bookcases, or even lampshades.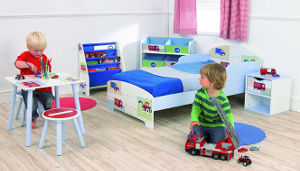 A slatted base on the toddler bed ensures an equal distribution of weight as your little boy lies on the bed to ensure quality sleep each time they fade away to lalaland. It also increases the longevity of the mattress, saving you the hassle of frequent replacement.
You can have your little boy using the bed from when they are 18 months old up to when they are five years or more. The sturdy MDF construction of the toddler beds will bear the increasing pounds with unmatched grace and stability. You will not need any advanced skills to assemble this classy toddler bed. Each unit ships with all the fixings and the instruction are straightforward to ensure quick assembly.
The designer toddler bed measures 145 x 77 x 59 cm to fit a 140 x 70 cm mattress.
Happy customers on Amazon have this to say after purchasing this toddler bed:
"Bought this for my wee boy who's one, he absolutely loves it and sleeps all night in his "big boy bed."
And
"Great toddler bed. Sturdy can hold an adult's weight for bedtime stories too. Perfect for any little boy moving into his first big boy bed."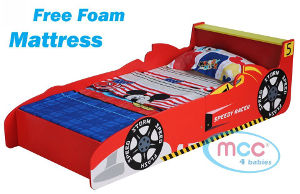 The MCC Racing Car toddler bed is the most pocket-friendly of the boys' toddler beds we recommend here. Nevertheless, that is not reason enough to write it off as it ranks among the best-selling toddler beds on Amazon. Young racing enthusiasts can't get enough of the bed that resembles a race car.
Available in a fiery red colour with hints of yellow and black, the cars speed junior bed is a sight to behold. It rides low enough to allow a two-year-old to climb on unassisted. The compact and colourful design makes it a delightful addition to your son's room without taking up too much space. This makes it the perfect choice of toddler bed when you need to fit more than one in a room.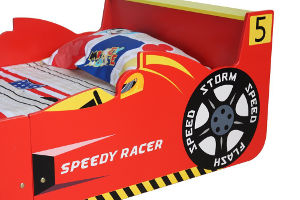 The use of non-toxic paints to give the bed a unique and alluring look means that your little boy is in no danger at all. Gentle contouring eliminates any sharp edges on the bed guards against cuts and bruises to keep your little explorer safe. Each unit is made of MDF that conforms to the highest child safety standard for safety and performance to safeguard your growing boy from harm.
Each unit ships with a comfortable baby safe mattress with a soft quilted non-allergenic cover to give it a touch of luxury. The water repellent and breathable cover make it easy to keep the bed clean and sanitary. The non-allergenic foam mattress boasts the highest health and safety standard to keep your little one safe and foster proper development.
The MCC Racing Car toddler bed measures 158 x 46 x 73 cm to fit a 140 x 70 cm mattress (supplied).
Delighted customers buying this toddler bed have this to say on Amazon:
"I am in love with my little boy new bed. Its looks amazing and my babe did loved it in the first sight. Well recommend it, she looks great, and the mattress is also very good."
And
"Lovely little boys 1st bed. My 2yrs old grandson will love this when he comes to stay at my house. Easy to assemble and clear instructions."
Best Princess Toddler Bed
If only a Princess bed will do for your toddler, we have rounded up some of the best princess toddler beds that you can buy. You should find your child's favourite so the transition from cot to bed is smooth and tantrum free.
Colourful, chic, and elegant, the Disney Princess Carriage Toddler Bed will make your little one in love with her new room. Riding low to the ground, the bed makes it easy for a growing toddler to climb in unassisted. The sturdy guardrails on the princess toddler bed keep your little angel from tumbling as she sleeps.
With her new carriage bed, your daughter will find every excuse to stay and play on her new carriage themed bed. The gorgeous canopy only serves to increase the magical appeal of the bed. The soothing pink colour makes the toddler bed the perfect fit for a little girl's bedroom. Twinkling battery powered lights turn up the magic to let your toddler ride her beautiful carriage off to dreamland every single night.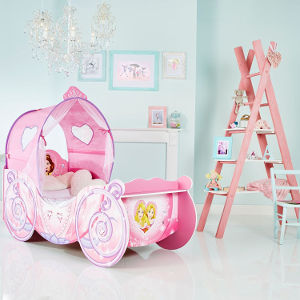 The sturdy MDF construction makes the toddler bed long lasting and can serve you until your little one is up to five years old and even longer. It also means that it can handle all manner of antics a rambunctious toddler spending time in her room can subject it to.
The Disney Princess Toddler Bed also boasts two undercarriage drawers. These two fabric drawers are a real space saver to help you keep her room clean and tidy with great ease.
The precise instructions and supplied fixings ensure that you have the bed assembled in no time. The assembly process is quick and easy and does not call for special tools or skills.
The princess carriage toddler bed measures 160 x 87.5 x 136 cm to fit a 140 x 70 toddler mattress.
Delighted parents on Amazon have this to say about their great purchase:
"My daughter absolutely loves this bed arrived well packed and was easy to assemble."
And
"Such a beautiful bed and very easy to put together. One of my best buy from Amazon."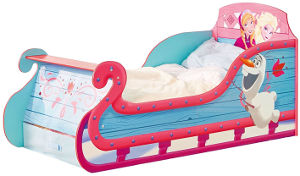 The Disney Frozen toddler bed is an excellent way to add a magical touch to your little angel's room. It transforms her bedroom into a daily adventure in the Kingdom of Arendelle, of course minus the snowy conditions! She can snuggle warmly in the spacious and super comfortable bed before drifting off to yet another adventure in Disneyland.
The Frozen sleigh bed is a great purchase if your little angel is an enthusiastic fan of Disney's Frozen. The bed features Anna, Elsa, and Olaf to keep your princess company as she fades away after yet another day of fun play. The colourful theme and characters on the bed give the bedroom a distinctive edge.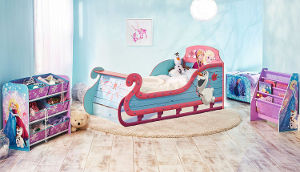 The sturdy MDF construction on this princess toddler bed will handle anything your daughter throws at it to serve you until they are five years old if not more. Protective side panels make midnight tumbles a distant memory to allow the both of you to enjoy restful sleep each night.
Each toddler bed features two handy storage drawers that make the sleigh bed a real space saver and enables you to store more items without crowding the room. A shelf on the end of the bed lets your angel keep her playthings within easy reach.
The Disney Frozen Toddler Bed is low enough to let toddlers climb down by themselves after a refreshing nap.
The sleigh bed measures 162 x 76 x 79.5 cm to fit a 140 x 70 cm toddler mattress.
Happy customers on Amazon have this to say about their purchases:
"Frozen toddler bed is excellent for my daughter great bed for any Frozen fan!"
And
"An amazing bed so easy to build and so well made, if you have a little girl this bed is a must have."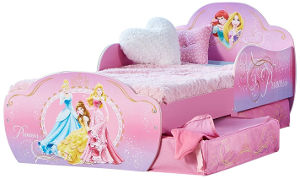 The Disney Princess toddler bed is the most affordable in the range of toddler beds we recommend here. Nevertheless, it makes an excellent choice for transforming your little princess's room into a palace. The delightful shades of pink on this sturdy toddler bed with protective rails add a rare appeal to the bedroom.
Two equally beautiful under-bed storage drawers enable you to keep their palace clutter free with just the right touch of majestic appeal. It means that you have more room to for more royal furniture in the chamber. You can accessorise the bed with princess themed items including toy boxes, bookcases, storage drawers or even tables and chairs.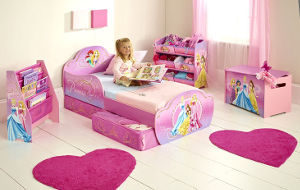 The presence of great Disney princesses such as Cinderella and Rapunzel turn each nap into a classy and elegant affair. With this bed, you will no longer have to wear a stern face while shooing your little angel off to bed. She will be making her way to her new best friends as she waits for you to tuck her in and read a bedtime fairytale.
The sturdy construction on the princess bed provides your little one with safe and comfortable sleeping quarters until she outgrows it. Each unit is easy to assemble, and the supplied fittings and instructions make the process breezy. Built to last, the princess toddler bed turn bedtimes into a magical experience from when your toddler is 18 months old up until they are five years or older.
The princess bed from Disney measures 143 x 77 x 63 cm to fit a 140 x 70 toddler's mattress.
Happy customers on Amazon have this to say after making a purchase:
"My Daughter loves her big girl's bed & was easy to assemble. Great purchase."
And
"Lovely beds for toddler, my girls love to sleep on their bed now. Good and sturdy quality of wood, I myself tried to sleep on the bed and does not seems to be weak."
Best Cars Toddler Bed
Car toddler beds have kid-friendly designs that make the transition from cotbed to toddler bed fun. If you have bedtime struggles with your vehicle mad little one, a car toddler bed is a perfect solution to entice them to sleep.
Car toddler beds are typically for little boys but they're great for girls too.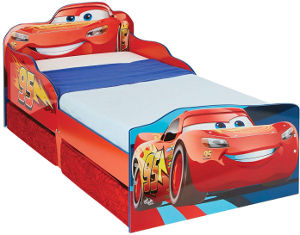 As its name suggests, the Lightning McQueen Cars Toddler Bed is a Disney inspired toddler bed and is part of the HelloHome Disney Cars bedroom range.
The Cars Toddler Bed is a typical little boy's bed for toddlers of 18 months to 5 years. Built with MDF material, the Cars Toddler Bed looks and feels durable. It is themed around the main character in Disney's Cars movie. The bed has a red, non-toxic finish and includes two fabric drawers for extra storage space.
When fully assembled, the toddler bed measures 63 cm (height) by 77 cm (width) by 143 cm (length).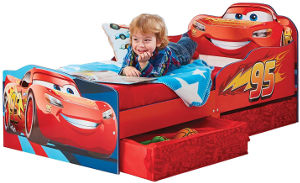 Height is what you should care about as it shouldn't be too high to pose a safety risk to your baby. Toddlers are fond of jumping in and out of their beds at will. A bed that's relatively low in height minimises the risk of accidental falls.
Still on safety, the Cars Toddler Bed comes with sideboards with rounded edges to prevent your little one from tumbling over and falling to the floor when they are sleeping.
The Cars Toddler Bed fits a mattress size of 140 cm (length) by 70 cm (width), the same size as a typical cotbed.
Here is one of the 5-star reviews the Cars Toddler Bed has received on Amazon:
"This is a really good bed, great looking and easy to put together!! My little boy loves it and says he's going to sleep in Lightening McQueen every night before bed!!"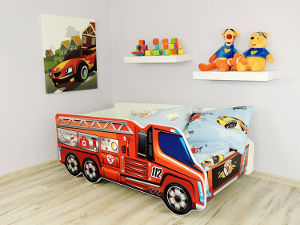 The Fire Truck Bed is a functional and comfortable toddler bed that works best for toddler boys.
Like its name implies, the Fire Truck Toddler Bed is designed to look like a real fire truck, complete with firefighter gear paintings on an orange/ red background colour. They're obviously there to boost the bed's aesthetic appeal and lure your baby to sleep. The design is robust and sturdy and can load up to 150 kg so you enjoy reading a bedtime story to your toddler.
For safety, all the bed's edges are rounded and the protective side boards are high enough to keep your little one from sliding out while asleep.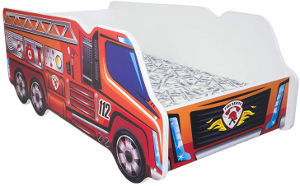 The bed will also be great for imaginative play during the day as they practice being a firefighter.
Mattress size for this bed is 140 cm (length) by 70 cm (width) but you don't need to buy it separately as it ships with one.
The Fire Truck bed is a practical and economical solution for parents looking for a balance between quality and price.
Recent reviews for the Fire Truck bed are mostly positive, including the following:
"Easy to put up and good quality wood. Having shopped around I wasn't expecting much for the price as it's so cheap compared to others but I'm gobsmacked! It's very good quality and my son loves it."
And
"Great grandson loves his big boy bed Mummy had no problems fitting it together"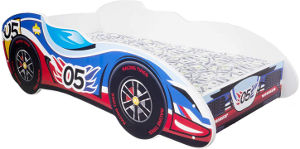 If you have a budding race car driver in your house then consider getting them the F1 Car Toddler Bed. For a very reasonable price, your little one can be the next Lewis Hamilton every night! The F1 car bed comes in a variety of different colours so you can pick the one the goes best with their bedroom.
The bed has high side panels designed to look like the sleek shape of a racing car. Cleverly, these also double as bed guards so you can be assured that your driver won't be falling out of their bed anytime soon. The sides and edges are all rounded so no bumps either.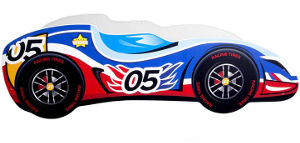 The bed comes supplied with a standard cotbed sized mattress (140 x 70 cm) so no need to buy one separately. All fixings and instructions are supplied so in no time at all you should have a car bed ready to go to drive your toddler to dreamland.
Customers are in praise of the F1 Car Toddler Bed:
"My little boy loves his new bed was a massive hit . Lovely quality. Easy to build ."
And
"Delivered quicker than expected, my partner put it together on his own without too much trouble .. and my son loves it so much! Brilliant buy so good for the price!"
Best Toddler Bed Round-Up
Hopefully, we've given you a few options to make choosing your child their toddler bed that little bit easier. Instead of the standard white/ wooden bed you can find them a fun character bed to make the transition from cot to bed a lot easier. All these toddler beds are the perfect size to fit in the same space as a cot bed so you won't need to do much moving of furniture to fit them in.
The small prices also means you can justify the cost for an item that they will grow out of in a few years.