When you have a baby every instinct is telling you to keep them safe. So when they are sleeping you want to know that you have the best baby monitor so you can relax knowing that it will alert you if your baby is upset. We take a look at all the different types of baby monitors you can buy- from the high tech video monitors, breathing monitors and the cheap but still awesome baby monitors. Our best baby monitors review is split into different sections so you can quickly jump to the type of monitor you are looking for or you can browse all the sections to see which one suits your needs.
Overall Best Baby Monitors
Best Video Baby Monitors
Best Baby Breathing Monitors
Best Cheap Baby Monitors
Overall Best Baby Monitors
These are our top picks (and best sellers) of all the baby monitors that you can currently buy covering different features and price points.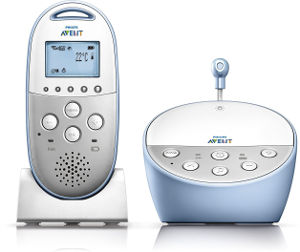 The Philips AVENT DECT Baby Monitor boasts innovative technology to help you keep your baby safe at all times. An eco-saving mode gives the rechargeable battery up to 18 hours of performance on a single charge to keep the connection going. As one of the best baby monitors, it guarantees you zero interference while letting you hear any sound the baby makes. The DECT technology transmits any hiccup, gurgle, or giggles your little one makes with outstanding clarity.
Each unit features sound level lights to alert you of any changes in the sounds coming from your baby's room. The lights make a convenient option should you turn off the standard vibrating alerts. Moreover, the unit boasts a two-way communication channel to let you soothe your baby from the comfort of your bed. If you notice your baby is getting restless, simply speak into the unit to soothe, reassure and lull them back to sleep.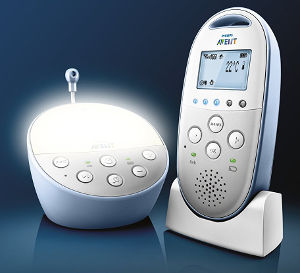 Inbuilt humidity and temperature sensors trigger an alert when the temperature in your baby's room drops below a set range. Sudden changes in temperature levels can lead to lots of discomfort for the child while putting them at the risk of a respiratory disease. The digital display on the parental unit lets you customise the temperature while alerting you to any changes.
The Philips AVENT DECT Baby Monitor boasts a range of gentle lullabies to soothe your baby to sleep. The warm tranquil glow of the nightlight lets your little angel drift off to sleep effortlessly. You have a choice of five relaxing lullaby tunes to help your baby enjoy quality sleep every day.
The Philips AVENT DECT Baby Monitor weighs 744 g and measures 2.5 x 2.5x 2.5 cm.
Happy parents on Amazon have this to say about their purchase:
"Great monitor. Battery life is excellent, as is the range. Have recommended to family and they are also very pleased with it."
And
"Portable parent unit. Child unit has everything and I use it all. Took me a long time to choose it, it was one of the more expensive sound baby monitors but it does everything I need it to do. The projection lights are lovely."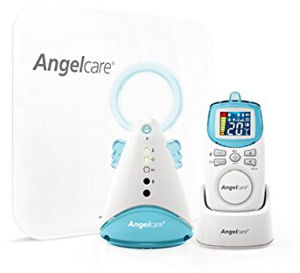 The Angelcare AC401 Movement and Sound Baby Monitor provides you with complete peace of mind when caring for your newborn child. A top of the range sensor pad tracks your baby's movement and will sound an alert if no movement is detected in 20 seconds. An out of range indicator on the portable, lightweight and rechargeable parent unit ensures you are never far away from your baby. A crystal clear sound transmission ensures that you can hear every little sound your baby makes while sleeping or even playing.
The digital display on the full-colour LCD screen provides you with all the crucial information at a glance. The monitor displays the temperature of your baby's room and alerts you in the case of a change. The display also boasts a low battery indicator to remind you to charge the unit promptly. An audio tic feature serves to reassure you that your little one is sleeping blissfully.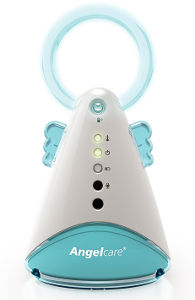 The nursery unit of the Angelcare AC401 Movement and Sound Baby Monitor boasts a nursery night light. It means you can check on your baby without interrupting their sleep. The sound activated LED lights come on when your baby makes a sound to calm them down or lull them back to sleep. The soft glow of the lights keeps your baby company, lowering the number of trips you would make to the nursery in the middle of the night.
Here are some of the happy customers on Amazon:
"When it comes to monitoring your baby, there's a fine line between naivety and going all MI6 on them. The Angelcare AC401 offer room temperature monitoring, movement sensors and noise recognition, all with alarms that are easily turned off or on depending what you require."
And
"Absolutely amazing product. Extremely sensitive and really puts a new parents mind at ease. Arrived on time. Packaged well. Perfect as described."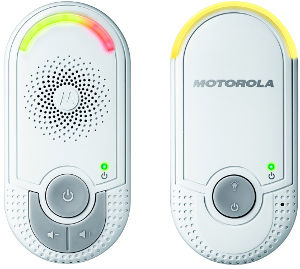 The Motorola MBP8 Audio Baby Monitor is an ideal purchase for a parent on a budget. Despite the affordable price tag, the unit boast state of the art technology. The 1.8 GHz DECT technology makes for a clear sound transmission from the baby's room. This technology lets you pick even the tiniest of sounds coming from the baby's room. The inbuilt data encryption keeps your little one safe by locking out prowlers.
Unlike other monitors, the Motorola's MBP8 plugs straight into a socket in the baby's room. The simple plug and go installation makes it easy to use and eliminates any chance of battery failure. The highly sensitive sensors pick and transmit any sound in the baby's room. The up to 50 metres range on the baby monitor allows you the convenience of enjoying your beautiful garden without worrying about the baby. It also means that you can tend to more chores around the home while your little one sleeps.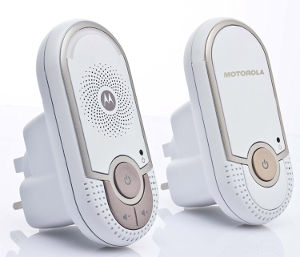 A simple glance is all it takes to keep track of the level of noise emanating from the baby's room. The five LEDs on the monitors calibrate the level of sound in the nursery with a high degree of precision to give you a simple visual representation.
An out of range alarm goes off when you are moving out of range of the transmitting unit to prevent loss of contact with your little angel. The eco-mode on each unit keeps your power consumption to a minimum without compromising the unit's functions.
This is the monitor we bought for our daughter and it has provided plenty of reassurance. The smallest of sounds are picked up and it works over a three storey house. We've found it brilliant for taking with us when on holiday or visiting family and friends as it's small to pack and just plugs in really easily. Just remember to collect both monitors when you leave- we've had to ask family to post one back to us before!
Each unit measures 13.2 x 7.1 x 19.3 cm and weighs 318 g.
Here's what parents have to say about their purchase:
"Excellent voice detector. I have been using it for the past few weeks for my newborn baby. I am finding it very useful. It saves me time from going to her room every few minutes to check if she is awake or crying…"
And
"Have a door in our new house from the front room to the hall and the kids upstairs we just couldn't hear. Plugged this Into the hall between the kid's room and one In The TV room and it's like a super microphone it's great. Even with both kids in bed in their rooms, the hall mic picks up rolling around in bed. Super !"
Best Video Baby Monitor
Video baby monitors make keeping an eye on your sleeping baby so much easier. With a crisp picture, you can quickly see if you need to check on them when they start to move or cry instead of running in at the first sound of movement when you don't have a video monitor. The best ones come with extra features such as lullabies and night lights so you can get more use out of them as your child grows.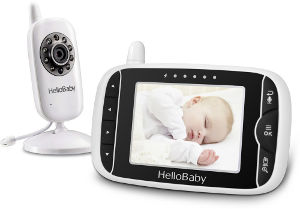 The HelloBaby HB32 Wireless Video Baby Monitor provides you with crystal clear footage of your baby. The 3.2-inch high-resolution LCD screen on the parent unit relays a stable audio and video stream in high definition. You get to keep a keen eye on your little one as you go about your day as if they were right there next to you. And infrared night vision capability eliminates the need to creep to the baby's room in the middle of the night.
The 2.4 GHz wireless transmission is highly encrypted for enhanced security and is capable of transmitting the live feeds without loss or distortion to a distance of about 300 metres. This feature allows you the freedom to appreciate your garden during a lovely summer day without neglecting your sleeping baby. The lack of wires lets you carry the unit as you would your smartphone.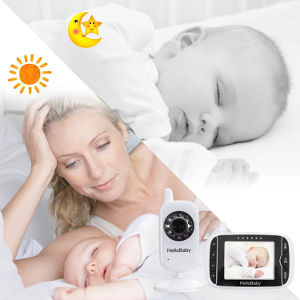 An innovative two-way voice talk means that your baby is never out of reach. The video capability lets you keep an eye on your baby while the talkback function allows you to soothe them in case of distress. The talkback feature allows you to forge a strong bond with your growing child. It also ensures that your baby never feels truly alone as they have your voice to keep them company at all times.
In-built lullabies soothe the little one to sleep every night to ensure they wake up well rested. A monitor enlargement capability on the baby monitor lets you zoom in on the sleeping beauty at any time, even at night.
A user-friendly digital interface with large buttons makes it easy to operate the parent unit. An air temperature meter lets you monitor the temperature in your baby's room all day long.
The package measures 25.4 x 17.8 x 5.8 cm and weighs 540 g
Happy buyers on Amazon have this to say about their purchase:
"I'm so impressed with this wireless monitor! It's brilliant quality and very easy to operate. It also looks really modern and stylish! There's one monitor, and one camera included. The monitor gives me great peace of mind when my little boy is asleep upstairs, and I'm downstairs. I can hear and see him perfectly."
And
"I bought the monitor one year ago, and I'm very pleased with it. Quality of image very good, and I was especially impressed by the night vision picture quality. The sound is also very good and sensible."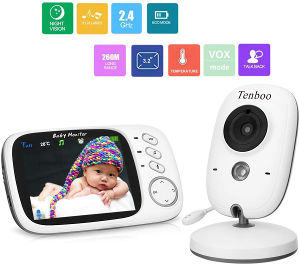 Easy to set up, the Tenboo video baby monitor has a sharp picture resolution, long range and quick picture response at the first hint of sound from your baby. Plug in the camera unit with the best angle to see your child in your cot and then use the portable monitor to see whether they need comfort from you while you continue with chores during the day or relaxing in the evening.
The 2.4 GHz wireless monitor has safe technology to ensure the camera feed cannot be hacked so you can have peace of mind about security as well as your baby's safety. The screen automatically shuts down to save on power when no noise is detected and then brightens to sound.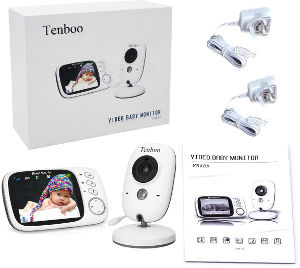 The monitor also has a soothing night light to help lull your little one and make night feeds or changes easier to do. You can also select from eight different lullabies to play to help send your baby off to sleep quickly. With two-way talkback capability, you can also speak to your baby to reassure them through the monitor without having to go into their room.
The monitor also gives feedback on time, date, temperature, signal strength and battery life so you know if you need to charge the unit or if you're going out of range.
Customers on Amazon are happy with their purchase saying:
"Picture quality is decent, optimal distance of the camera is about 1-1.5m. In the night the visibility is even better than during the day."
And
"I was traveling and used this monitor the entire trip across countries. Its delivery of range is excellent. Quality of sound and picture is great. I would highly recommend this brand/model/size if you have to use it in a big house"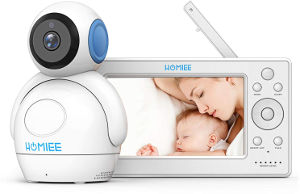 The HOMIEE video baby monitor is at the top end of the price scale, however, this is reflected in the large screen and high-resolution picture quality as well as great sound quality and range. Plug in and use your monitor straight away from the box with no need to pair over WiFi or use an app.
The LCD screen is a whopping 5 inches and boasts 1280 x 720 colour resolution so you will be able to see your baby with crispness- so much easier to decide if you need to pop in to soothe them or not. The video screen can be zoomed in so you can get a closer view of your little one.
As with other monitors, this one features two-way audio talk so you can talk to your little one as well as hear them. It also features lullabies to soothe your baby to sleep.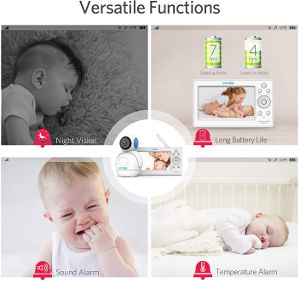 The camera unit can be manipulated from the monitor if you want to get a different view of the room your child is in- this is especially useful if you've used it to monitor your child playing while you quickly pop to the bathroom.
Along with having a sound alarm trigger so you can quickly see why your baby is crying, there is also a temperature alarm so you know if their room has become too hot or too cold for them, really useful function for warm summers and cold winters.
Happy customers on Amazon are saying:
"Really simple to use and the monitor panning is very smooth – tick! Sound quality is good, can hear my little girl breathing quite easily and the video quality is excellent. Temperature is accurate, well matches my Gro Egg anyway."
And
"The picture quality during the day and night vision is amazing, everything is crystal clear. The menu is straightforward and setting up is easy. The range is the best I have had so far beating the summer infant. Sound is very clear as well."
Best Baby Breathing Monitor
A lot of parents want the reassurance of having their baby's breathing monitored while they sleep so they can rest easy during the night knowing any change in respiration will trigger an alarm. We have found three of the best baby breathing monitors, all at reasonable prices so you can have that peace of mind too.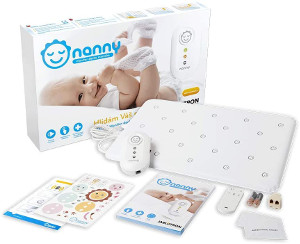 The Nanny baby breathing monitor is a certified piece of medical equipment meaning that it has passed specific tests on it's breathing measurement capability. The device is really simple to set up and use. The main part is a pad with the sensors in it. You lay the pad on the cot under the mattress and then baby lays on top as usual.
The controller part with the alarm is connected to the pad with a short cord. This cord is the only one on the breathing monitor, so you don't have to worry about your child getting caught in it. This baby monitor is powered by AA batteries, which makes it convenient and also has a low battery warning, so it doesn't stop working on you with you not knowing.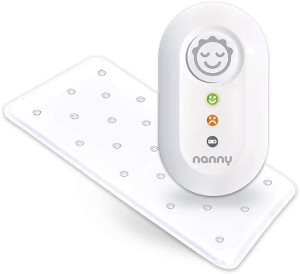 The pad is ultra-soft and as your child grows you can buy a second pad to hook up to the Nanny so you can keep using it as your child ages. The monitor measures that your child takes a breath every 20 seconds and at least 8 breaths a minute. If your baby does not, then an alarm will sound to notify you of an issue. Also, it has a visual alarm as well so if you're sleeping at the time either the noise or the light will wake you.
The whole breathing monitor is 53 x 32 x 6.5 cm making it easily portable, so you can have the reassurance that your baby is OK wherever you travel to.
The Nanny baby breathing/respiration monitor is used in hospitals all over, so it is no wonder that it has such great Amazon reviews including customers saying:
"Bought this for my premature granddaughter as it bought peace of mind to my Daughter. Worth every penny. Easy to fit, no mains required just 2 or 3 pencil batteries. "
And
"One of the best purchases I have ever made. So good for me being a first time mum, and a very paranoid one!"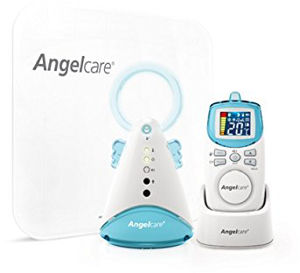 The Angelcare AC401 baby monitor is packed with a lot of different features. The main function is to monitor your child's movement, but it does so much more. The baby monitor comes with a sensitive mattress pad that makes sure that there is movement every 20 seconds to make sure your baby is still breathing.
This unit also comes with an in-room sensor that can keep track of sounds your baby is making and even room temperature. The nursery unit runs off 4 AAA batteries or can be plugged in giving you lots of options.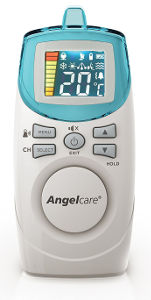 The Angelcare breathing monitor parent unit can be carried around the house with you so you can do chores during the day whilst still monitoring your sleeping baby. It has an out of range warning so you don't get too far away and it runs off 4 AAA rechargeable batteries. The parent unit has a bright LCD screen to make it easy to read and you can see the room temperature as well as the warnings. It emits a sound, light, and even vibrates to warn you if there is an issue.
Lastly, this particular monitor has a nursery night-light built in so you don't have to disturb your baby with bright lights when you go in to feed or check them.
With all these different features it is no wonder that people love this monitor and that it has such great Amazon reviews including:
"Great product giving much needed reassurance. Worth buying this model over cheaper version as the display offers more useful functions."
And
"I can't put in to words how much I love this. It is worth every penny and I wish I'd bought one sooner than I did! I hardly slept at night as I was so worried about my baby, but from the first night I used it I actually slept, it is such a great invention."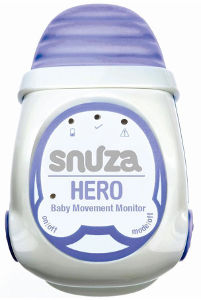 The Snuza Hero SE baby monitor is a great monitor if you are on a slightly lower budget. This baby monitor is a bit different than the other two breathing monitors reviewed as instead of using a mat to monitor movement, the monitor actually hooks to the baby's nappy, resting on your child's tummy. This device is medically approved so has undertaken stringent tests to verify that it will measure breathing and alert when none is detected.
If the monitor doesn't sense movement for 15 seconds, then it vibrates to try to get baby to take a breath. Another 5 seconds without movement and the alarm will sound to notify you. Since it hooks straight to your baby it is only 4.5 x 4 x 7 cm making it very portable. It also runs on rechargeable batteries.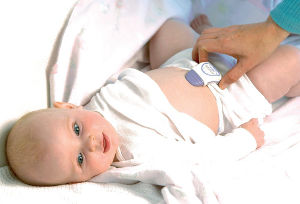 The case of this baby breathing monitor is made from a hypoallergenic material, so your child will not have a reaction from it touching the skin. On top of the audio alarm, it also has a visual alarm to help make sure that you notice it going off. This monitor is light weight and will do a good job keeping an eye on baby for you.
A lot of paediatricians recommend using this monitor, and the reviews are really good as well. Customers say:
"It attaches to their nappy and every time it detects a breath a light flashes green and it can also be set up to beep (although that'd probably keep everyone awake! so I keep the beep off). The green light flashing can be seen through the baby's clothes, so if I wake up in the night I glance over and can see a green light flash, which puts me at ease and I fall back to sleep."
And
"A must have for nervous parents like me. Works perfectly and doesn't seem to bother the baby."
Best Cheap Baby Monitors
Even if you have a tight budget, you can still get a really good baby monitor. Take a look at some of the best cheap baby monitors available, including a high spec video monitor.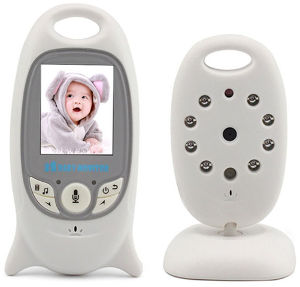 The BW New 2.0 inch Wireless Digital Baby Monitor is an ideal affordable baby monitor because of its many features including a talk function, alarm function, and temperature monitoring. This allows parents to see if there is a need to go to their baby because he or she is uncomfortable. This particular item is one of the standout cheap baby monitors with its music player and built-in lullabies to help soothe your baby.
The BW Wireless Baby Monitor is perfect for parents from different countries. It has multiple language support (English, French, Spanish, Italian, and German) that makes the device easy to use.
It also has a 2-inch LCD that allows you to see what the device captures. Unlike other baby monitors, this device operates with a built-in battery. And, it captures images even in low light situations. If that's not enough, its volume is adjustable, not to mention it can transmit with a range of up to 50 metres indoors and 260 metres outdoors.
The BW Wireless Baby Monitor measures: 6.3 cm x 12.6 cm x 2.7 cm.
Here are customer experiences with the baby monitor:
"Excellent value for money! Fast delivery came within the week. Does everything you need and want it to do, night vision, you can play lullabies and even speak to your child through it, can not fault it and for the price, it's an excellent buy!"
And
"Would definitely recommend this product, clear picture and sound of your baby, and easy to adjust and adhere to wherever you desire the product to be placed."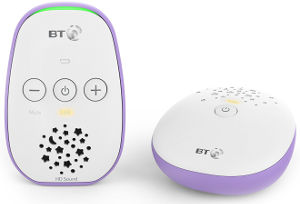 Another option for parents looking for cheap baby monitors is the BT Digital Audio Baby Monitor. This device provides high-def sounds so you can clearly hear your baby during nap and night time. What sets it apart from other baby monitors is its simple and straightforward design that just gives you audio. It is the perfect device for parents who are not after the techy features and just want a simple way to hear when their little one is upset or has woken up.
The monitor has a good range of up to 300 m when outdoors and 50 m indoors so you can still hear your child waking even when your house is spread over three floors or if you go into the garden.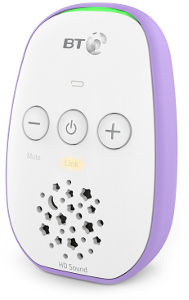 And since the BT Digital Audio Baby Monitor is a straight-forward option for a lot of parents, it is a favourite among both first-time and experienced parents. The units are a nice compact design so are perfect for when you visit friends and relatives with your little one.
The unit comes with two mains adaptors and rechargeable batteries so no need to worry about the monitor running out of charge. Sound level lights give you a visual idea of the noise coming from your baby so you can quickly judge if your baby is just snuffling or whether they are distressed and need you to pop in.
Customers are very happy with this baby monitor from trusted brand BT:
"It's compact, crystal clear and has great sound. We can hear every snuffle, cough, and whimper our baby makes long before he cries so are really impressed with the microphone / sound."
And
"Works really well through solid stone walls. The range is more than adequate for us and the signal was crystal clear. Cannot fault this for the price!"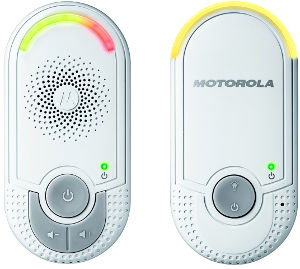 One of the best advantages offered by cheap baby monitors is the fact that they have simplified operations. It doesn't need techy knowledge in setting up the device. For the Motorola MBP8 Audio Baby Monitor, it is exactly what parents love about these types of devices. It is the type of baby monitor that you simply plug straight into the wall so there are no cords to trip over and no need to charge units. And just like other baby monitors within its price range, it offers a decent range of coverage even indoors. It does the job well at providing parents with the sounds coming from the baby's room thanks to its sensitive microphone.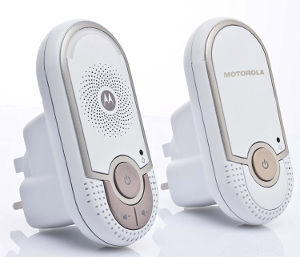 The MBP8 Audio Baby Monitor might be a simple device but this can really get the job done. It makes use of 1.8 GHz DECT technology which simply means that it delivers high-quality and clear sounds. It has a 50-metre indoor range and even an out-of-range warning that signals the users if it is a good idea to adjust the proximity of the device.
The MBP8 Audio Baby Monitor measures 13.2 x 7.1 x 19.3 cm. It weighs 318 g.
Here's what customers have to say about the Motorola MBP8 Baby Monitor
"Excellent voice detector. I have been using it for the past few weeks for my newborn baby. I am finding it very useful. it saves me time from going to her room every few minutes to check if she is awake or crying…"
And
"Love it. Basic baby monitor, but does a great job! 5 volume settings on parent unit and a nightlight on the baby unit. Beeps if the baby unit is off, but parent unit on which is a good feature."
Best Baby Monitor Reviews Round-Up
There's such a wide choice of baby monitor types at all different price points that it can become overwhelming trying to decide which is best for you. Hopefully, we've narrowed it down so you can easily see which one is the best fit. Whether you want the total peace of mind of a breathing monitor or are happy with the easily portable, crystal clear audio monitor there is definitely a baby monitor to suit.