So after doing a post about dining booster seats the other day, it got me thinking about what other things are useful and sometimes indispensable when you are trying to feed your baby or toddler when out and about. I've rounded up a few products that either we use or I would consider buying. Dining out with a little one can be a bit hit and mess miss what with the possibility of tantrums, food refusal or trying to eat when really all they want to do is sleep/ play/ shout very loudly.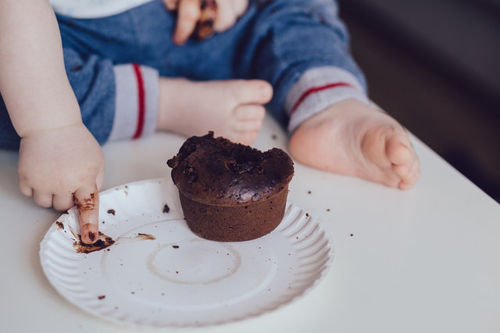 I should mention now that these ideas are mainly for if you're taking food with you for your toddler to eat. So if you always buy them food when out and they can successfully use restaurant cutlery then it's a big thumbs up from me and you should take a look at some of our other posts for more useful 'travelling with kids' inspiration 🙂
How do you carry your little ones food?
I ask this as I took the usual 'bung it in a plastic box' approach to carrying food for my daughter. Which worked just fine but did sometimes mean food looked a bit unappealing when we arrived at our destination. I think a lovely looking pack up box would of made all the difference (and still could actually) instead of the boring food boxes we use.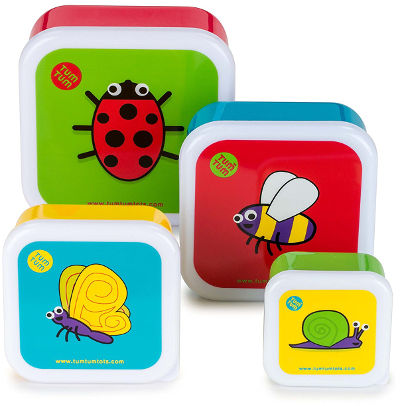 One that looks like these made by TUMTUM would be ideal. The boxes are super cute/ cool depending on the design you choose and would be used until they go to school. The pots can also be stacked inside each other for easy storage (it can't just be me with an overflowing cupboard of plastic storage pots?!) The pots can also be thrown in the dishwasher to save you having to wash up by hand.
How about refillable food pouches?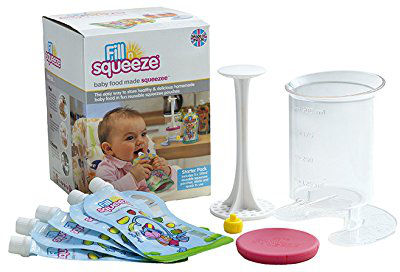 I saw this nifty little set at the Kind und Jugend International Tradeshow that's held in Cologne every year which showcases the newest products for babies and young children. It looked like something that would be super useful and I've been meaning to tell you all about it.
When you're weaning, quite a lot of time is spent making different meal purees of varying degrees of smoothness depending on what age your baby is. We would then freeze them in ice cube trays. If we were off out over a mealtime we would take a few cubes in a pot for our daughter to eat. This method, of course, works fine and lots of parents do this.
However, after seeing these refillable food pouches I could instantly see that they would be so much easier, cleaner and less hassle to store than the ice cube portions. All you do is make up the filling for the pouch (either a hot or cold one) and then put it in the measuring cup that comes with the set. You can even whizz the filling in the cup to make things easier. You then attach one of the empty pouches to the nozzle at the bottom of the cup. Using the plunger, push all the meal into the pouch until it is full. Have a look at how it works in the video below.
The pouches are both freezer safe and microwave safe so you can freeze pouches in preparation and also heat them up easily without having to decant them into a bowl. Your little one can either suck the food straight from the pouch or you can squeeze the puree into a bowl or onto a spoon for them to eat. Such an easy way to store and carry your little ones food. You can continue to use them once your baby is on to chunkier foods for things like smoothies to get a bit more fruit and veg into them!
Do you take children's cutlery with you?
Our daughter struggles quite a bit with using cutlery, she is nearly 3 now and will still default to using her fingers at every opportunity! We have a few sets of child-sized cutlery as well as the plastic weaning spoons for her to use but her dexterity just isn't developed enough for the fork or the knife.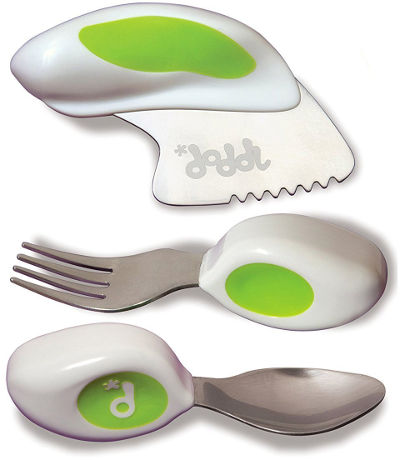 We had a look online and found this company – Doddl – who have spent a lot of time and energy to develop a set of children's cutlery that play to your child's strengths and gets them using a spoon, fork and even a knife a lot quicker!
The cutlery is designed for your child to hold easily and have a solidness so that they can smoothly move the food into their mouths. The knife is a revelation- it can cut things by pushing through with slight 'sawing' movement- so much better than mini adult knives!
We really love this cutlery set at Kid Transit, our daughter has got to grips with them and we've even seen improvement in her using other cutlery as well. Take a look at Doddl's video all about their cutlery below.
The set is also small enough that you could easily pop it in your bag for when you eat out so they can have the comfort of a familiar and easy to use cutlery instead of having to go back to using unwieldy knives and forks.
Dining out with young children: final thoughts
When you have the time to take a look at all the great products out there, then dining out with your little ones can be fun. Take along easy to store pots or refillable food pouches and make sure they have cutlery that they can use without getting frustrated. Biggest tip of all though- take along food that you're sure they will eat! Dining out in a busy restaurant is probably not the best time to introduce new tastes…..