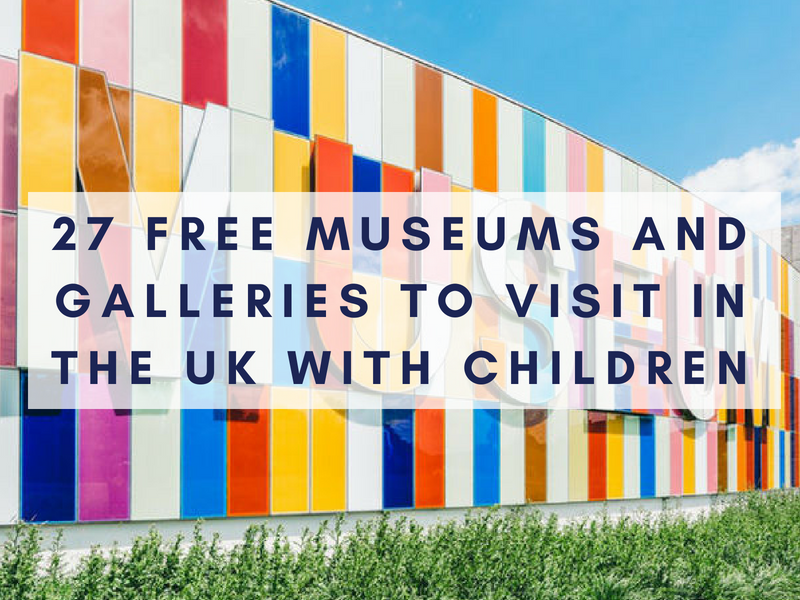 Museums and galleries are a fantastic way to introduce young children to culture and art, and with a growing number of collections offering free admission, they make a perfect day out for all families, whatever your budget. Many of them also tailor activities especially to suit young families, to help both children and adults learn and develop together. We picked out some of our favourite free museums and art galleries in the UK for you to visit…
With exhibits displaying all-sorts, from prehistoric monsters, to the technology of the future, this Scottish museum is bound to wow the whole family. Child-friendly displays will captivate young children, as they discover the fascinating natural history of the human world. Spot the enormous T-Rex and intriguing Egyptian coffin among the plethora of artefacts!
Open daily 10:00 – 17:00
Pop along to the Riverside Museum to see thousands of objects all on the theme of transport. There are lots of hands-on displays to interact with as well as large vehicles such as a train, tram and bus to get inside. You can also walk through a Glasgow street visiting shops, bar and subway.
Open daily Mon-Thurs & Sat 10:00 – 17:00, Fri & Sun 11:00 – 17:00
The Ulster Museum has a huge range of artefacts and displays to browse including an Egyptian mummy, a full dinosaur skeleton and a vast collection of Irish Art. The museum also runs a number of events for all ages including Storytelling and Film Screenings.
Open Tues-Sun (& Bank Holidays) 10:00 – 17:00
The museum is the site of a coal mine with extensive mining buildings and heritage to explore as well as an underground mining tour to find out exactly what life was like at the coal face for a miner. Different galleries explore all the aspects of mining and the lives of the miners and their families.
Open daily 09:30 – 17:00
Easily accessible in the heart of Cardiff, the National Museum is home to the Welsh national collection of art, geology and natural history. The Evolution of Wales galleries are sure to be a big hit with children as they show how the Earth began in the Big Bang and then comes all the way through to present day Wales stopping off at dinosaurs and woolly mammoths along the way.
Open Tues-Sun (& Bank Holidays) 10:00 – 17:00
The British Museum is packed full of artefacts spanning the history of civilisation, one visit will not be anywhere near enough time to see it all. To help you out, the British Museum has a number of activity trails for families to do (pick up leaflets at the Families Desk in the Great Hall) along with loads of family events to bring the museum alive.
Open daily 10:00 – 17:30, til 20:30 Fri
The Imperial War Museum seeks to bring to life the experiences of people affected by war with three floors of exhibits to help transport you into everyday lives that hid exceptional stories. An important and educational museum for children and adults alike.
Open daily 10:00 – 18:00
One of my favourite museums to visit in London both as a child and an adult, the vast halls of the Natural History Museum hold amazing collections of plants and animals with loads of interactive displays to gain a better understanding of the world that we live in. Loads of events are put on with children in mind, especially their Dino Snores for Kids where you can spend the night at the museum.
Open daily 10:00 – 17:50
The vast collection of teddy bears and Victorian dollhouses at the Museum of Childhood, will not only instigate nostalgia among the grown-ups, but captivate the little ones too. As well as free drop-in activities all year round, the museum also offers a range of activity packs tailored for young families.
Open daily 10:00 – 17:45
This Roman fort was built to guard the entrance to the River Tyne. Nowadays you can discover what life was like in Roman Britain and take a look at all the finds that have been discovered in the area.
Open Mon-Fri 10:00 – 17:00, Sat 11:00 – 16:00, Sun 13:00 – 16:00. Closed from Oct til Apr
Teaching you all about the history of Newcastle and Tyneside, the Discovery Museum is in the former Co-operative Wholesale Building. On the ground floor is the Turbinia steamship which was once the fastest ship in the world. Lots of interactive displays will keep your children happy, including the see-through toilet!
Open Mon-Fri 10:00 – 16:00, Sat-Sun 11:00 – 16:00
Great for young aspiring football stars, this Manchester museum is home to 140,000 items, making it the world's greatest football collection. Discover the history behind the "peoples' game" and celebrate the integral part football plays in English heritage.
Open Daily 10:00 – 17:00
Inquisitive kids will love this fun, interactive museum. Packed full of surprises the collection includes a bug house, planetarium and aquarium.
Open daily 10:00 – 17:00
The National Science and Media Museum really will enthuse your children with its wealth of interactive displays and fun events for the family. A big hit is the chance to get behind and in front of the camera in their TV studio. There's also a retro Games Lounge that will keep little and big kids occupied for ages1
Open daily 10:00 – 18:00
We have visited this museum more times than I can count! It is such a great day out for all ages of children. The two halls have a variety of trains that you can explore and there are always extra exhibits such as the space capsule that astronaut Tim Peake returned to Earth in which was touring this year.
Open daily 10:00 – 18:00
Recently refurbished to make it even more child-friendly, Sheffield's Western Park is a fantastic way to explore the nature and history of the area. A scenic adventure, discover the story of Sheffield, from the prehistoric period to the present day.
Open Mon – Sat 10:00 – 17:00, Sunday 11:00 – 16:00
Set in the beautiful Yorkshire countryside, this open-air gallery is great for any outdoor loving family. Be sure to check the weather before you go though, you might need to bring wellies if it decides to rain!
Open daily 10:00 – 18:00
Inventive and ambitious, this international art centre retains its local presence, whilst offering an engaging day out for a family with young kids. Throughout the school holidays and at weekends the museum provides creative activities, tailored especially for children.
Open Tuesday – Saturday 10:00 – 18:00, Sundays 11:00 – 17:00
Discover the story of North Lincolnshire through hands-on exhibits and intriguing displays. Step back in time to the post-war kitchen and get groovy in the sixties living room. The archaeology gallery also offers a vast display of ancient treasures.
Open Monday – Saturday 10:00 – 16:00, Sundays 13:00 – 16:00
Exploring the social and industrial history of the area, this collection is filled with lots of trails and games to inspire young children. An informative but child-friendly atmosphere encourages young people to engage, and learn about Mansfield life.
Open Mon-Sat 10:00 – 17:00
This museum is perfect if your children enjoy a bit of digging in the dirt! They can see all the amazing things that are uncovered during digs and learn how that builds our understanding of how people lived hundreds of years ago.
Open Tue-Sat 10:30 – 16:30, Sun 12:00 – 16:30
Open since 1885, the Birmingham Museum and Art Gallery now has 40 galleries in total displaying important works of art (particularly Pre-Raphealite) and the largest ever hoard of Anglo-Saxon gold ever found. The museum often runs events for families including dino digs, crafts and messy play activities.
Open Mon-Thu, Sat & Sun 10:00 – 17:00, Fri 10:30 – 17:00
This iconic building is home to the largest publicly owned collection of British vehicles in the world. Narrating the intriguing story of Coventry's people and industry, this museum is ideal for little petrol heads, as well as veteran transport enthusiasts.
Open daily 10:00 – 17:00
There is so much to see at the RAF Museum that it could easily turn into a full day out. For all the budding pilots or vehicle enthusiasts in your family, there is a never-ending display of military vehicles with the main focus (as you would expect) being all the amazing planes.
Open daily 10:00 – 17:00 (Mar-Oct), 10:00 – 16:00 (Nov-Feb)
The Bristol Museum has loads of things set up for families to explore all the exhibits including activity areas to encourage playful learning as well as being able to get hands-on with some of the exhibits. Their Curiosity area on the ground floor is set up for under 5's with a stage, puppet play and games.
Open Tue-Sun (& Bank Holiday & school holiday Mon) 10:00 – 17:00
This attraction has proved really popular with children as it is all based around toys. They have an array of marble runs, fairground mirrors to have fun with and a giant floating marble! There's also a glassworks on site where you can see all manner of glass items being made.
Open daily Mon-Sat 09:00 – 17:00, Sun 10:00 -17:00
Standing tall in the centre of the Cornish town of Falmouth is the grand art gallery. Receiving awards for their innovative approach to involving young people and families, it is the ideal way to introduce children to art. The gallery has over 2,000 art works that range from the Pre-Raphaelite and British Imperialist paintings to contemporary prints.
Open Monday – Saturday 10:00 – 17:00 (closes Sundays)
Do you think you can add to this list? Let us know in the comments section below, or even Tweet us. Why not check out our other ideas for free family days out too?