A lot of baby products come in travel versions so you can easily transport them for visits and holidays. One of the products we hadn't seen around were travel baby bouncers or rockers until wandering around Mothercare one day we stumbled upon the Take-Along BouncerTM by Tiny Love (unfortunately this one is no longer available, which is a shame as it was fully portable).
If your little one loves their bouncer chair then it's a great idea to have one for your travels that neatly folds up to stash easily in the car.
Which travel bouncer is the best to buy?
Here's a look at some of the best travel bouncers that we could find with a quick summary of the different features of each. Hopefully one of them will be just what you were looking for!
Chicco make a travel bouncer or at least one that is light and compact enough for you to take along easily on trips away. This bouncer has some comfy padding on the seat and is foldable with a couple of clicks for carrying.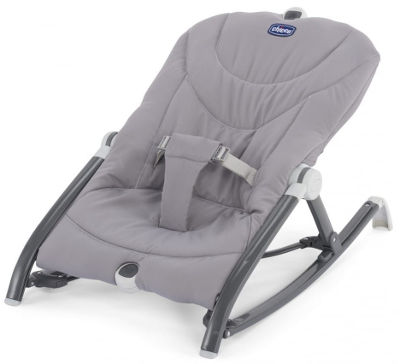 With two modes you can choose whether the bouncer is fixed for when your baby is little or a rocker for when they want a little movement to help them sleep. Looking at some of the reviews on Amazon would imply that the rocking is minimal- however, this might really suit your baby. The bouncer also has a number of different height positions that you can set to recline your baby.
Quick folding bouncer comes with travel bag for easy storage and transport.
Now, this bouncer is not cheap so if you can't justify spending big bucks on it then move quickly on to the next item! However, BABYBJÖRN makes gorgeous, stylish and above all functional products that will be robust enough for a whole family of children. The Soft Balance Bouncer is no exception to this with slim, sleek lines and restful colours complementing the completely fit for purpose bouncer design.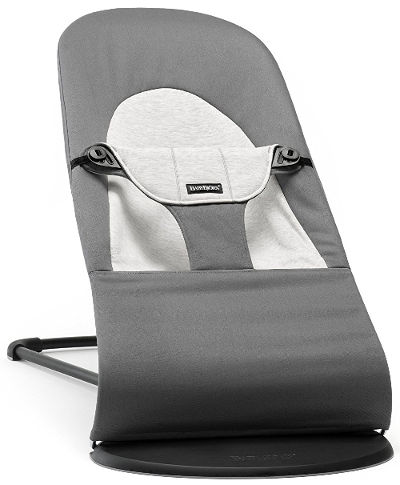 The bouncer can be used from birth up to 2 years and features three different positions to take your little one from sleep to rest to play. The bouncer moves with your baby so they can have it gently rocking to soothe or entertain. Once your baby is bigger, the travel bouncer can be turned over and used as a handy chair.
The seat fabric can be removed quickly for washing and crucially the bouncer folds flat so it can be easily taken with you on holiday or when you visit friends. If your bouncer is still in good condition when you've finished using it then you'll be pleased to hear that they keep their value really well so you should be able to sell it on quickly.
Ergonomic baby bouncer with head and back support. Machine washable seat.
This compact baby bouncer is fully padded and comes with a handy removable toy arch for your little one to play with. The baby bouncer suits little ones up to 9 kg so until they are about 12 months old. The compact frame and removable items mean the bouncer is quite portable, it folds down to a compact size and has carry handles for easy transport.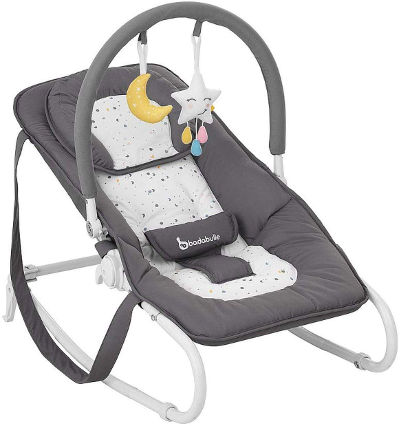 The baby bouncer has a couple of footrest positions as well as a reclining back and a fixed as well as swing position depending on whether your baby would like a bit of a rock.
If you'd prefer to take a door bouncer with you, then this fun lion design one from Munchkin gets Amazon Choice as well as number one best seller in the door bouncer category.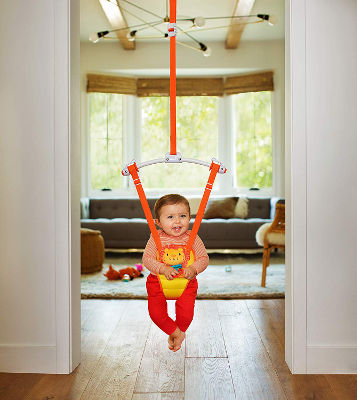 The door bouncer has a really strong sturdy clip to attach to the door frame and can take your child until they are at a maximum weight of 12 kg. The fun harness is designed as Lenny the Lion with a crinkle head to encourage sensory exploration and teething rings to soothe your baby while they bounce.
Easy to put up and take down, the door bouncer is perfect to take with you on a visit or a holiday and will easily fold flat into a suitcase or bag for easy storage.
The Amazon Best Seller for Co-Sleeping Cots- lightweight, sturdy, great bed attachment for safe co-sleeping.
This travel bouncer isn't even a bouncer, it's actually a foldable jumper chair! Jumperoos and activity centres are so popular with parents as they give babies a safe and stimulating place for them to play for a while. However, they are really large and quite cumbersome so need a lot of room in your home. This also means you'd be unlikely to take one with you if you're travelling on holiday or popping to the park. Take the Summer Infant Pop N Jump with you instead!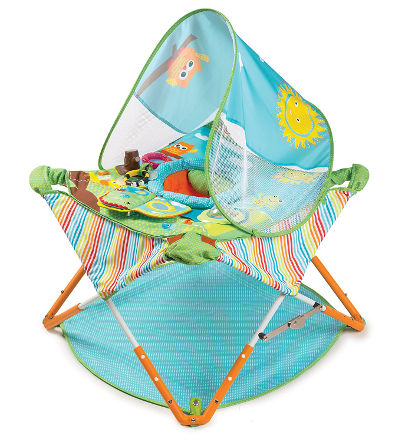 It has loads of fun toys for your baby to interact with such as a rattle and a spinner. It also has a UV sun canopy so you can protect them from harmful rays if you use it outside. The jumper comes with a base mat so your little one won't be touching the ground either. You can adjust the jumper to three different height positions so it will grow with your child. What makes this a great travel item is that the whole thing folds down really neatly into a travel bag and it is made from lightweight materials so you won't mind carrying it around.
The best travel baby bouncer: final thoughts
Baby bouncers are great when you want to have your baby out of your arms but not just on the floor. They can have a look around at their environment and you know they are secure if the doorbell goes. You can also bounce them to settle them if they are upset but you need your hands free. To have a travel version means you can go out and about, travel and visit friends and family with an extra seat for your baby to sit in when you are there.
Give it a go if you plan to travel a lot when your baby is under 12 months.