When you are expecting a baby there are a lot of big ticket items to purchase. One of the biggest outlays comes when you buy a pram or pushchair so you want to make sure you're making the best choice. With so many different names and brands out there, it can become overwhelming so to help you out we've narrowed it down to the top three most sought after prams available in 2020.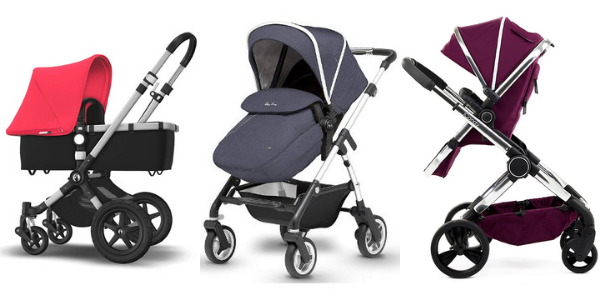 These are: the Bugaboo Cameleon 3, Silver Cross Wayfarer, and the iCandy Peach. All of them are at the top of their game for offering versatility, comfort and practicality so hopefully this review will get to the bottom of which one is the best for your family.
Quick videos introducing each of the pushchairs:
Bugaboo Cameleon 3
Silver Cross Wayfarer
iCandy Peach
How many wheels?
All of these pushchair/ pram systems are based on a four-wheeled system for easy manoeuvrability. The Wayfarer and the Peach have lockable wheels and puncture-proof tyres to make steering on different terrains easier (lockable wheels are good for bumpier terrains, free-moving wheels better for urban streets).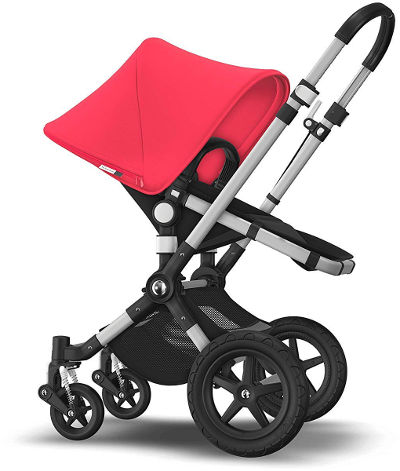 The Cameleon 3 has a slightly different set up with small front wheels and larger back wheels for a smoother urban ride ride (small front wheels give extra manoeuvrability). However, you can flip the handle and lock wheels to get the large wheels at the front to make it easier to steer over bumpier terrain. The suspension can also be adjusted on the front wheels to give your baby the smoothest ride. The Cameleon can also be used in a two-wheel formation when you need to go across snow or sand.
Adjustable handlebar?
Each of the pushchairs has a very similar handlebar set up. The iCandy Peach handlebar can be adjusted from 95 to 105 cm covering four different heights. The Silver Cross Wayfarer also has four adjustable height positions for the handlebar. The Bugaboo Cameleon 3 also has a height-adjustable handlebar- to get the perfect steering position no matter how tall you are.
Carrycot / Pram attachment
Each of these pushchairs can be used from birth as they all come with a carrycot attachment that can then be replaced with or transformed into a standard pushchair seat when your baby reaches 6 months. The carrycot with the Wayfarer and the Peach can be used overnight as well so you can make it do double duty as a crib for the first few months before they move into their own cot.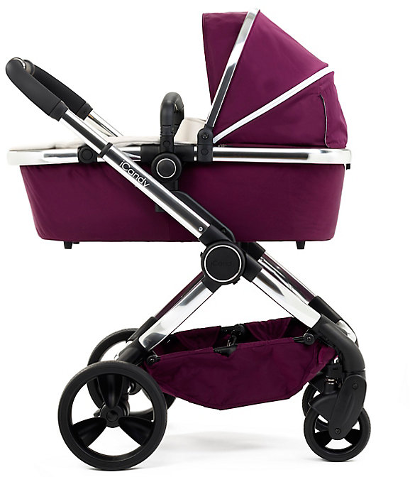 All three carrycots come with hood and cover that can be removed when needed. The hoods are all adjustable depending on how much cover is required. The fabric on the Bugaboo has an SPF 50+ rating so will easily screen the sun on the hottest of days.
Pushchair attachment
Each of these come with a detachable pushchair attachment that can be positioned to face the world or face you depending on how your child enjoys their ride.
Bugaboo Cameleon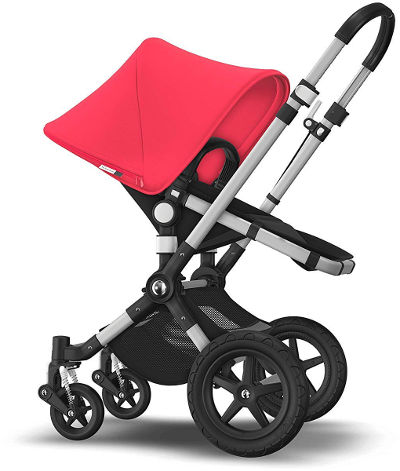 The Bugaboo Cameleon seat unit is removed easily from the chassis using two buttons on either side. This does mean you need to use both hands to move and turn the seat unit, however it is lightweight enough to make swinging the seat round easy. It has 3 different recline positions from upright to fully flat so gives a good sleeping position. The 5 point harness is adjustable with comfortable straps. The pushchair can hold up to 17 kg of weight so suitable until around 3 or 4 years old.
iCandy Peach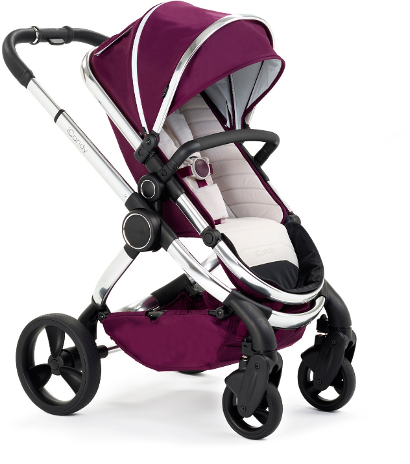 The iCandy Peach also has a removeable seat unit that can be fitted forward or backward facing. With the newest version the carrycot unit converts into the pushchair unit so you get better longevity out of the pushchair as well as not having a carrycot that becomes obsolete after 6 months. The Peach has three recline positions from upright to fully flat.
A highlight of the Peach is it's one-touch 5 point safety harness. A big centre button makes it simple to do and undo the straps for quick release. The pushchair can also hold a child until 25 kg so around 5 years old which is more than other models. This is useful if you have a child who doesn't enjoy walking as much or if you don't have access to a car so will need to walk longer distances.
Silver Cross Wayfarer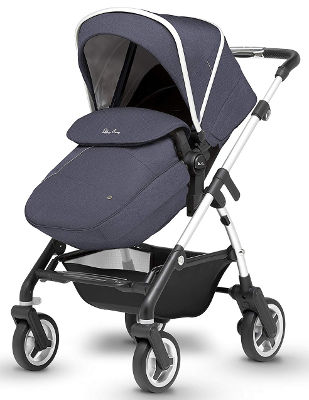 The Wayfarer has a separate pushchair seat for when your baby is over 6 months or wants to see a bit more of the world. The seat is easily reversible from parent to world facing and has three recline positions that can be done one handed while the child is in the seat making it easy to recline your child when they fall asleep. The 5 point harness is also easy to do and undo.
Like the Peach, the Wayfarer pushchair can take a child up to 25 kg so can be used until your child is ready to walk all the time.
How does it fold?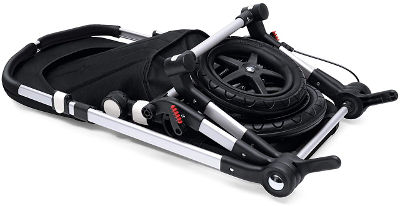 The Bugaboo Cameleon has to be folded in two separate pieces to place in a car boot or store at home. You need to take the carrycot or pushchair seat off first, then it has a one-handed fold for the chassis. This makes it a bit cumbersome to try to do it with a baby as well. It is also quite large once folded so if you only have a small family car, you might struggle to fit anything else into the boot.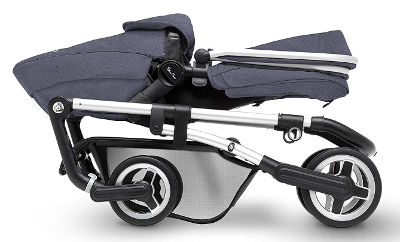 The Silver Cross Wayfarer is slightly easier to fold as you can do it it with the pushchair seat attached in one movement. If you have the carrycot on, this has to be removed first but it does have little rests on the bottom so that the underside fabric of the cot doesn't get dirty. Again, the full system is quite large to fit into a car boot or cupboard at home.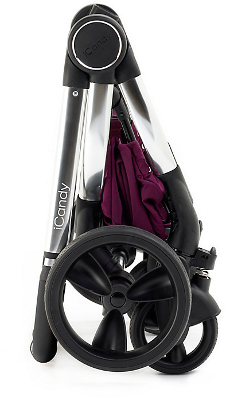 The iCandy Peach is similar to the Cameleon in that you have to fold chassis and seat separately. It does have a one-handed fold mechanism, however, this can take a bit of getting use to as it isn't the simplest to manage at first. The chassis is free-standing once folded so makes storage at home easier. Again, it will take up most of your boot once folded so bear that in mind.
When you're buying a new pram system, always take note of the folded dimensions so you can check whether it will fit in your car. Or better still, go to a shop and try one out in your boot to make sure it fits.
Which one is the lightest?
The Bugaboo Cameleon is the lightest coming in at 9.6 kg, then the Silver Cross Wayfarer at 10 kg and the heaviest is the iCandy Peach which is 11.7 kg.
What are the dimensions when folded?
Bugaboo Cameleon: H 30.5 cm W 58.5 cm L 90 cm
Silver Cross Wayfarer: H 33.5 cm W 53.5 cm L 84 cm
iCandy Peach: H 29 cm W 61 cm L 70 cm
What's included?
Along with the basic chassis, carrycot and pushchair seat, what else do you get with the different travel systems?
Bugaboo Cameleon includes:
Leather-look carry handle
Extendable sun canopy
Rain cover
Under-seat basket
Bumper bar
Optional extras that can be purchased:
Silver Cross Wayfarer includes:
Hood and apron pack
Rain cover
Car seat adaptors
Large shopping basket
Bumper bar
Optional extras that can be purchased:
Footmuff
Flexible parasol
Seat liner
Changing bag
iCandy Peach includes:
Canopy
Carrycot fabrics- apron, liner and mattress
Rain cover
Elevators
Car seat adaptors
Bumper bar
Optional extras that can be purchased:
Parasol
Sunscreen
Cupholder
Travel cup
Lower and main car seat adaptors
Decided which one to buy?
If you've decided which one to buy then head on over to Amazon to check out the prices and details.