When travelling with your children, you still want to make sure they are safe and that is why finding the best travel stair gate is so important. You don't want your child falling down stairs or getting into rooms that might be dangerous such as the kitchen or bathroom when you are away on holiday or visiting family. The best travel stair is definitely out there for 2023.
Travel stair gates come in two different types: either safety barriers that can be configured however you need them to block doorways or make into playpens, or push fit safety gates that can be fitted across a doorway or stair way. Both versions can easily be used in your own house and so make a good investment. Read on to find out our suggestions and find gates that are available in the UK.
If you want to look at all types of stair gates then head over to our child safety gate guide.
Safety Barrier Stair Gates/ Room Dividers
A safety barrier travel stair gate is a useful option if you have an awkward room layout, open plan rooms, or a fireplace that you want to make safe. They are made up of a number of barriers that can be placed in different configurations depending on what your needs are. They can also be used as a travel playpen so you can keep your baby or toddler safe while you go to the bathroom or make some food.
This safety barrier from Safetots is a great multi-use option that you can take with you as a travel stair gate. The barrier consists of 5 panels, one of which is a gate making it even more flexible. The barrier can be used as a room divided, gate for doors or stairs and a fireguard depending on what you need.
The travel barrier is made from premium wood so will last well and offer good resale value. Each of the panels can be angled discreetly so will be able to fit most room layouts- a must for travelling. The door section is wide for easy access and has a two-step opening mechanism for extra safety.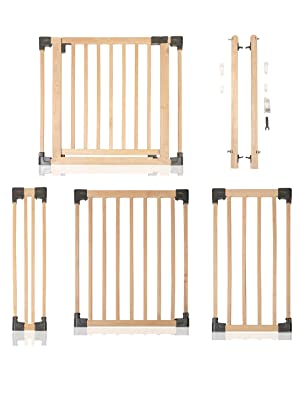 Pressure fit stair gates are a good option to take with you when going on holiday. They are less versatile than the barrier safety gates but are smaller being only a gate so are easier to take with you. Because of their method of attachment which doesn't require tools, they are easy to move from your home to a different house. The pressure fit element gives some flexibility so should fit a variety of different door sizes.
Below are some of the best ones available in 2023 that are also easy to take with you as a travel stair gate.
The Lindam Sure Shut Axis Pressure Fit Safety Gate is a really affordable option for a travel stair gate. The pressure fit mechanism on the stair gate makes it an ideal choice for travelling and can be used at home as well.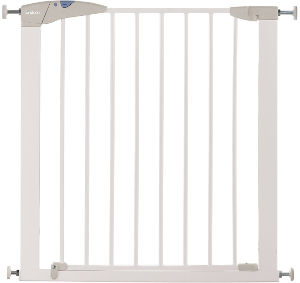 These safety gates make use of pressure and wall pads to fit snugly in doorways or narrow hallways, with no need to screw into the wall or doorframe, they can be taken with you when stopping at relatives or going on holiday. Each gate comes with full instructions to help you reposition the gate when needed and you can find a how to video (linked below) to make the task even more straightforward.
Since this type of stair gate has a supportive U-shaped frame for stability, you should never install it at the top of a stairway as the bottom bar might pose a trip hazard. The quick, one-handed release makes it suitable for busy areas as it only takes a quick press on the release button to open the gate. You can also set the gate to either swing both ways or to only open one way- useful for the bottom on the stairs.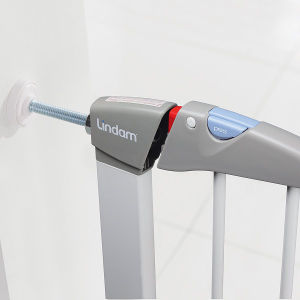 The child safety gate is made of strong steel and fits standard gate fits openings of 76-82 cm with the option of extending it to 117 cm with the optional extensions that come in various sizes so should be perfect for all manor of doorways and openings.
If you know you need a wider fitting safety gate to take with you on your travels, this one from BabyDan is a really good option. The travel gate is wider than standard models and can be adjusted from 79.5 to 93.3 cm to fit into wider doorways or hallways.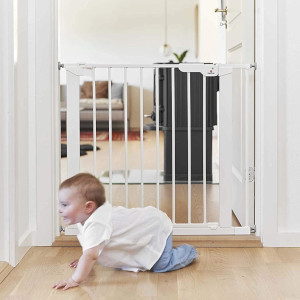 Like all pressure fit stair gates, it can be fitted straight from the box with no need for any extra tools or fittings to complete the job. Just remove it easily from wherever you have it in your house and pack it into the car. The baby gate has easy one handed opening and can be fixed to open one way or two way depending on your needs. 
This video from the Danish makers BabyDan shows the testing that their products undertake before being sold to parents.
Here's some reviews from Amazon customers to help you decide:
"Easy to install , solid materials and easy to use , worth to buy"
"Once fitted, to stop our baby grandson entering, the kitchen it felt very secure. It has been in place about 4 months and works well. "
"Does not budge. Gave us peace of mind knowing our little one cannot get up or down the stairs."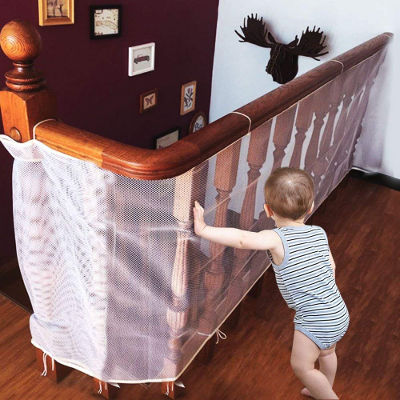 So this product obviously isn't a safety gate, but it is something that will come in really useful when you're staying in a different house. It's also really portable so a good purchase for those 'just in case' occasions. Basically the net can be used to make gaps between railings safe for your baby or toddler.
In some houses (particularly older ones built before more stringent building control), the gaps between stair rods will be wide enough for a baby or toddler to fall through. This could lead to an awful accident if your child happens to slip through when not closely attended. A good solution is to buy this mesh net which can be fixed using ties to the banisters. The mesh is strong enough to stop your child from falling through the gaps.
Customers on Amazon have said:
" This product is easy to fit and covers the landing banister struts easily. It is a bit long but double it up and it still works. "
and
" Pretty sturdy for a net, exactly what we needed to keep our little one from falling through the banisters. It comes with strings and cable ties and is a good size "
Why do you need a travel stair gate?
Even if you don't use safety gates when you're at home, there are still lots of good reasons to invest in a travel stair gate, especially if you're away from home with your mobile baby or toddler quite often.
Even going to visit friends or family could pose problems if you're not able to stop access to certain rooms such as the bathroom or kitchen. If you're child is still in a cot at home but will be sleeping in a bed when you travel then you need to consider getting a travel stair gate so they can't go wandering out of their room overnight.
If you're staying in a holiday cottage or villa, you can't be sure of knowing what the layout is or how safe rooms will be. To give you peace of mind, a travel stair gate will fit easily into a suitcase and should block off access to most dangers.
As the safety gate can be easily moved, you can have it blocking the kitchen during the day and then switch it to their room for overnight.
Best Travel Stair Gate Round-Up
Even when travelling you have no excuse not to have a baby gate with you. Pick the best travel stair gate for your needs- whether you want a barrier so you can use it as a playpen or fireguard as well as a stair gate or if you need a pressure fit safety gate to fit stairs or doorways.
Packing a stair safety net is also a good option- really light and small to fit in your luggage but gives you a number of options in keeping your baby or toddler safe if banisters or balcony spindles are wider spaced than you would be comfortable with.