When travelling with your children, you still want to make sure they are safe and that is why finding the best travel stair gate is important. You don't want your child falling down stairs or getting into rooms that might be dangerous such as the kitchen or bathroom. Luckily, things are changing fast and travel stair gates are getting smaller and more compact so you can easily fit one into your car or your luggage when you go on holiday. That is why it is even easier to find the best travel stair gate in 2018. Read on to find out our suggestions and find gates that are available in the UK.
If you want to look at all types of stair gates then head over to our child safety gate guide.
---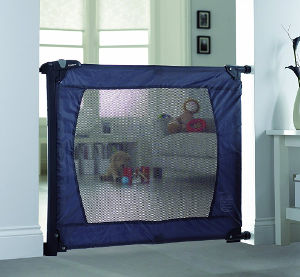 The Lindam Flexiguard is a solid baby gate that connects with a four-point pressure system. This means that it installs fast and that it does not require any tools to set up. It is just held in the doorway with pressure instead of screws. This folding stair gate can cover areas from 71 cm to 92 cm so you should not have any trouble getting it to fit most doors. It is light at 2.2 kg and has a travel case making it easy to take with you. The mesh connection is strong enough to keep your child from going through it, but it folds up when not in use to make it easy to move around.
This stair gate comes completely assembled, so it can be used right out of the box. It is also a top quality gate with a lifetime guarantee. While this travel stair gate is good at what it does, it is still best to only use it when away from home and not as a main gate. It does not open and shut like a standard safety gate that you'd use at home, so it can be a hazard to step over and a hassle if you are constantly going in and out using the travel gate.
Even considering this though it is still a good travel gate option, which explains why it has a high star rating on Amazon and why customers say:
"This is our second one of these as the first one was passed onto a friend, we allways take it with us on holiday as its great to have for peace of mind. it works well and yes it is a pain that you have to take it in and out but based on the fact most holiday rentals don't like you screwing things into their banisters this works really well. if you spend a few mins adjusting it to fit your stairs it is a solid temporary stair gate"
And
"At first I was a bit baffled at how to operate this gate but upon checking the instructions and working it out it was actually a very effective barrier. It is very fast to take down if you need to get up and down stairs too. When erected, it is very resilient and I couldn't pull it free so a child shouldn't be able to either (if you've set it up properly!)."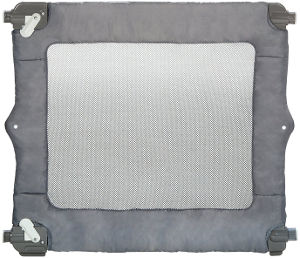 The Safety 1st Travel Barrier is another travel stair gate that is good at keeping your child safe. Like the previous one, it comes completely assembled and does not require any tools to set up. It just mounts to the wall or doorframe with a four-point pressure system. It covers areas from 71 cm to 93 cm making it versatile for most situations. The baby gate folds up when not in use and comes with a carrying bag so it is easy to take with you and keep it looking like new. The gate is durable and made with top quality mesh fabric and connecting parts. Even though it is top quality, it is still light to make carrying easy. It only weights 2 kg.
This barrier again is not a true gate. It doesn't open, but it does remove from the wall in one piece so you can quickly move it out of the doorway, walk through, and then put it back. However, at home you probably do not want to have to do this all the time, so you really should save this gate for when away from home. This travel stair gate is good at what it is meant to do though and is a great option when travelling, that is why the Amazon reviews are good and users say:
"Good Product That Does What It's Supposed To Do"
And
"Neat and simple to operate."
Take a look at all the features and find the best price on Amazon now!
---
Best Travel Stair Gate Round-Up
Even when travelling you have no excuse not to have a baby gate with you. Both these baby barriers could be considered the best travel stair gate. The Lindam and Safety 1st both use a no tool four-point connection method to hook to the wall. They also both cover the same area. No matter which one you pick, you will be satisfied with your choice. They both have top workmanship and are from well-respected companies in the baby product field.