Children love to get outside in almost all weathers so make sure they can have loads of fun with these must-have outdoor toys for kids. Garden toys, especially for toddlers, will keep playing fun and exciting as well as developing crucial skills such as coordination, balance, problem solving and gross motor skills.
All of these toys, games and play equipment can be enjoyed by younger children, however some of them are more aimed at older children as well so are perfect for family activities. Take a look at the best sellers and turn the summer into the best yet with loads of outdoor fun.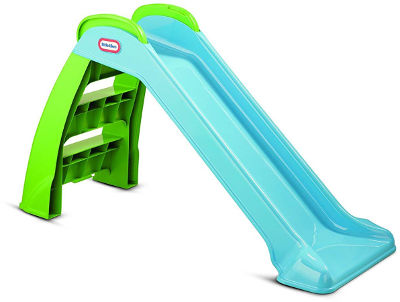 If you're looking for the perfect outdoor toy for toddlers then you can't really go wrong with a slide. This one from Little Tikes is the perfect height for children just finding their feet, with just three steps to manage and then the fun slide down. Little handles at the top means your toddler can get their balance. This slide also folds down easily for storage during bad weather and can also be used inside if you have enough room.
Find the best price for the slide on Amazon.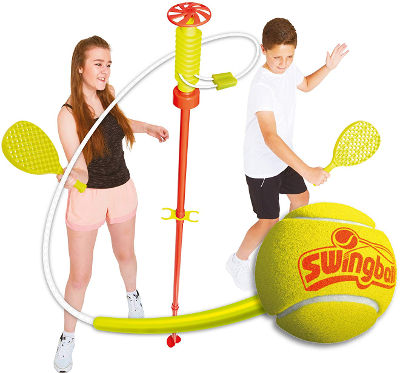 Get older children (and adults) active in the garden with a game of Classic Swingball. Not much space is needed, as long as you have enough room to swing your racket to hit the ball. No risk of losing your ball over the fence either so you can keep playing until everyone is worn out. This set comes with two rackets but can also be played solo. A good outdoor game to take with you on holiday or to the beach.
Find the best price for swingball on Amazon.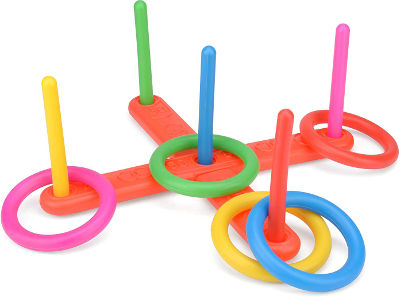 A fun game to practice hand eye coordination- quoits or ring toss is easy to set up in the back garden (or inside the house on raining days). Make it interesting for older children by adding scores for landing on the different poles or for getting a certain number in a row. Little kids will also enjoy trying to match the ring to the pole colour. This kit comes flat packed so it can easily be put together and then taken apart and stored away when not in use.
Find the best price for ring toss games on Amazon.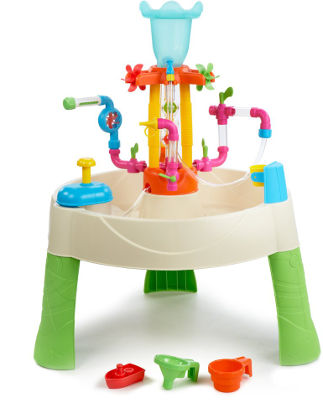 Get your pre-schooler learning while they have fun with this Little Tikes Water Table that builds STEM skills. With three different fountains to channel water into along with an assortment of pipes, taps and chutes your child will have hours of fun. The table can also be set up inside if the weather isn't great in the garden, just remember to put down some towels to collect the spills!
Find the best price for the Fountain Factory Water Table on Amazon.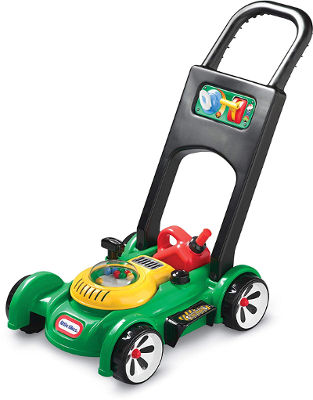 The Gas N Go Mower is a really fun push along toy for your toddler. They can fill up the mower using the mini petrol can and then off they go. As the mower moves, the beads pop up and down. There's also a clicking key to turn and a throttle to push. The Gas N Go Mower will keep your child occupied helping you cut the grass, while you can get on with some garden chores.
Find the best price for the Gas N Go Mower on Amazon.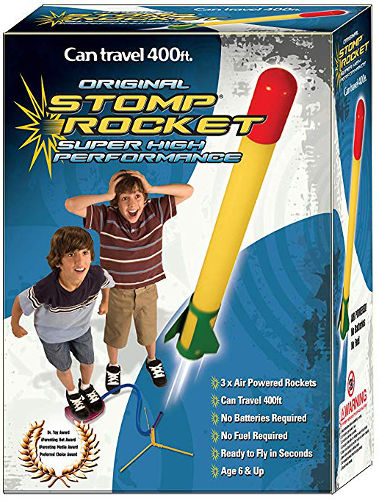 The Stomp Rocket is guaranteed fun in a very simple package. All you get is a rocket, tube, stand and launch pad and all you need to do after setting up the rocket is to do the biggest jump possible onto the pad. The rocket can launch up to 400 feet into the air if you get everything just right. Your children can then enjoy hunting for the fallen rocket to have another go. This one is better in a big open space like a park or beach as the rocket is likely to get lost with neighbours in a back garden.
Find the best price for the stomp rocket on Amazon.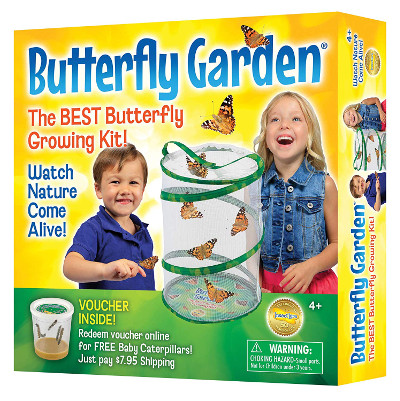 This butterfly garden is perfect for teaching your children about the life cycles of animals. Use the voucher provided to get your starter caterpillar to place inside the butterfly house along with habitat. Then watch as your butterfly becomes a chrysalis and finally hatches as a butterfly. You can then release the butterflies into your garden once they are strong enough to survive.
Find the best price for the butterfly garden on Amazon.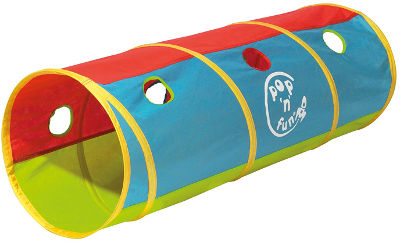 Sometimes the simplest of toys give the most pleasure and this Pop-Up Play Tunnel is one of those. All kids from small to big will enjoy crawling through the tunnel, or rolling around in it or even walking around in it! The tunnel has holes for fun ball play as well to get your kids some target practise. The tunnel can also be used with other garden toys like climbing frames and slides to make them even more exciting.
Find the best price for the play tunnel on Amazon.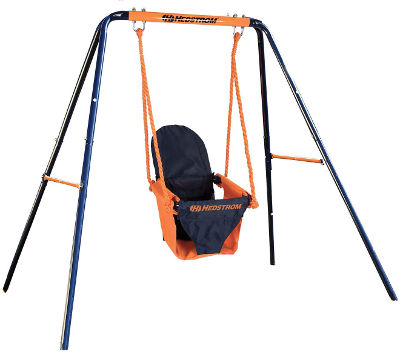 This Folding Toddler Swing is perfect if you have a smaller garden which can't fit a full play gym. The swing can be put up and taken down for easy storage, but is still robust enough for your toddler to enjoy. The swing itself has a strong back support as well as front to keep your child safe on the swing. The fabric is easy clean incase of spillages or after rain.
Find the best price for swings on Amazon.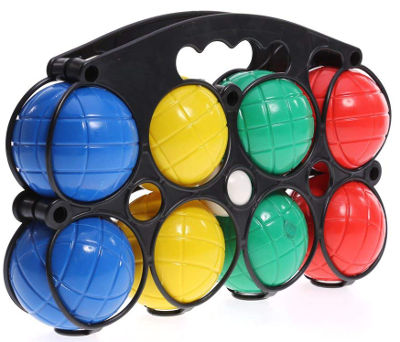 Boules is a classic outdoor game for all the family to enjoy. Promoting hand-eye coordination as well as turn taking and understanding skills, the game is simple but enjoyable. Throw the small jack ball, and then each player has two attempts at getting their coloured ball closest to the jack. The game is easy to store in it carry case and can be taken with you on a day out to the park or beach.
Find the best price for boules on Amazon.