During the first months with your new baby, you get used to the new rhythms of their life and adapt yours around them. One of the biggest challenges is having to wake during the night for feeds and nappy changes. You want to be able to see your baby and for them to see you to build the bond you are establishing, but you don't want a harsh light glaring in the middle of the night. We've taken a look at a new breastfeeding (or night feeding) night light to see what it delivers.
The meelight feeding and care night light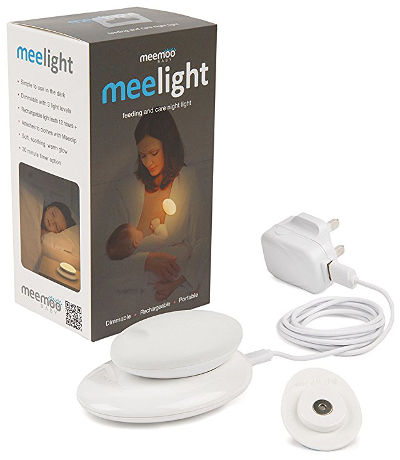 The idea for the light for night light came about when one of the company founders, Julia Kelly, a mother of three, struggled to go about night feeds and care without using harsh or bright lights that ended up overstimulating their baby or her or her partner. Julia came up with the idea of having a wearable light that can be dimmed for night feeds. With the help of her brother Steve Gould they set about bringing the meelight to the market for other parents to benefit from.
Is it easy to use?
The meelight is a pretty simple but ingenious idea. It has a soft, oval shape with no hard edges so is safe to have around your baby or young children. The light has just the one button making it really easy to use. The night light has a soft golden glow thus minimising any of the blue light spectrum that has been proved to stimulate.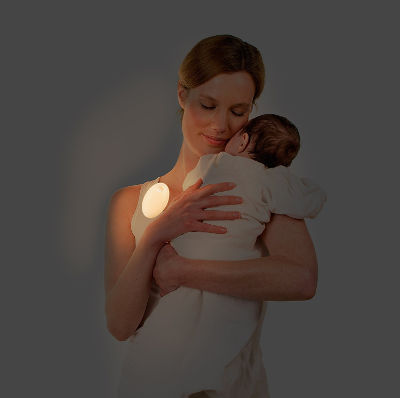 The meelight is also dimmable so it opens up different possibilities for the light. On the lowest setting you can easily see enough for night feeds and checks without startling your little one. The highest setting is enough light for tasks such as nappy changing where you want to see a bit more detail and even for reading in. This makes the meelight a useful night light when your children are older. You can snuggle up together for the final book at bedtime and know that the light is helping them move easily into sleep.
Keep your hands free
One of the best advantages of the meelight breastfeeding night light over other options is that you can wear the light on your clothes. On the back of the night light is a clip so you can place it on a strap, sleeve, or neck of your top freeing up your hands for the important jobs. This means that the night light will always be right where you want it, especially for night feeds as it can be positioned to easily see your baby suckle.
Take a look at the video all about the meelight:
A final great feature of the meelight is a built-in timer. If you're using it as a traditional night light on the medium or highest light level it will turn itself off after 30 minutes. Just enough time for your little one to be soundly sleeping. The lowest light level can either be left on continuously or can be placed on a 30 minute timer as well.
If you want to get your hands on the meelight, it is currently available over on Amazon.
Breastfeeding night light: final thoughts
This nightlight is such a great idea with a simple and intuitive design. Using it seems to be a doddle and the designers have really thought about how to solve all the problems when using other night lights or torches.