Travel cots are notoriously difficult to put up so we have rounded up the best travel cots that are also quick and easy to put up (yes, these travel cots do exist!)
Most parents will have the need for a travel cot at some point when their kids are little. Either when going on holiday or visiting friends and family for overnight stays, you don't want to place your baby or toddler in a bed or on a mattress on the floor so you need a travel cot.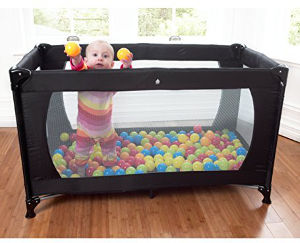 So you buy/ borrow/ are gifted a hand me down travel cot and then comes the almost insurmountable task of putting the thing up. The instructions are breezily brief and talk of 'easily snapping the sides in place' or 'one swift movement to lock the sides'. The reality is completely different.
Our travel cot is a much-used one that has been handed down for about 7 children in the family so far. It is still useful and does its job when up, but boy does that take an age! It sometimes seems that no amount of snapping, pulling, making sure the base is pulled up, snapping again, swearing and crying will turn the travel cot from folded, floppy-sided nightmare to flat, secure dream machine. Don't even mention trying to put it back down again…..
Here then is our list of the best travel cots for when you want easy, quick, and as an added bonus- no annoying and sweat-inducing snapping of sides into place.
Pop up travel cots
The swiftest of travel cots to put up- just release them from the bag, or release the ties and your cot is up in under 5 seconds.
The BabyBjörn travel cot is a hefty investment for something that you might only get a couple of years use out of, but boy does it get the best praise over on Amazon!It boasts being able to put up straight from the bag- open the bag, lift out the travel cot and it will erect itself in that moment.
With stylish design and looks reflecting the Swedish company that makes the travel cot (their ethos is all about child in mind design and creating functional products that will also appeal aesthetically to parents), this is definitely a travel cot that could grace the stylish of homes.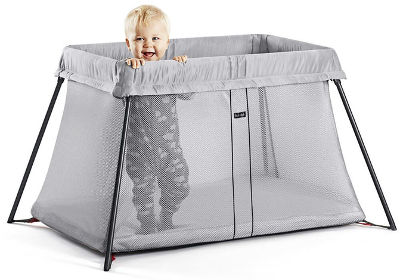 The practical aspects of the cot continue after the huge selling point of how ridiculously quick it is to put up.
The travel cot is also lightweight- weighing only 6kg including the bag.
It can be used straight from newborn until around 3 years so it is the only travel cot you will have to buy.
The airy side mesh, whilst making the cot lightweight, also means that your child can breathe freely if their face is pressed against the side, and you can easily see them through the sides to check how they are sleeping.
The mattress cover and cot fabric is easy to remove and wash- a plus if your baby or toddler is prone to accidents or spit ups.
The material used is free from harmful substances and shouldn't aggravate any allergies.
Here are some of those really positive reviews from Amazon customers:
"I love this travel cot from one mum to another you will not be disapointed with this if you can stretch to the cost its the best! I have had 3 children and tried 5 travel cots in their time this is the only one i love."
"This travel cot costs more than some beds! But I can see why. I've had two other travel cots and they are heavy and such a faff to put together and to take apart. This one is very light and comes up so easily, takes about 10 seconds!"
Products from Amazon.com
‹
›
The Aeromoov travel cot is expensive for a travel cot, but similar to the BabyBjörn, it will be up in under 5 seconds and the company also say that it will go down in the same amount of time as well. Phew, no wrestling the travel cot back into a bag when you're dashing about trying to pack everything and get to the airport in time.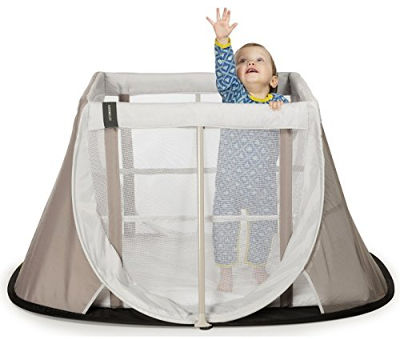 The Aeromoov offers a number of enticing reasons to buy:
Extremely lightweight- only 5 kg so easy to carry around along with your baby
This travel cot handily has an extra level that you can put the mattress higher up in the cot until your baby is 2 months so no more leaning over to get your little one in and out.
The company are proud of how versatile the cot is- you can buy an extra sunshade to use the cot outdoors, and a mosquito net for travel to different countries (obviously this does bump up the overall cost of the cot).
See-through mesh sides make it easy to see what your little one is getting up to, although the ends aren't see through.
Take a quick look at their video to see how it opens and closes and some uses of the Aeromoov travel cot:
There are no reviews yet on this travel cot on Amazon, but on the companies website a customer is quoted as saying:
"Easy to set up and to dismantle. We're even taking it to the beach and we use it in the garden as playpen."
Products from Amazon.com
‹
›
Traditional style travel cot
If a pop- up travel cot isn't what you're looking for (they have slightly larger bases than traditional style travel cots) then give this one a go instead. In the traditional 'floppy fold-up' style but is still ridiculously quick to put up and down.
The SpaceCot Alfa looks on first glance like one that would be a nightmare to put up with similar click in place sides. Don't worry, it really isn't! The travel cot was at the Kind und Jugend tradeshow that Kid Transit recently attended and we can attest that it really does unfold in one easy movement and folds up just as easily as well.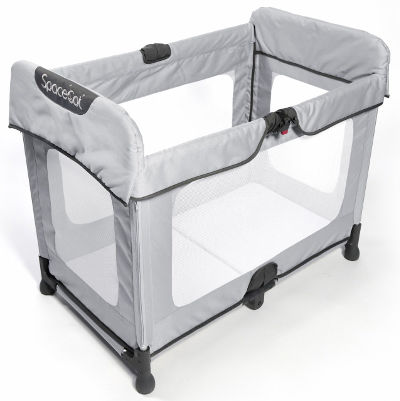 The SpaceCot Alfa made by the people at A little bit brilliant, is inspired by European Space Agency technology to make sure your baby has an experience that is out of this world.
As well as the fast set up the SpaceCot also has these features:
The travel cot weighs under 7 kg (including the carry bag) due to it's space grade aluminium frame.
Wipe clean fabric is a handy bonus for any spills or accidents.
The cot folds with the mattress in it so no faffing about- you can just fold and go.
The provided mattress is thicker than ones you get with other travel cots making for a comfy nights sleep.
Safety locks on the sides mean there is no chance of your little one being able to fold the cot sides.
Using a crib attachment means the cot can be used from birth, until your child is around 30 months old.
There's currently just the one customer review on Amazon, but it is 5 star:
"Fab product – so easy to put up and down and store – mattress is really comfy too which is a bonus as other travel cot mattresses are not great. definitely recommend this"
Sale
Easy and quick travel cots are possible
If you have a bit of a bigger budget to spend on a travel cot than easy and quick to put up is in reach. All these options can be used from birth with the right set up and you should be able to use them for years to come. You can even be the one handing down the travel cot to others in your family- at least you can be confident it will be a travel cot that everyone will enjoy using!