Have you been trying (and failing) to keep all the clutter and mess that your children create from taking over your car? Take a look at some of our car organizer ideas and hacks to get your car back to looking it's best (or at least so you can see the back seat again….)
Where do I start?
If your car has reached breaking point under the weight of discarded toys, books, food wrappers, drinks bottles and used tissues, don't lose hope. Take a deep breath and ask someone else to clean it. If bribery of children doesn't work then you may have to tackle it yourself.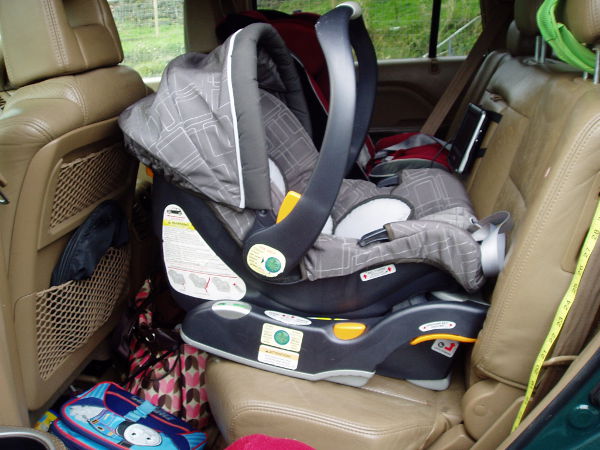 First of all, take everything salvageable out of the car and decide if any of it is going back in again. If not, put it all away back in the house. Everything that is going back in the car keep in a pile for now.
Grab a bin bag and pick up all the mess that has accumulated- check all the nooks and crannies (it's amazing how many bits of flapjack and raisins can be found under the child seat) and throw it all away. Now your car should be looking a bit more manageable.
If you're feeling up to it (after a cup of tea) then get the vacuum out and get to work on all the crumbs and dirt that have been ground into the carpets and seats. You could even take a quick look at the boot (and then just as quickly decide that the boot is meant to be dirty and look away again).
Get some wipes (baby wipes work great) and give the dashboard, doors and anything else a bit of a once-over. If you've got any stains on the seats or the child seats then have a quick go at them too with a wipe. Its impressive what a baby wipe can shift!
Organising the car
Once you've done the de-cluttering and the cleaning you can start to organize all the bits and pieces that are going back into the car.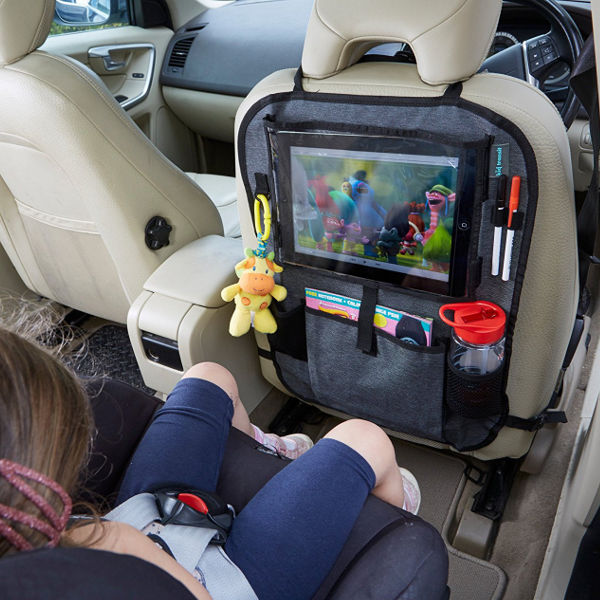 If you haven't got one already- take a look at our Kid Transit back seat car organizers. They fit all types of cars and the smart dark grey fabric looks great (and won't show any marks). The clear top pocket fits all standard tablets (choose from a 10″ or 12″ version depending on what tablet you have) so your kids can watch their favourite shows leaving you in peace for the journey. Handy slots for a headphone cable means you don't have to listen to Paw Patrol all the time either!
Multiple pockets mean you can put back some of the books and toys that you cleared out. Mesh bottle holders keep a drink handy or can be used for snacks.
If you have a baby you can also use the pockets for a spare pack of wipes and some nappies so you're never caught out again on a trip out. The wipes are really handy for all those spills that happen.
So the rubbish doesn't build up again, tie a rubbish bag to the front seat (make sure it can't be reached by children) and put anything in it during the car journey. This can then be emptied quickly when it gets full. Or, if you want something that looks a bit tidier then get a car bin from Amazon.
Some ingenious hacks for car organising
If you have a bit of time on your hands (and who doesn't with young children to look after?) then some of these extra organising bits might stop your car from getting overrun again. Some of the ideas are of the 'why didn't I think of that' category as well.
Duct tape cup holder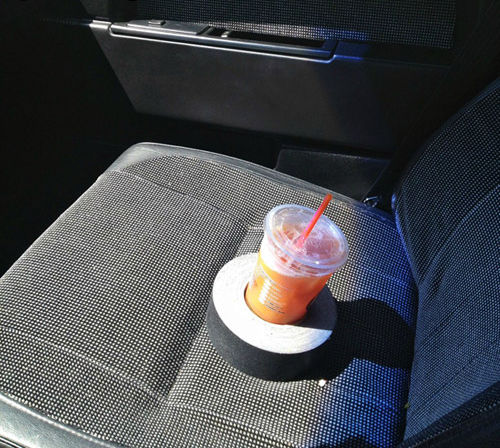 What madness is this? Duct tape roll to be used as a temporary cup holder on the passenger seat? Ingenious. And it means you have loads of duct tape available for when you need to tape the bumper back on the car….
Elastic band phone holder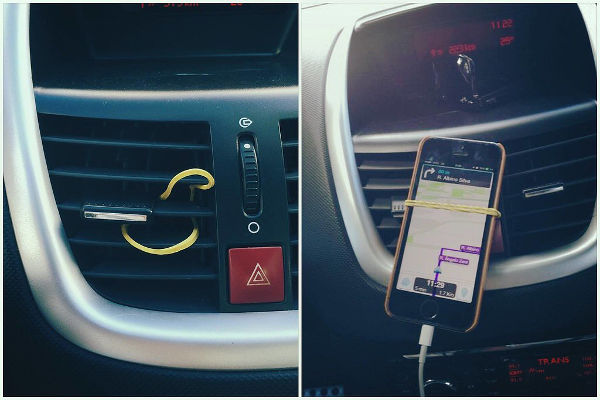 This really is ridiculously budget- use an elastic band through the air vent to keep hold of your phone if you use it as a sat nav instead of a phone holder. Now, I haven't tried it, but I can forsee a couple of problems. What if the elastic band triggers the touchscreen? Will it really hold the phone in place or will my expensive tech just drop onto the floor when we hit a speed bump? What about when the air vent is in use- will the elastic band melt?!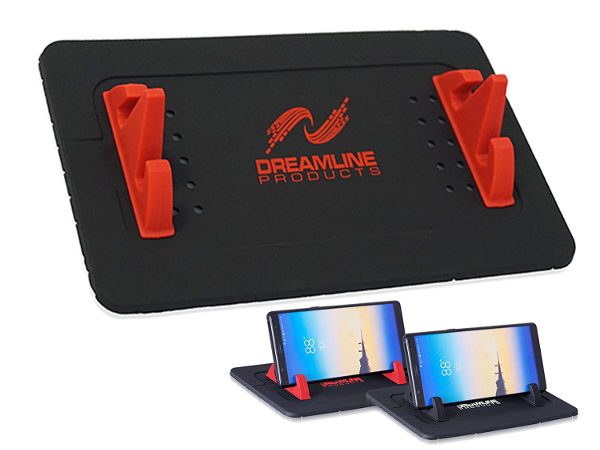 Anyway, maybe it really is a great idea…. Instead, why don't you get one of these sticky dashboard phone holders which do work and don't cost a huge amount either. No getting annoyed when you lose the elastic band as well!
Update: we actually bought one of these and they really do work well! My phone in its case sits easily and is in the perfect position for viewing as a sat nav.
Old tissue box as bag holder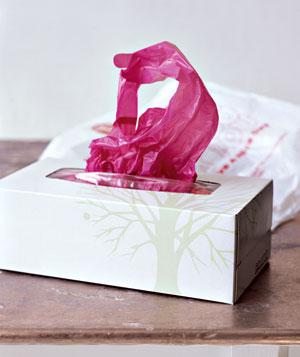 Save an old tissue box and reuse it as a plastic bag holder. The next time you need a bag for the rubbish in the car or to take out shopping with you, it's handily stored in the box.
Shower or door organisers reused in the boot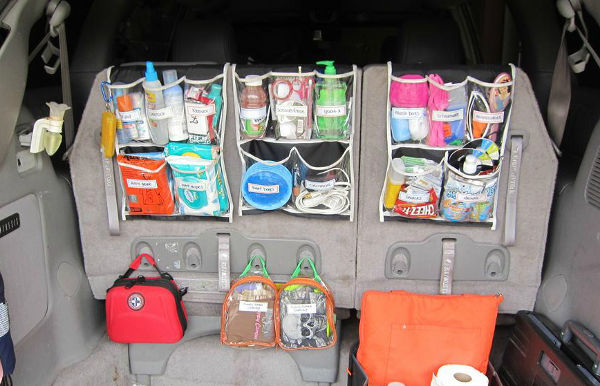 If you've got loads of bits and pieces rolling around in the boot, consider using a shower tidy or shoe tidy that you can fix to the back seats and then hang in the boot. This way, anything on the smaller size can easily be sorted and found quickly.
Moveable shower caddy organiser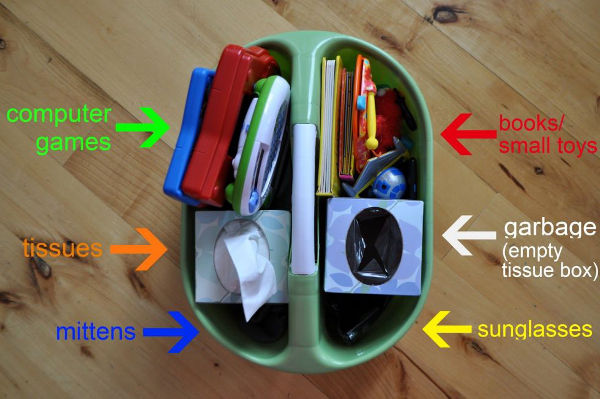 If you want a transportable car caddy then buy a cheap shower/ cleaning caddy and it can be used for books, games, snacks and drinks. Fill it in the house with whatever your kids wants to take and then pop it on the back seat. Each child can have one so you don't have to listen to them fighting over the caddy. Everything can then be put back in the house at the end of the journey.
Clean car: happy travels!
Now your car is clean and organised travelling won't feel like a chore and your children might actually spend the journey enjoying themselves!
Let me know all of your best tips and hacks for keeping your car organised, all the good ones will be added to the post!
If you want tips on how to get through any type of journey with children then we have 67 of them right here!