Make the most of your backyard pool with the top 10 best pool toys from Amazon. Even if you don't have a permanent pool, you can still use a lot of these pool toys in a temporary pool or at your local swimming venue. We even recommend a couple of inflatable pool centers if you have a smaller garden but still want your kids to enjoy splashing around in the summer.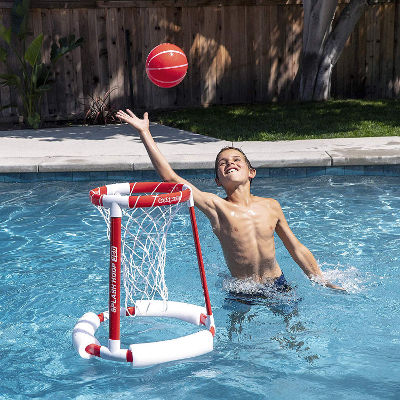 The floating pool basketball game is great fun to play in the pool all summer long. Just set up the hoop in seconds and inflate the balls using the supplied ball pump and you're ready to go for a one on one points competition. Can be played on your own or with a team depending on just how many people you can round up. The sturdy hoop ensures it won't sink or topple no matter how much you splash and dunk.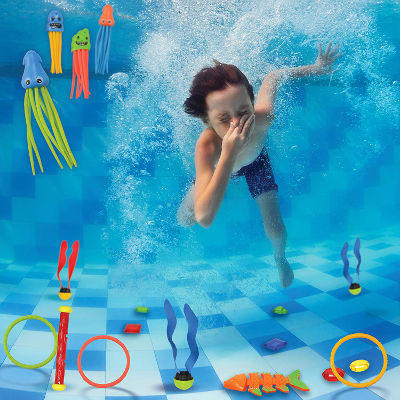 Duck and dive after this vast array of diving pool toys for hours of fun in the pool. There are 30 toys including hoops, balls, sticks and treasure. You're children can invent different games to play with them including timed retrieval, colour runs or buried treasure games and all can be played solo or with friends. This set in particular are child safe as well as long lasting.
JOYIN 30 Pcs Diving Pool Toys Jumbo Set Includes
30 Pcs Jumbo Diving Pool Toys splash great summer pool time
30 Bright Color Sinking Toys includes: 6 Diving Rings(5.5" DIA.), 5 Diving Sticks(7"), 4 Toypedo Bandits(5.2"), 2 Funny Face Squids and 2 Octopuses(5"), 3 Diving Balls(7"), 3 Diving Fish(3.5"), and a...
Diving Rings and Sticks stand upright at the bottom of the pool which can be easy to grab. Excellent way to improve your diving skills and have fun with you family.
Perfect for beach pool water play or play them during bath time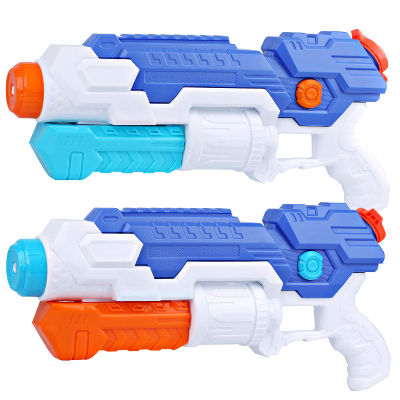 These super soakers are some of the best you can buy, with really high numbers of 5 star reviews on Amazon. They are easy to use, just fill the tank and start soak, so easy even three year olds can join in the water blasting fun! Great for use in the pool or in the garden, get a few and gather friends for a big water battle. The super soakers are also well-designed to reduce leakage by 80% compared to other market leaders.
PEFECEVE Water Gun Super Soaker Blaster For , 2 Pack 800 Cc Capacity 40Ft Long Range Squirt Guns
SAFETY APPROVED & HIGH QUALITY All water guns passed the Standards which are the highest and strictest international safety standards of toys. ABS material can directly contact with kids' skin and is...
DUAL LEAK-PROOF DESIGN Designed with tight water outlet and reinforced leak-proof seams, PEFECEVE Water Soaker Blaster can effectively reduce water leakage by 80% comparing with other water guns on...
ONE STEP SQUIRT Fill the water tank, pull the pump and start to shoot instantly. No need to pull trigger and get hands sore, super easy! Even 3-year-olds children can use it effortlessly.
SUPER VALUE & SUPER FUN 2-pack high capacity squirt guns hold up to 2000cc in total and the shooting range is around 40 ft, max up to 30 shots per refill of each. Enjoy your super soaker whether in...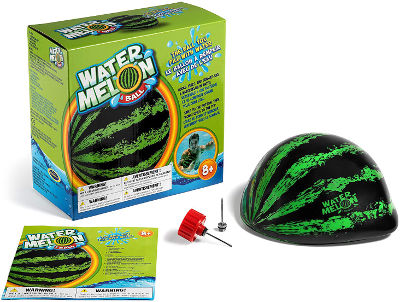 The Watermelon Ball is specifically designed to be used in the pool. It's near neutral buoyancy means the ball can be dribbled, kicked and passed underwater. To achieve this, the ball has to be filled with water- don't worry, all the attachments are included to make this easily done from a hose. A brilliant ball for encouraging activity in the pool all summer long.
Watermelon Ball - The Ultimate Swimming Pool Game
Excellent game for pool parties and get-togethers with family and friends. Great exercise too!
Ball is made of a durable vinyl membrane that can withstand intense play
Can be dribbled like a basketball and passed underwater (can pass up to ten feet)
A fun unique swimming pool game combining components of football, basketball, and rugby in the water!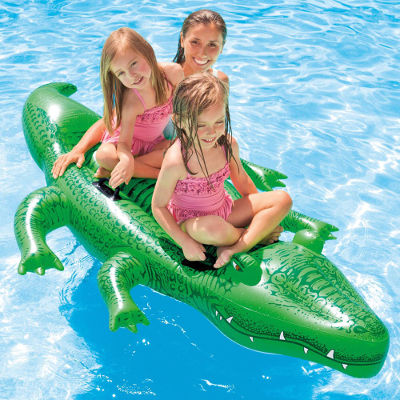 What pool is complete without a giant inflatable alligator?! This friendly foe will easily carry a couple of passengers on a fun trip around the pool or lake. The durable vinyl ensures no slow punctures, however if one does occur then a repair kit is included to keep the snappy fun going.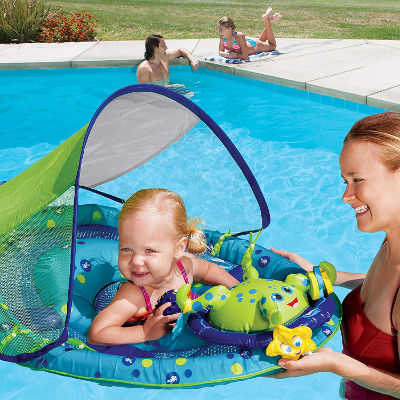 Make sure your baby can enjoy the pool with you by getting a float activity centre. This cute one even has a sun shade that offers UPF 50+ protection from the rays. Pop your little one into the float (suitable for up to 24 months) and help them play with the fun octopus toy. The octopus has a squeaker, rattle, stacking rings and soft toy to stimulate and amuse. Perfect for getting your baby enjoying the water.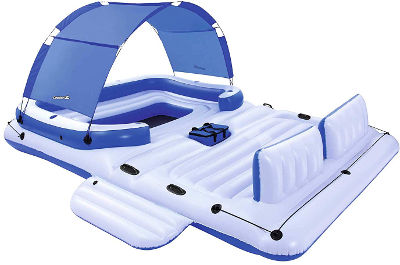 This 6 person floating island is the ultimate in lazy luxury. Easy lounging space for you and 5 friends, each person has a cup holder for their drink and it also comes with a cooler bag that handily stores refills so no more having to get off the lounger if you need another drink. A sun canopy shades you during the hottest hours so you can be cooling off in the pool all day long.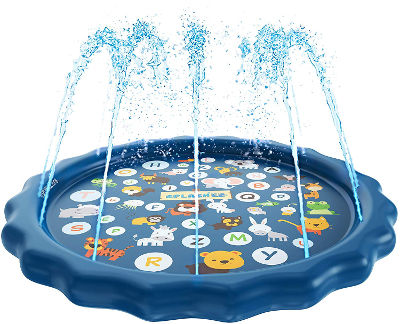 If you don't have room for a pool, or you want something that your baby or toddler can enjoy as well, go for a fun splash pad sprinkler. This one has a cute animal design for learning as well as fun. The pad can be sat or walked on and provides a shallow paddling pool with the fun sprinklers to play with.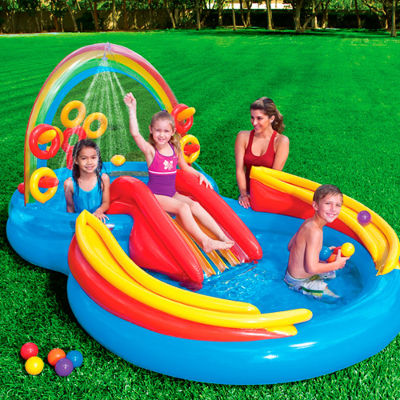 If you don't have room for a pool, but do have water loving children then go for an inflatable play centre. It can be put out for the warm months and then stored away during the winter to make way for something else. The Rainbow Ring Play Center is a good bet for most kids as it has a number of different play options including two pools, slide, sprinkler, ball run and hoop games.
Intex Rainbow Ring Play Centre
Approximate inflated size 117 x 76 x 53 Inch (297 x 193 x 135 cm)
Centre includes water slide, wading pool, main pool, water sprayer, ring toss game (with four inflatable rings)
Water sprayer attaches to garden hose to keep kids cool in summer
Toy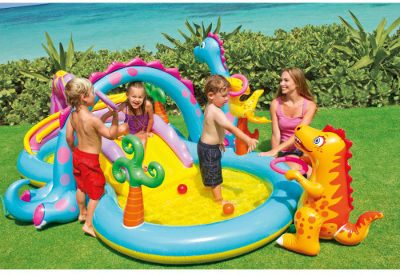 Also a fun play center, this Dinoland version is perfect for the dinosaur lover in your family. This one is aimed at younger children and toddlers with a shallower pool and smaller slide. It also has a fun basketball game and hoopla to increase the play options and test their hand eye coordination.