Looking out for the best baby bath to buy in 2020? We have a full rundown of all the different types of baby bath including baby bath seats, bath tubs, and bath stands depending on what needs you have.
There's no need to bathe your baby every day, and if you struggle with mobility (especially straight after birth) then a 'top and tail' wash using warm water and cotton wool swabs is perfect to keep your baby clean.
When you're ready to move onto a bath for your baby, there are a number of options well-designed to help with the process to make the bath enjoyable and safe for your baby as well as easy for you.
Best Baby Bath
Shnuggle Bath
The Shnuggle bath is a great baby bath supporting your baby right from newborn to 12 months. It has a clever bum bump that will support your baby in an upright position making them easy to bathe and freeing up both your hands to wash and tend to your baby.
A comfortable foam backrest makes the bath soft and supported for your baby and non-slip feet means the bath won't slip around if water splashes over the side. The bath can be filled and used anywhere, not just in your bath or shower.
A newer version has a built in plug for easy drainage. You can even buy a sturdy bath stand to make the bath a comfortable height for you, giving your lower back a rest from leaning over (crucial when you have just given birth).
Customer reviews are really favourable for the Shnuggle bath with 4.7 stars out of 5 on Amazon at the time of writing:
"What a great, simple yet very functional product. My 5 week old was a bit squirmy at bath times but she absolutely loved this. Kept her nice and warm and she was very happy."
and
"This bath holds your baby so snug I only had to gently hold one arm and I wasn't even holding him up! I was able to give him a good wash all over and wasn't worried about dropping him etc."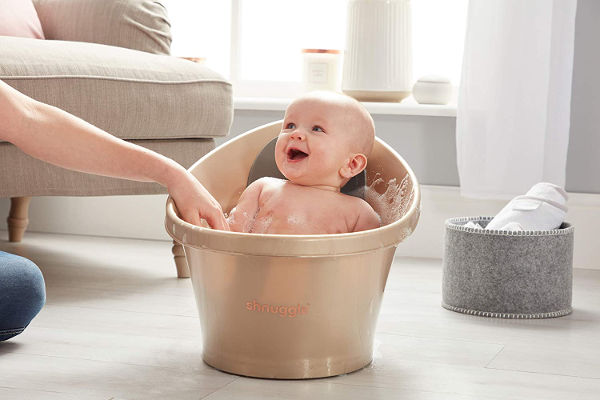 Nuby Baby Bath
The Nuby Baby Bath is suitable from birth with a soft foam headrest to support your baby in the correct upright position to make bathing easier and safer. An anti-slip base makes it easy to use in the bath or shower or you can use it in any room of the house.
Easy grip handles are a useful addition- making it easy to move the bath around when you have the water in it.
Customers on Amazon are full of praise for the Nuby baby bath:
"This is an excellent bath. It's inexpensive (compared to others available), it's the perfect size, lightweight and easy to move around due to the easy-grip handles."
and
"I absolutely love this product. The in built seat in the bath supports my baby with out me needing to hold her. So its free's up my hands, making bath time much easier, it's a god send."
Munchkin Sit and Soak Baby Bath Tub
The Munchkin Sit and Soak Baby Bath is another popular baby product on Amazon, similar in design to the Shnuggle bath. It has a raised, padded foam backrest to support your baby and a bump on the bottom to give your baby a seat to rest on. The non-slip base makes it safe to use int he bottom of the bath or shower and being an enclosed baby bath tub it can also be used in any room of the house.
The Munchkin bath tub has practical additions such as a plug to easily let the water out and a carry handle that can also double as a hook for easy drying and storage. The bath is suitable from birth until 12 months.
Customers are happy with their Amazon purchase:
"Excellent product, brilliant design first time out little girl actually enjoyed bath time rather than just put up with it!"
and
"Great little bath and uses hardly any water. My son loved this from early on and still enjoys now at 5 months. We often share a bath. He sits in his bath in my bath."
Best baby bath support and seat – Angelcare bath support
The Angelcare Soft Touch Bath Support goes in the bottom of your bath or large sink to help your baby stay in the correct position while you bathe them. It has a mesh seat that both supports your baby, is soft to the touch and allows water to surround your baby. The ergonomic design helps your baby to sit while bathing. The bath support is for babies aged 0 to 6 months.
The bath support is lightweight but still strong and has an indicator line so you can easily judge if you have the right amount of water in your bath. You will probably use more water using a bath seat when compared to a baby bath as you need to fill the bath to get to the required water level. However, it is smaller and easier to transport than a baby bath.
Customer feedback on Amazon is really positive with an average of 4.7 stars out of 5:
"Very sturdy easy to use great little invention"
and
"Its very good in that you dont need to support the head or body whilst bathing. Its very soft for baby's body and head as well. I think this is the best available option for 0 to 6 months after researching online."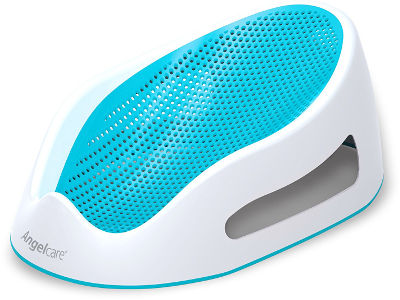 Angelcare also do a bath seat for when your baby is over 6 months and can sit unaided. The bath seat lets them have a bit more freedom in the bath to play and splash whilst still supporting them in an upright position. Made of the same soft-touch material that warms to the skin, the bath seat has mesh holes to allow easy water circulation. The bath seat is perfect from 6 to 10 months.
Best Foldable Baby Bath
STOKKE Flexi Bath for babies toddlers and children
If you need a bath tub that can be easily stored after use or one that is good for travel, then take a look at the STOKKE Flexi Bath. It can be used from birth with the addition of their Newborn Support and will fit a 4 year old so a good long term investment. This would be perfect if you only have a shower enclosure at home/ when you travel so your toddler can still get all the fun of a bath. It also saves water and is quicker to fill.
The STOKKE Flexi bath has a good grippy base and a heat sensitive plug that indicates when the bath water is too hot or cold.
Customer feedback is generally good, but some negatives to bare in mind include issues with the plug being hard to use once the bath is full (hindering emptying of water) and if you do use the newborn insert then the bath isn't as easy to store flat.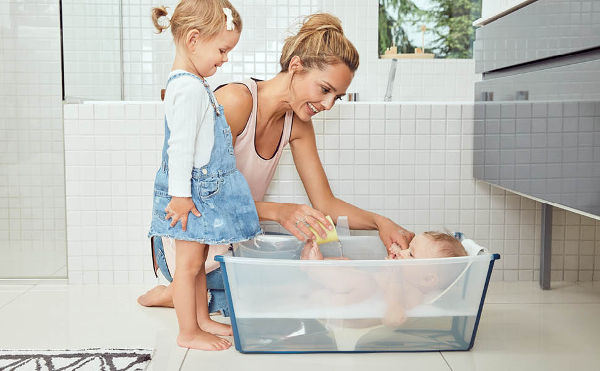 Collapsible Baby Bath Tub
There's a number of this collapsible type baby bath tubs available on Amazon from different sellers. They all offer a sturdy stand and collapsile tub deisgn to easily bathe your baby and then store the tub after use. The baby bath tub can be used from newborn if you get one that has a newborn cushion insert to give extra support.
A non-slip mat and strong legs give the bath tub lots of safe support. They are also easy to clean with a plug for easy draining of the bath. The legs of the bath are integrated so no need to put bits together every time you use the bath. Some versions have a built in hook for easier storage and drying.
Make sure you check customer comments- they are overall very enthusiastic about this type of baby bath but some versions have a slippy base so you will need a bath mat or support for newborns to stop them slipping into the water.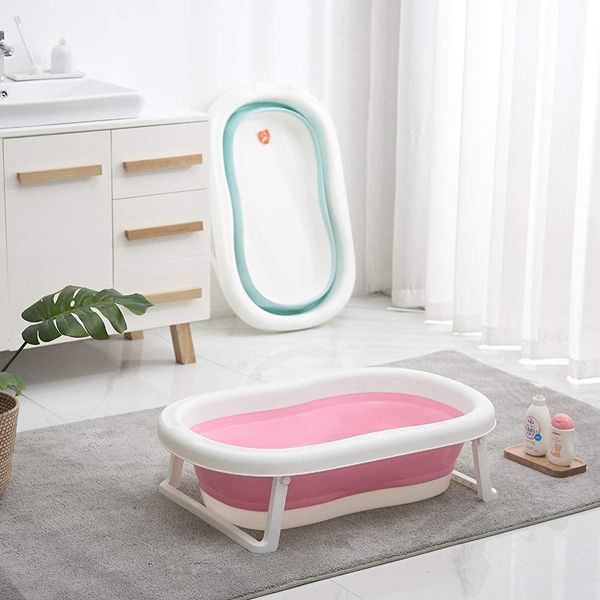 Best Swivel Bath Seat
Safety 1st Swivel Bath Seat
The Safety 1st Swivel Bath Seat is perfect from 6 months or when they can sit unaided. It gives your baby more freedom in the bath to play and splash whilst still keeping them safe and supported. The seat has a comfortable backrest and fun roller ball at the front for entertainment.
Four suction pads keep the seat firmly fixed to the bottom of the bath. The 360o swivel makes it really easy to give your baby a good wash from all angles as well as aiding getting them into and out of the bath as smoothly as possible.
Reveiwers on Amazon are happy with their purchase:
"Brought for my son who was little scared of water, he now he loves bath time"
and
"Great and makes bath time that much more enjoyable not wishing for extra pairs of arms. The suction cups at the bottom hold on great so no worry of it moving."
Need more stuff for bath time? Take a look at our top 10 list of baby bathing products for fun and safe bath times.