Buying the best 3-in-1 pram on the market in 2018 can mean poring over review after review to find the most useful features and best price. A functional 3-in-1 is the most value for money you can possibly find in a travel system pram, so don't settle for anything less than the best the UK has to offer.
Our helpful review of the best 3-in-1 prams for 2018 will help you narrow down your choices and make sure you and your baby are happy with your choice for years to come; not only for the style and comfort but also for the safety and durability of the system that you eventually settle on.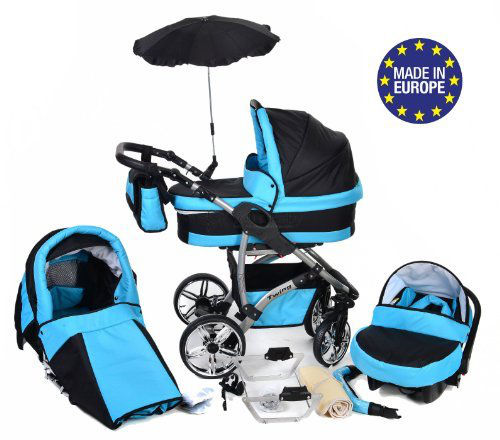 The Twing 3-in-1 Travel system is the ultimate carrycot, car seat, pushchair and set of travel accessories all in one colour coordinated set. The Twing system grows with your baby and includes a complete pram for newborns that converts up to pushchair for infants. The Twing 3-in-1 travel system is so comprehensive; it even includes a rain protection shield, mosquito net, changing mat and removable bottle holder.
A great gift for new parents, the Twing 3-in-1 is suitable from birth on up as your baby grows. The easy, quick folding system makes for compact storage and families on the go. The 360-degree swivel front wheels make for a smooth, even ride but can be locked for stability when necessary on uneven surfaces. A one step brake system makes it easy to take the Twing 3-in-1 to events and festivals.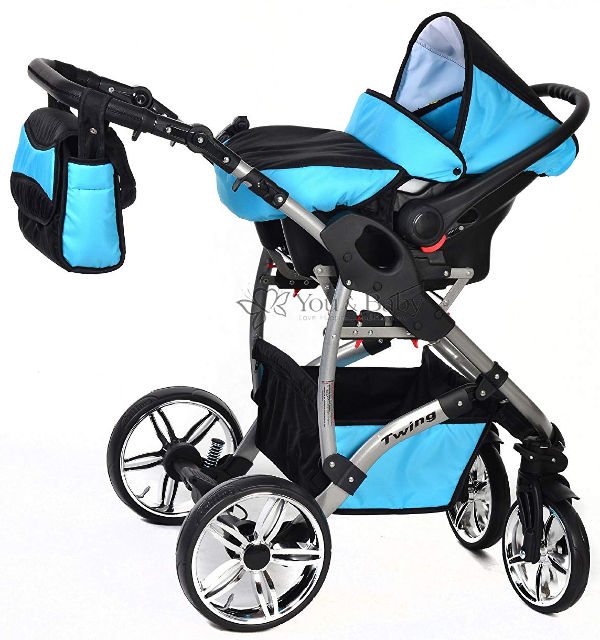 Remove the reversible carrycot and use the comfortable handle to bring baby along; it only weighs 6 kg and includes see-saw action and full cover canopy. The car seat is rated for children up to 10 kg and includes a removable foot cover and see saw function as well. The pushchair has a removable and reversible seat with leg cover, 5-point safety harness and adjustable back and leg rests that can even be positioned to lie flat.
Weighing in at only 14 kg total, the Twing 3-in-1 travel system measures 90 x 61 x 28 cm and complies with European Safety Norm ECE 44-4 and European Safety Standards PN-EN 1888: 2004 General.
Sturdy steel and aluminium construction, fully adjustable and ergonomic, the Twing 3-in-1 has solid wheels that require no air pump and won't puncture.
Just look at all these fantastic reviews of the Twing 3-in-1 travel system:
"The wheels are perfect for any surface and the steering is brilliant and so is the brake. I love the colour and the comfortable handle."
"Absolutely everything we needed all in one, like magic. Really easy to use and lovely to bring along anywhere."
"What a great value; plenty of room to grow with all accessories included. What more could you possible need? This is a fantastic travel set, the best bar none!"
[amazon box="B00B7PONLE"]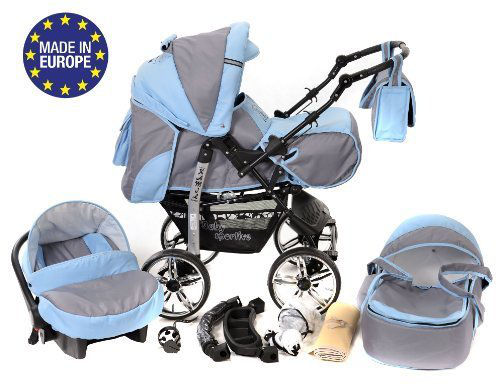 Savvy shoppers know that a bargain isn't a bargain if it doesn't meet all your needs. Fortunately, the Classic 3-in-1 Travel system has every accessory and function you could possibly want and all at a great price.
Convertible from pram to pushchair and suitable from birth on up, the Classic 3-in-1 Pram features weather resistant materials and full adjustment of the seat. Full accessories are included such as the rain cover, mosquito net, removable bottle holder, changing mat and removable tray. The Classic 3-in-1 also includes a generous shopping basket below the pram and a removable accessory bag on the ergonomic handle.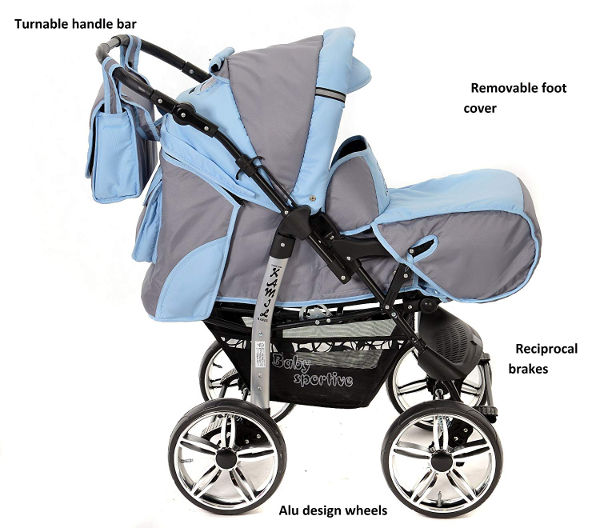 The Classic 3-in-1 Travel System weighs 14 kg and measures 99 x 60 x 54 cm; it folds down easily and fits in most car boots and is available in a variety of colours. Front or rear facing with static wheels, soft lining, ventilation window and reflective elements for safety.
Here are just a few of the glowing reviews for the Classic 3-in-1 pram system:
"Excellent value for money; well worth every penny, there wasn't another thing I needed for travel."
"Very sturdy and stylish; everything matches!"
"It's not too good to be true; this travel set really has everything you could possibly want and more than I expected."
[amazon box="B00A8XX812″]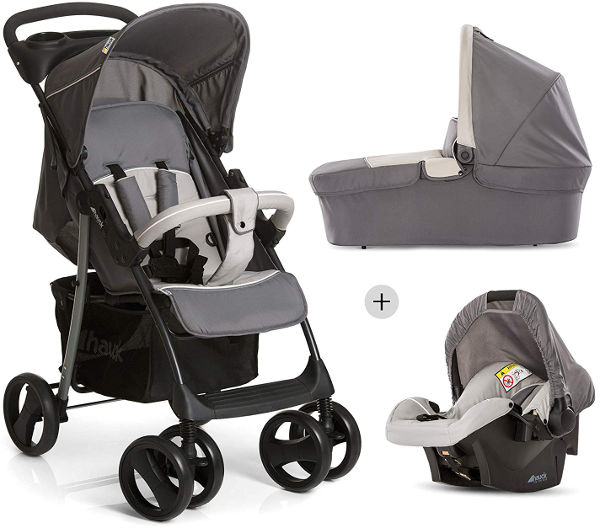 Hauck is a super popular pram and pushchair manufacturer as it always delivers versatile products that are well built and designed and are also available at a really reasonable price point. The Hauck Shopper SLX Trio set is no exception to this.
The full set comes with a stroller, carrycot, car seat and the all-important raincover so you will be able to use the system straight from birth with the carrycot or car seat attached to the stroller frame and then convert to full stroller when your baby is bigger. All pieces are easy to change with their Easy-Fix System to make the transformation from carrycot to car seat simple.
Both back and footrest of the stroller are adjustable to get the perfect position for your little one. Using the car seat and chassis makes the set a perfect shopper system for short trips to the shops when you're using the car. The carrycot is perfect for longer walks and naps during the day.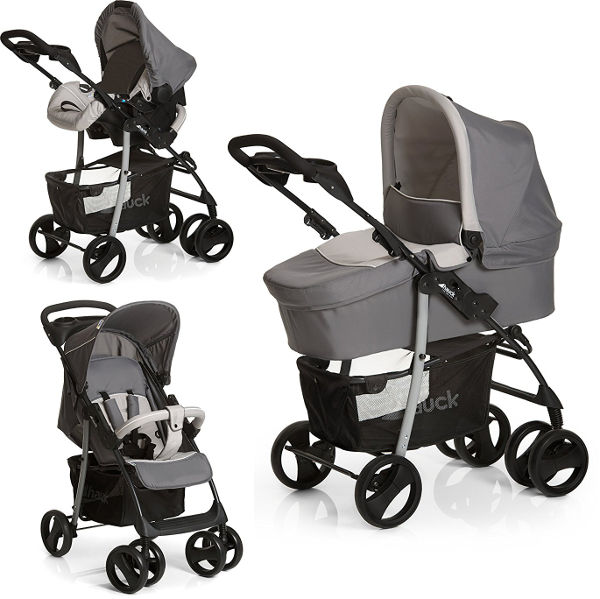 An extra large basket for any purchases or the changing bag and cup holder makes the full set a brilliant buy. The full set weighs 18.4 kg and measures 84 x 52 x 107 cm.
Don't just take our word for it, here's some of the fantastic reviews customers have left on Amazon:
"I bought this travel system for my baby about 5 months ago. He's is 3 months old and has used each part of the set already so I can honestly say I love the whole set! It's so easy to assemble and the frame fits in the boot of my micra with room for changing bag and a couple of shopping bags too."
"Its easy to build and overall a great buy. Not to mention great for the price."
"Very versatile; easy to manouvre; lightweight but sturdy; fits in small cars and through small doorways. The matress has a really well designed cover: zipped and easy to remove and wash."
[amazon box="B015D428UC"]
Best 3 in 1 Prams Round-Up
It's very important when shopping for and choosing the best 3-in-1 pram, to make sure it offers everything you and your baby could want or need so that you get the most value for money. A pram with carrycot for your newborn with car seat and pushchair for growing babies that are easy to position, change and adjust is an absolute must.
Accessories that enhance the system such as rain bonnets, mosquito netting, bags and baskets are a fantastic way to round out and make the system complete and coordinated. Fortunately, there are three top choices for immediate delivery in the UK and the Twing, Moov or Classic are at the top of the travel system pram list in 2018 for style, functionality and versatility as well as value for money.