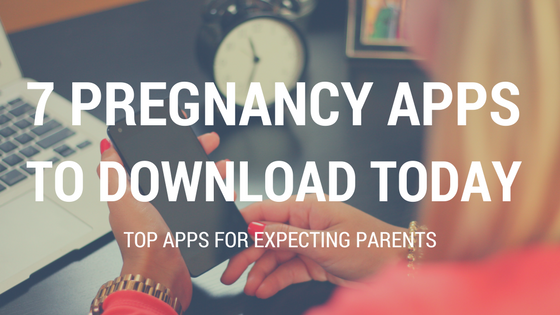 When you're pregnant, it's good to have access to as much support and information as possible. However, in the early hours of the morning, you may not be able to reach out to your doctor to quiz them about an issue or question that has been bugging you.
Luckily, if you own a smartphone or device, you can download trust-worthy apps to guide you through all three of your trimesters. And whether you're worried about your baby's development or what you're going to name your child, technology can go a long way to help and inspire you.
We've rounded up some of our top apps to assist you and your partner during your pregnancy.
1. Pregnancy+
With Pregnancy+ you can view beautiful and interactive images, visualising your baby's size and development each week of your pregnancy. As well as daily information about your body and baby, this app will also guide you through appropriate diet and exercise schemes. Mother's can track and log their weight throughout all three trimesters, as well as pencil in appointments and scans using the personal diary. Come the big day, you even can use this app to time your contractions.
Pregnancy+ also offers parents 1000s of baby name ideas and space for you to note down that important baby shopping list. Not just for mums, the app can be used and personalised for other family members who want to join you on this important and special journey.
Moreover, Pregnancy+ is absolutely free and is available to download on both Apple and Android. 
2. The Bump Pregnancy Tracker
Throughout your pregnancy you may have a lot of questions:
'Is this normal?' or 'Is this safe?'.
With The Bump Pregnancy Tracker you can read award-winning articles about symptoms and development, as well as track how big your baby is (usually measured in fruit). You can also get your questions answered in real-time by a team of experts and doctors, as well as mums in your position.
This mobile application can be downloaded onto both from the App Store and Google Play. 
3. Baby Names by Bounty
Choosing the perfect baby name can be tricky, especially when Dad wants to have his say too. This app has a huge database of names, compiled from their own pack distributors as well as several hospitals. You can view this year's top baby names, as well as the most popular ones in your local area.
On top of this, search meanings behind the names. Mums and dads can search names by origin, syllables and first letter – ideal if you want to avoid giving your child awkward initials! For those who already have kids, or are thinking of having more, you can even find complementary sibling names.
Baby Names by Bounty is only available on iOS. 
4. Pregnancy exercises and Pregnacise 
As we discussed in last week's post, keeping fit and healthy during your pregnancy is important. With this app, you can discover new ways to stay active and strong throughout all three trimesters. From yoga to core strength exercises, this app has you covered.
For, Apple users, check out Pregnacise. This app gives you a complete guide, devised by expert Natasha Brown, to exercising whilst pregnant. 
5. Pregnancy Nutrition Guidelines
On top of staying active during your pregnancy, it's also important to eat the right things. Famously known as 'eating for two', your diet whilst pregnant will change from your usual one. With this app, you can be safe in the knowledge that you're getting the right nutrition for you and for your growing baby. Included with the app, is a list of foods to avoid during your pregnancy, as well as recipes for mums-to-be and other diet and exercise tips.
You can download this information onto both Apple and Android phones and devices. 
6. Flo Period & Ovulation Tracker
If you're trying to get pregnant, keeping up to date with your own body and menstrual cycle is imperative. Flo Period & Ovulation Tracker will calculate and predict your cycles, ovulation and fertile days. This means that you can plan your pregnancy and have a higher chance of getting pregnant.
Flo is free to download onto both Apple and Android devices. 
7. Giggly
If you love sharing your life on social media, you'll be wanting to update your friends and family on your pregnancy journey. With Giggly, mums can embellish their gorgeous bump photos with adorable captions, milestone announcements, attractive filters and fun graphics. The app works as a virtual baby scrapbook, but you can, of course, save your creations and share them on other platforms, as well as printing them off for the baby album.
Available on Apple, Giggly is free to download, with some In-App purchases. 
Have you got any app recommendations? Let us know in the comments below or on Twitter and Facebook.