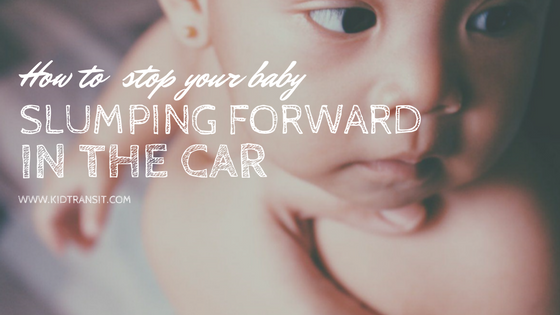 Is your baby asleep as soon as your pull off your driveway? There's just something about the gentle vibration of the engine that instantly puts children to sleep. This is great news for parents who might want a bit of peace and quiet, but…
Your baby can often look uncomfortable and awkward when their head flops forward during a nap. Although this is probably not a concern medically, we worrying about them being in pain when they wake up. On top of this, they often jerk their heads when the car turns a sharp corner or suddenly comes to a stop. This can't be good for their necks, can it?
A great way to avoid this issue is by using a small support. Pack a small pillow or cushion and encourage your child to use it if they want to nap. In a pinch? Roll up a soft jumper or cardigan and let them rest on that.
Whilst these solutions are great, makeshift supports can often slip down during your drive. You may have to reach back into the back seat to adjust your child's headrest. If you're the driver, this isn't definitely isn't ideal.
Luckily, there are several fantastic products on the market that offer a practical solution to this everyday problem. We've made a list of the bestsellers, and have noted down the pros and cons of each design.
The LCP Kids Baby Neck Support is a comfortable way of supporting your child's neck. The soft fabric is also machine washable, meaning that you can pop it in the wash after sticky fingers and snotty noses have been in contact with it. It's ideal for kids of all ages as it can be used with or without a car seat as it simply wraps around the back of the neck to support it. Colour choices for this product include blue, black, silver and red.
PROS
Versatile for any age.

Machine washable.

Comfortable and practical.
CONS
Offers little support if your baby's head rolls directly forward.

At £13.99, it is the second most expensive on our list.
This head support claims to relieve neck strain by preventing your baby's head from falling forward. Made from cotton cloth, the headband-like strip fastens across the front of any car seat so that they can't slump forward during a lengthy car drive.
PROS
Prevents your baby from slumping forward.

Several funky colour options.

Only £2.39, so it's worth a shot.
CONS
Can only be used on car seats.

Doesn't provide any comfort or support for the neck.
The SANDINI SleepFix Baby support allows any baby in a car seat, pram or baby carrier to rest peacefully when you're on the go. Suitable for babies from day one to 18 months, the support wraps around the baby's neck giving it full support.
PROS
Wraps fully around the neck to prevent stiffness, as well as slumping forward.

Washer and dryer proof.

Provides comfort and support.

Adaptable for prams, car seats and baby carriers.
CONS
At £29.95, it's the most expensive support on our list.

Can only be used up until 18 months of age.  
This support can fit inside any car seat or pram. Its unique design allows your baby to sleep comfortably whilst feeling supported. The soft material is padded and cradles the child's head to avoid nasty jolts from bumps or abrupt stops.
PROS
Fits any type of carrier or stroller.

Provides a comfortable ride for your baby.

Only £9.99.
CONS
Doesn't necessarily prevent your baby's head from flopping forward.

Can only be used with a baby carrier or seat.
Do you have any tips or product recommendations for solving this problem? Let us know in the comments or on Twitter and Facebook.