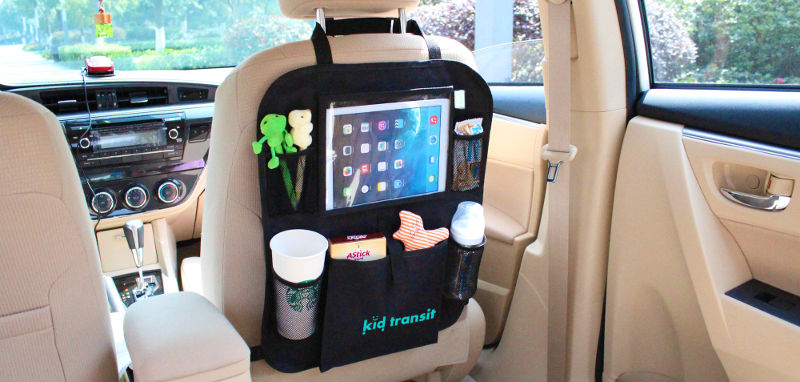 Keep your car neat and tidy with the Kid Transit car organiser. The clear plastic pocket is perfect for holding your tablet and is designed to hold a 9.7″ iPad snuggly. The dimensions of the clear pocket are: 24.5cm x 19cm (9.7″ x 7.5″).
This proved super useful on a long car journey with our toddler. We had downloaded a few episodes of some programs our toddler enjoys onto our I-pad using the Amazon app and then placed it in the ipad holder ready to go once our little had had enough of being bored in the back!

He could happily watch a couple episodes and he thought it was such a special treat to have his very own tv in the back! The additional pockets for things like snacks and drinks were also great.
This is brilliant 🙂
Perfect – did exactly as advertised and expected.
Great idea, easy to fit! Just need to persuade her to use it now rather than the entire rear seat!!.
Read more reviews here on Amazon.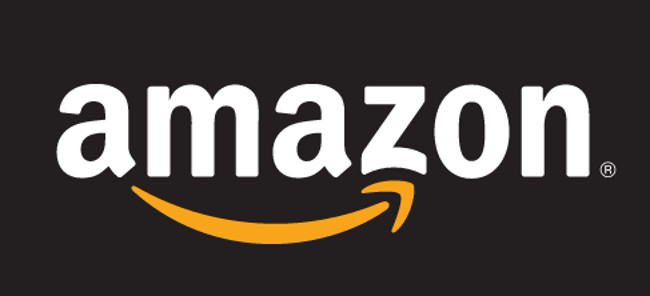 Specifications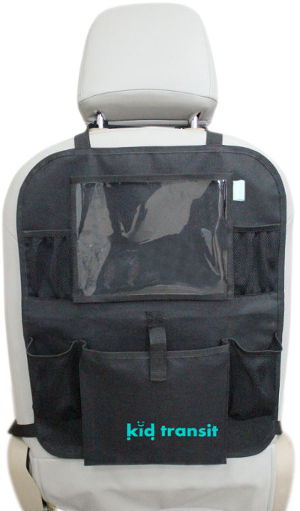 The car organiser is 43cm (width) x 53cm (height) and fixes to the back of either the drivers seat or front passengers seat. There is a strap that fastens around the head rest and also a bottom strap that loops around the back of the seat. Both straps are adjustable and can be tightened or loosened to fit different seat sizes and to raise or lower the organsier on the back of the seat.
The top clear plastic pocket is 24.5cm W x 19cm H (9.7″ x 7.5″) and a 9.7″ iPad fits snug (without a case). The pocket can also be used to hold other items such as wipes and snacks.
There are 4 x smaller pockets (2 x [8cm W x 11cm H] and 2 x [8cm W x 14cm H]) and also a large bottom pocket (24cm W x 22cm H) that can hold drinks, snacks, wipes, toys or anything else you want to carry in your car.
---
Exclusively sold on Amazon