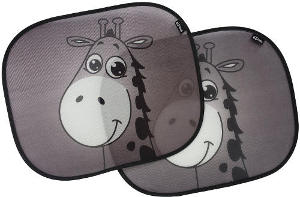 The EZ-Bugz back window sun blockers are super easy to use, stops hot and harmful UV sun rays blasting your kids face, and to top it off it comes with a cool giraffe design.
The sun shades pop open from a small size and are made from high quality materials. The back window car sun blockers easily attach to your car window using two clear suction cups, and once they are on they stay on (no matter how hard you slam your car door). Saying this they are very easy to remove if you want to take them off or reposition them.
The sun shades are very easy to store, they are lightweight and have a spring wire design that easily twists and folds away. They will fit most car windows and are a standard 17″ x 14″ size. Also, it's a mesh design that ensures it will not block your view as you can still see through it.
If that is not enough, EZ-Bugz offer a lifetime (no quibbles) money back guarantee.
Click here to buy the EZ-Bugz car sun shades from Amazon.


Customer reviews:
Sunshades a very effective in keeping out the sun and my son loves playing with the giraffe motif on them. – Amazon review.
They fit easily and securely onto our back windows (BMW X1) and do the job of blocking out the sun nicely. – Amazon review
I love, love these sun shades. Not only do they look cute but they sucker to a car window easily and more importantly, they keep the sun off of the little ones. – Amazon review
* Note: Kid Transit does not manufacture this product. All information on this page is for guidance only.