One of the essential items that you need when you become a parent is a bag to take around all the things your baby needs when you go out. A lot of these things are all to do with nappy changing and so a dedicated baby changing bag is a good idea. Don't worry if you think all you can get is a boring, utilitarian or twee nappy bag, there are some really trendy baby changing bags that you can buy now. We are going to take a look at some of the best baby changing bags available at a range of price points so there should be one to suit whatever budget you are on.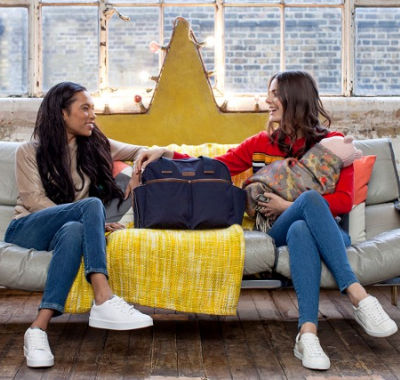 What should I look for in a baby changing bag?
If you're looking to buy your first nappy changing bag then these are some of the things you should look out for:
Lots of room as you will be carrying nappies, wipes, spare clothes etc.
Dedicated pockets for particular items so everything is to hand
Bottle or drink holder pockets, insulated ones for keeping drinks cool or warm are a bonus
Straps that will easily hook over your pram or pushchair or attachments that mean you can hook the bag on
Comfortable handles for when you carry the bag yourself
Think about a backpack style changing bag if you use a baby carrier so you can be handsfree
Some bags come with a messy bag which is just a waterproof bag for dirty clothes. You can easily use a ziploc bag instead so don't be drawn in just for this.
However, a little fold up changing mat included can be useful for changing your baby when there are no dedicated facilities.
Zipped pockets for your things such as a purse, phone and keys if you are going to use the nappy bag for your essentials as well.
Water or showerproof material and easily wipeable insides in case of spillages
The trendy baby changing bags that we like
Here's a quick round-up of a few of the best baby nappy bags that we like this month.
Orleans Adventure Bag from Not Before Tea
This nappy bag has only just become available on the high street so you will be one of the first to get the Adventure Bag from British firm Not Before Tea in this modern pattern. There is a lovely story behind how the company came about- you can find out more on their website.
The Orleans Adventure Bag is for those of you who want space, space, and more space in your nappy bag! This is great for when you have a number of children still in nappies or you've just had twins and need at least two of everything!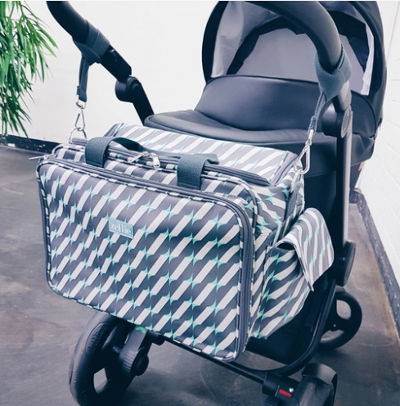 The modern geometric pattern and how easily the bag sits on the pram is what drew my eye immediately. Taking a closer look revealed that this nappy bag has a front flip down pocket completely dedicated to the baby changing so all your nappies, wipes and creams can be held separately and in easy reach.
End pockets take care of drinks and your bits and bobs, and another outer pocket can hold any messy clothes. The main compartment is large enough for a blanket, coat or wellies for bigger kids.
This bag really is the business if you have a lot of stuff to carry around and the wipe clean material is perfect for a relaxed attitude to spills!
Mia Tui Emma Baby Changing Bag
This baby bag brand is recommended a lot among bloggers and parenting mags and I can totally see why. This bag especially is just like a fashionable tote bag that any woman would like to have but is actually set up inside as a useful changing bag.
If this is the type of look you want e.g. pretending you don't have a nappy bag at all, then give this brand a go. The Emma comes with a number of accessories including a travel changing mat, buggy clips so you can attach it to every style of pram and pushchair, and a removable clutch bag in the same style to place your things in.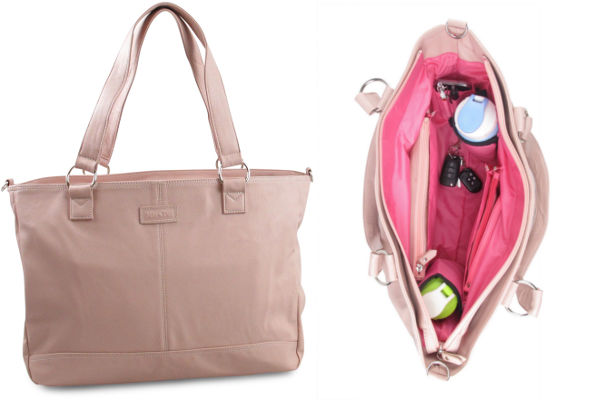 The bottle holders are insulated and there is enough space inside for all the changing things that you will need. The size isn't massive so you can't carry around loads of extras, however this also means that the Emma changing bag will be easy to carry around on your shoulder and you won't struggle to find things at the bottom.
I love the blush pink finish (very on trend) and the fabric is easy wipe so you can easily keep it clean and neat.
Babymel Evie Changing Bag
Babymel make a number of different changing bags that are designed with usability and style in mind. The one we like the best at Kid Transit is the Evie changing bag. It has a simple design with a really wide opening main compartment making it a breeze to move things in and out of the bag even when you are in a hurry.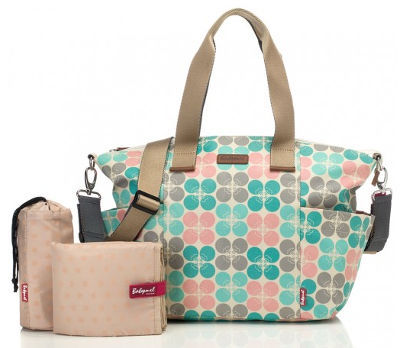 The Evie comes in a number of different finishes so you can choose a colour or pattern that coordinates best with your style or your pram. The included changing mat is of decent quality with a bit of padding and can be thrown in the washing machine (not always the case with changing mats).
There are five different pockets within the bag so you can organise all your bits easily and one pocket is zipped so you can put things like your phone or keys in there. The dedicated bottle holder is insulated and has a drawstring close so should maintain temperature for around four hours.
Products from Amazon.com
‹
›
Skip Hop Forma Backpack Changing Bag
Skip Hop are a great brand if you want trendy and modern looking baby products. They were created in 2003 to fill a void they saw in the market for attractive as well as practical changing bags for parents. With all those years of development and product experience behind them, there are a number of great Skip Hop nappy bags now available.
The Kid Transit recommend goes to their backpack style changing bag called Forma. It is a brilliant option if you want the bag to be unisex and you are more likely to be carrying it around then slinging it over a pram or pushchair.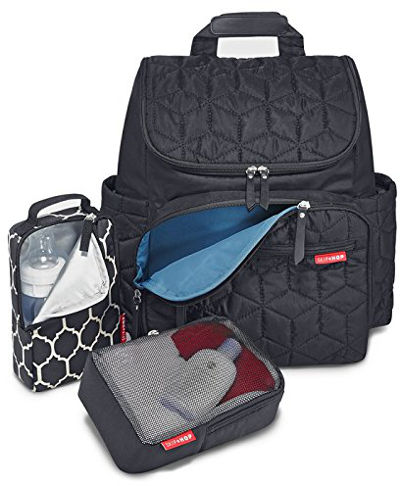 The Forma nappy bag has a padded design that adds an extra edge to what would otherwise be a plain black rucksack. The main bag easily opens with double zips to fit a decent amount of clothes and nappies. With elasticated pockets inside everything can be neatly corralled for easy reach. The front pocket is perfectly designed to fit two storage pouches. One is for all the changing essentials and the other is insulated for bottles and food.
The included changing mat is padded for better comfort and the pocket it fits in can fit a tablet or laptop up to 15″ so the bag can double as a work bag as well. The bag comes with stroller straps so you can put it onto your pram or pushchair with little fuss.
Products from Amazon.com
‹
›
Trendy changing bags: final thoughts
Hope you've found a stylish nappy bag from our suggestions or just enjoyed taking a look at some of the new options that are available for great looking (and practical) baby gear. If your budget stretches a little bit further how about taking a look at the designer changing bag article we did recently?
Any great tips for changing bag brands? Let us know in the comments below.