When you have children you have to let a few things go in life: lie-ins on a Saturday morning, control of the TV remote, and a perfectly clean and tidy house, are some of the main ones that spring to mind. However, you don't have to completely ruin your car upholstery with messy shoes and dents from child car seats. Give the best car seat protectors from Kid Transit a go and see how much more you relax about muddy shoes and heavy booster seats being in the back of your car!
Here's a quick video of the Kid Transit car seat protectors:
Car Seat Protectors and kick mats: what are the benefits?
We've already touched on a couple of the major benefits of using a car seat protector and kick mat. The main one is that they will protect your upholstery from stains, dents and tears from either muddy shoes, food spills, or heavy children' car seats.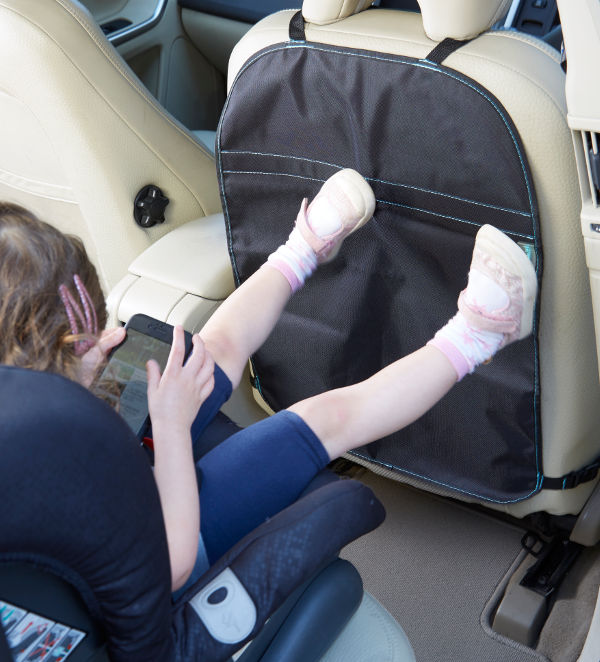 Protect your car upholstery
Heavy duty children's car seats are a must for carrying your baby and are used in one form or another until your child is 12 years old or is 135 cm tall (whichever comes first). This is a long time of wear and tear on your car upholstery. If you're likely to change your car in that time, having large dents or tears from a car seat could affect re-sale value and it could be a hassle or expensive to mend any problems.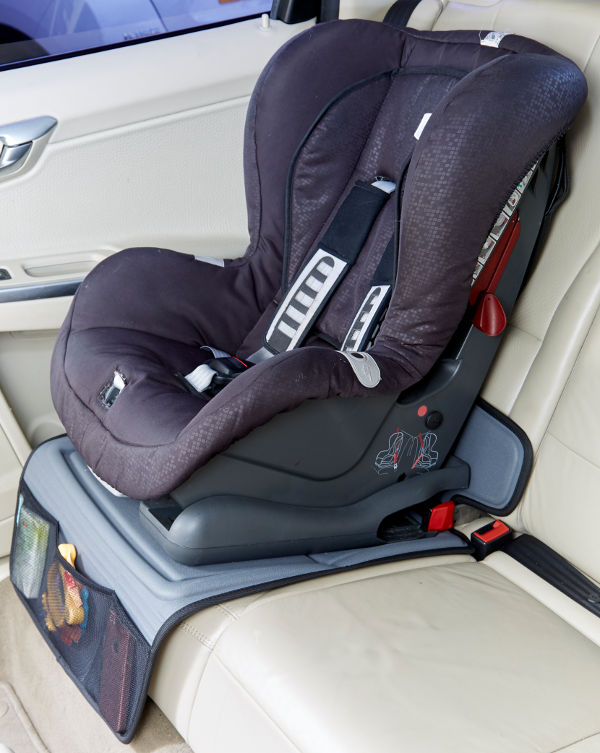 The Kid Transit heavy duty car seat protector is developed to target the problem areas from child car seats and stop dents and tears developing. Made of rigid, moulded plastic this protector is the one we have under our daughters car seat and it is perfect for leaving the back seat dent free.
Organise your back seat
If you buy our car seat protector and kick mat bundle you can get both protection for your front car seat from your kids shoes and protection beneath your child's car seat from dents and tears. The under car seat protector also has some handy storage pockets for snacks, toys or books to keep your car that little bit tidier.
You can easily pair your heavy duty car seat protector with one of our car storage organisers to protect both your front and back seats from mess.
What do the car seat protectors look like?
The front and back car seat protectors (sold in a bundle) are made of strong material that is wipeable and padded in the areas where the car seat will be in contact. The protectors have a stylish contrast stitch detail in green that will suit any car design.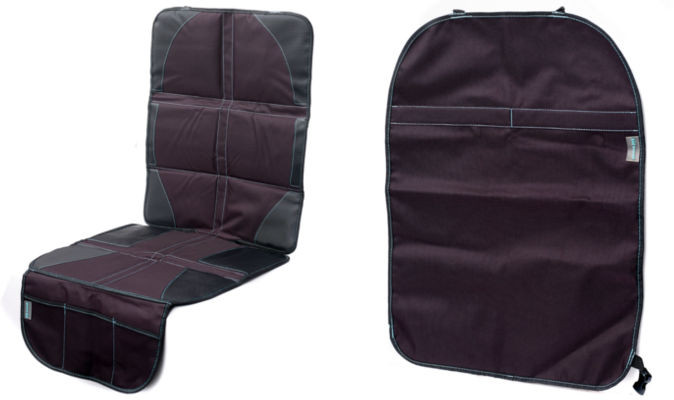 The heavy duty car seat protector is made of strong and robust moulded plastic and has a grey finish to blend in with your car seat. This surface is very easy to wipe if your child spills any drinks or food. The storage pockets under the seat are made of strong mesh.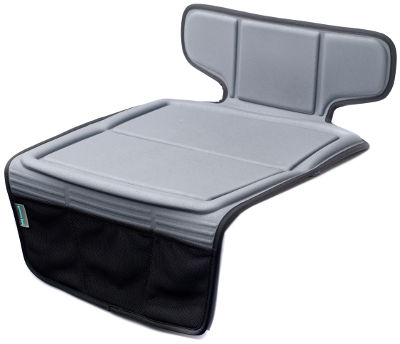 What do customers say?
Since we launched our seat protectors they have been proving really popular and comments we have so far include:
"extremely robust and very well made bulletproof protection for car seats love it"
"Great item to protect the leather seats in my new car. Great Value for money"
"Proper sturdy, proper protection no marks on seats and some storage awesome recommended…"
"Exactly what I wanted. Good quality product"
How about giving our car seat protectors a try for yourself?
Kid Transit offer a 100% refund policy if you are unhappy about anything or even if you change your mind over the purchase. Just get in touch with us with any questions or queries.