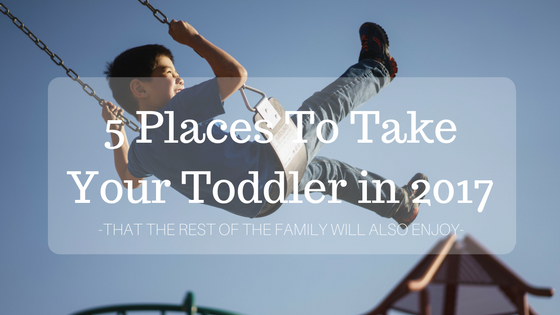 You may already be starting to wonder what the New Year will bring. With the UK being jam-packed full of toddler-friendly activities and places, there's so much to choose from when it comes to planning a family trip. We've rounded up our favourite spots that the whole family will enjoy.
With a huge model of a diplodocus greeting you as you walk through the entrance, it's hard not to feel inspired at the Natural History Museum. However, if you've got your heart set on seeing 'Dippy', make sure you go before summer 2017 when he'll retire and an equally impressive blue whale skeleton will take his place. In short, this museum is the king of all natural history collections, with beautiful surroundings and intriguing exhibits. Spy dinosaur eggs, Neanderthal skulls and even meteors. For toddlers, head to the Dinosaur gallery to catch a glimpse of the animatronic T-Rex and the Earth Hall for a thrilling simulation of an earthquake.
The Natural History Museum is open daily from 10:00am-17:50. Admission is completely free, but there will be a charge for some of the temporary exhibitions.  www.nhm.ac.uk.
For an alternative, yet charming adventure park, visit BeWILDerwood. This 50-acre magical space is filled with treehouses, enchanting characters and mysterious creatures. Explore mazes, trail the tunnels, whiz around on high wires and slide down slopes. There's something here for the whole family, and grown-ups can play along too. On top of all this, there are exciting theme days and events throughout the year, including parades, trails and toddler and baby groups.
BeWILDerwood is open from 10am to 4pm every day from Saturday 25 March until Sunday 1 October and on select days for the rest of the year. Ticket prices are based on age and height and start from £8.50, with those under 92cm going free. www.bewilderwood.co.uk.
If your kids (or yourself) are Potterheads, this is the place to take them in 2017. Discover the secrets behind the magical films and books as you're guided through two soundstages and collection of original sets, animatronic creatures, wizarding props and costumes. Due to the educational nature of this exhibition, we recommend this tour to anyone over the age of 7. This way you can keep the magic alive, whilst still teaching them about special effects and filmmaking.
Tickets for The Making of Harry Potter for children are £27, whilst for adults, it's £35. www.wbstudiotour.co.uk.
Equipped with several gentle rides, an indoor play zone and splash area, Pepper Pig World is ideal for young children under the age of 6. Ride Miss Rabbit's Helicopter and hop on a hot air balloon with Pepper. Afterwards, head to Pepper's Toy Shop where you can choose from a wide selection of games and collectables.
In the meantime, Paultons has more than 60 rides and rollercoasters, suited to the older children and grown-ups. In May 2017, the park is set to launch their new Lost Kingdom, which will take you back to the awe-inspiring Jurassic period.
The park is open fully from Sunday 12 February 2017. Please see their website for more opening times: www.paultonspark.co.uk. Tickets start from £20.75.
Take your tykes to the world's oldest scientific zoo. Located in Regent's Park, London, the exciting space is home to 750 species of animals. 2016 saw the addition of Land of the Lions, a new habitat for a group of endangered Asiatic lions. There are plenty of areas to explore and children of all ages can take part in 'experiences' and activities.
London Zoo is open every day of the year, except Christmas Day. Tickets start from £17.50 for children, whilst under 3s go free. www.zsl.org.
What are your plans for 2017? Let us know in the comments below on Twitter and Facebook. And don't forget to tag us in your photos on Instagram.