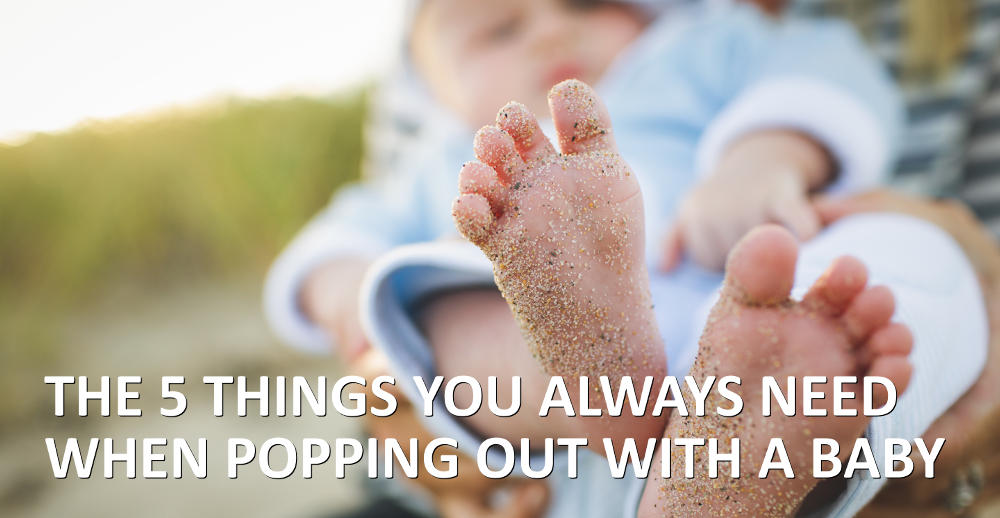 Once upon a time, in your pre-baby era, your checklist before stepping outside the home included your wallet, mobile phone, keys, and sunglasses. Upon the arrival of the new family member, that checklist grew. Now, you have more to think about before you pop out with your little one.
What will you need to take with you when you go for a quick walk, to the shops, or even around a friend's house with your baby? Here is a list of the essentials that will help you release some stress and enjoy your short outing with infant or toddler!

1. Nappies
There should be at least 3-4 of them because little babies need quite a few changes. So, if you are planning to be outside the home for a couple of hours, make sure you have as many as you would usually need for that amount of time if you were at home. Needless to say, nappies and wipes go hand-in-hand so keeping a small box of wipes will save your day. It is amazing what a mess little buttons can make!
2. Changing Mat
It goes without a saying that changing pads are must-haves. No mum (or dad) wants to put their baby down for a nappy change without having one when out and about. All the germs that lurk in places such as benches and tiled toilet floors can put the sensitive immune system of the baby at risk. So, why risk it? A (travel) changing mat comes handy in those cases. Now, if it also has a water-resistant finish that will make a cleanup super-easy, then you've hit the jackpot!
3. Bottles
Whether you are nursing or using formula, you need to make sure you have packed enough bottles of breast milk or with dry formula in them. A hungry baby crying his/her eyes out for his/her meal is not something you (and others around you) want to experience!
Top tip: For older babies, you can replace bottles with a snack they love. In short, having some food with you when out with a baby is critical and will contribute to a great time for everyone involved.
4. Favourite Toy
Babies can get upset by the smallest of things. Being around too many people or just feeling tired could make them feel uncomfortable. And, since they have no other way to express their emotions and needs, they cry. To prevent meltdowns, always bring a toy along. It should be something that they can easily hold, such as a rattle, a small stuffed animal or even a receiving blanket they love. Anything that will help console them, in case of an emergency.
Top tip: If your baby uses a dummy, it should be wise to also throw one in your bag, in case nothing else works.
5. Set of Clothes
Since you never know when you will be called to deal with a mess that will be a job fit for a sanitation crew, it's best to be prepared. Pack socks, undershirt, pants, and a shirt, as well as a bib to handle all the drooling when teething.
Now that you know what to take when out with your baby, nothing stops you from having a great time together! Enjoy your outing!
Got any top tips of your own? Please leave a comment below and help other parents out.