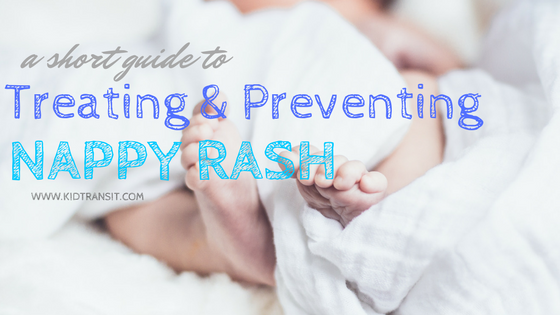 Nappy rash is a common problem in babies is a very common issue, especially when they're aged nine – twelve months old.
The main cause of the problem is wetness. A baby's bottom, unfortunately, has contact with wee and poo on a daily basis. This is unavoidable. Your baby is especially at risk after a bout of runny poos and diarrhoea because the liquid spreads over a wider area.
Meanwhile, keep your eye out for signs of allergic reactions to products, such as creams, wipes, cleansers and nappies. This can cause nasty rashes too.
How can I help to prevent nappy rash?
If the cause of nappy rash is mainly wetness, the best defence is a dry bottom.
A good way to do this is to change your baby's nappy regularly and as soon as possible after they've done a poo or a wee. Whilst you're changing them, be sure to clean the area thoroughly, especially after a poo.
Make sure that you always have a travel changing mat and supplies with you when you're out and about. We wrote a whole post about changing your baby when you're on the go.
Our travel changing mat is lightweight, portable and clips to the side of your pram or changing bag. This makes it perfect for grabbing when your baby needs changing quickly. It also has a detachable bag to store wipes and creams.
Ointments can also be useful to prevent nappy rash. We recommend applying a thin layer of suitable cream to your baby's bottom after each change.
In contrast, steer clear of talcum powder. It will only cause more friction and irritate the skin.
Lastly, make sure that your baby's bottom is well aired. Give them as much nappy-free time as possible, because being sat in a wet nappy is the main cause of the problem.
If you do have to pop them in a nappy, make sure they're fastened loosely so that there's room for air to circulate.
Help, my baby has a nappy rash! How do I treat it?
Don't panic, it usually clears up after 3 to 4 days and nappy rash is pretty simple to heal.
If your baby has nappy rash be sure to keep them clean and dry regularly. Again, make sure you take your supplies and travel changing mat with you when you're out of the house.
When you do cleanse their bottoms, make sure you stick to alcohol-free, fragrance-free solutions and wipes. Afterwards, gently pat the area dry with a clean, soft towel. A thin layer of barrier cream will do wonders. Don't lather it on – a small amount can go a long way to protect the skin from future poos and wees.
Nappy-free time is always good when trying to recover from nappy rash. However, if they do have to wear a nappy, invest in some super-absorbent disposables to limit the amount of wetness that is in contact with your baby's skin.
What if the problem persists?
If the nappy rash doesn't go away after 3 to 4 days, contact your health visitor or doctor. They may prescribe you a stronger cream or even antibiotics, depending on the cause.
Do you have any nappy rash solving tips? Share them in the comments below, or on our Facebook and Twitter pages.