A lot of baby products come in travel versions so you can easily transport things for visits and holidays. One of the products we hadn't seen around were travel baby bouncers until wandering around Mothercare one day we stumbled upon the Take-Along BouncerTM by Tiny Love. If your little one loves their bouncer chair then it's a great idea to have one for your travels that neatly folds up to stash easily in the car.
Want 67 top tips for travelling with kids? Enter your email and it's yours!
Which travel bouncer should I buy?
Here's a look at three of the best travel bouncers that we could find with a quick summary of the different features of each. Hopefully one of them will be just what you were looking for!
I'll start with this one as it was the first one we saw and gave us the idea for the article. Tiny Love is an international company that stick to making great products for the whole journey your baby will be on from birth to walking and beyond.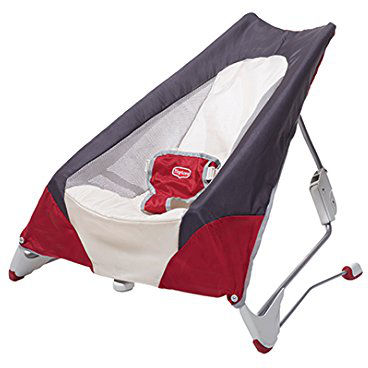 The Take-Along BouncerTM can be used from birth up to 12 months so you should get a lot of wear out of it as babies love being in their bouncer when they're little! As you would expect being a travel product, the bouncer is lightweight (under 3 kg) so you can easily carry your bouncer with you on trips out to friends or even to the park if it's a nice day. The bouncer comes with its own travel bag for easy carrying and also requires no assembly which is always a plus.
Take a look at the video that Tiny Love have made to showcase their baby bouncer:

The Take-Along BouncerTM can be bought from Amazon.
Chicco also do a travel bouncer or at least one that is light and compact enough for you to take along easily on trips away. This bouncer has a bit more padding on the seat than the one by Tiny Love and is foldable with a couple of clicks for carrying.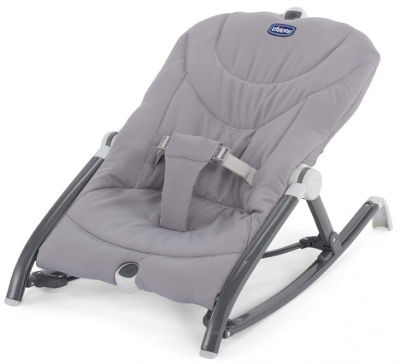 With two modes you can choose whether the bouncer is fixed for when your baby is little or rocking for when they want a little movement to help them sleep. Looking at some of the reviews on Amazon would imply that the rocking is minimal- however, this might really suit your baby. The bouncer also has a number of different height positions that you can set to recline your baby.
Find the Chicco Pocket Relax Baby Bouncer at Amazon.
This compact baby bouncer is fully padded and comes with a handy removable toy arch for your little one to play with. The baby bouncer suits little ones up to 9 kg so until they are about 12 months old. The compact frame and removable items mean the bouncer is quite portable, however, it doesn't fold any smaller or come with a carry bag so more suited to take on holiday instead of out and about during the day.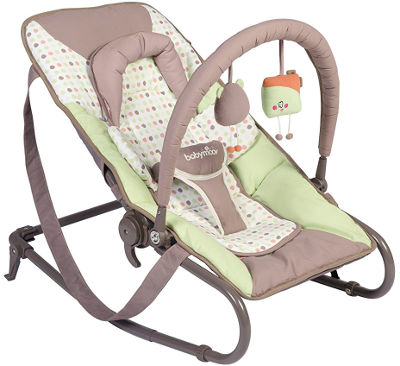 The baby bouncer has a couple of footrest positions as well as a reclining back and a fixed as well as swing position depending on whether your baby would like a bit of a rock. This bouncer does come in a bit cheaper than the other bouncers and it comes with a lifetime warranty if you register the product with babymoov.
Take a look at all the features of the Babymoov Bubble Baby Bouncer over on Amazon.
The best travel baby bouncer: final thoughts
Baby bouncers are great when you want to have your baby sat but not just on the floor. They can have a look around at their environment and you know they are secure if the doorbell goes. You can also bounce them to settle them if they are upset but you need your hands free. To have a travel version means you can go out and about, travel and visit firneds and family with an extra seat for you baby to sit in when you are there.
Give it a go if you plan to travel a lot when your baby is under 12 months.