There is nothing more important that your child's safety, and if you are driving and hear your baby in distress it would be very dangerous to start turning around to see what the problem is. This is why you need the best baby car mirror so you can simply glance up in your rear-view mirror and quickly see your child.
Kids under the age of 15 months are required by law you be in a rear-facing car seat in the back seat of your car ( learn more about this here in a special article). This makes it virtually impossible to see your child without physically pulling over and stopping the car.
This is where the baby car mirror comes in to its own:
There are many different rear facing baby car mirrors on the market, with varying sizes and quality. Here we review the two of the best baby car mirrors for 2017 in the UK, one being a larger design and one being a slightly smaller design.
---
Large baby car mirrors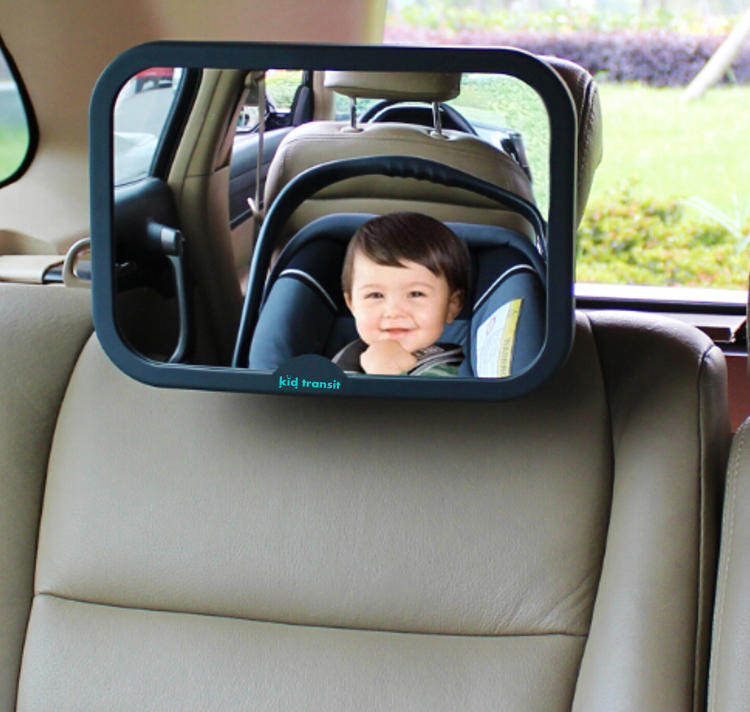 The Kit Transit baby car mirror is a large mirror designed to give you clear and wide view of your child as you drive. The reflective mirror is made from a polished reflective acrylic that makes it 100% shatter-proof, a very important consideration when children are near it. Also, the acrylic makes it much lighter compared to using glass.
The mirror is also convex, meaning it is slightly rounded (i.e. not perfectly flat). There are three main reasons for this: One is that it increases the viewing angle, two is that is creates a clearer reflection since it 'irons out' and bumps in the acrylic, and three is adds extra strength to the mirror. While the acrylic gives a good clear reflection there may be some slight distortion when compared to a perfectly flat glass mirror, particularly near the edges. However, you can still see your child very clearly and the added safety of a non-glass mirror is worth this small effect.
How does the Kid Transit mirror attach to the seat?
There are two sturdy quick-release straps. These straps can wrap around the headrest of your rear seat in different configurations (as shown in the image above), meaning you can fit this mirror to just about every car type (with a head rest of course). The dual-strap system provides a very secure attachment that will remain stable when driving and the mirror will not slip, move, or bounce/judder when driving.
The attachment plate that pushes up against your head rest has a foam padding to ensure no damage is caused to the upholstery, and the main ABS plastic frame is light-weight and made with a soft feel material.
Once in position the Kid Transit baby mirror can be angled to get the perfect view of your baby.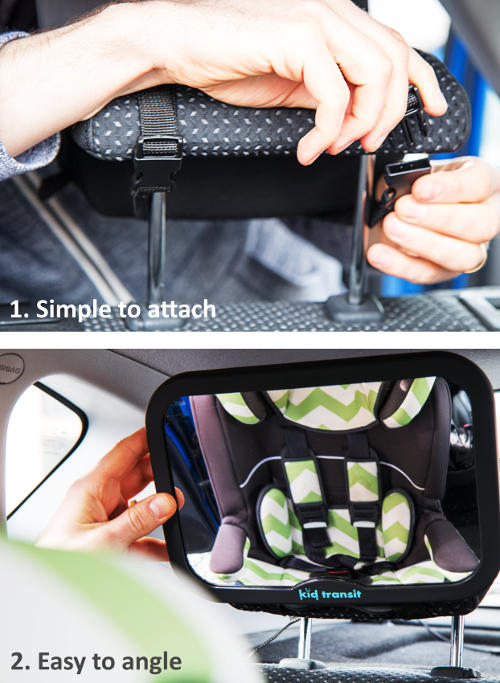 Get more information on the Kid Transit Baby Car Mirror here
---
Small baby car mirrors
Diono Easy View Mirror: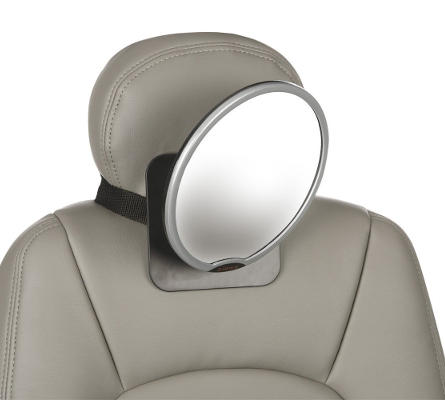 The Diono Easy View Mirror is a smaller baby car mirror and is better suited to those who do not want a large mirror in the back of your car. The mirror measures 7″ in diameter and is a circular design, compared to the rectangular design of the Kid Transit mirror.
The mirror tilts and rotates so you can position it perfectly for viewing you child and comes with a foam back to help protect your upholstery.
One potential issue with the Diono baby mirror is that it only has one strap that attaches it to the rear seat head-rest. While it is secure it may shift and move slightly as your car bumps along the roads.
Head over to Amazon to buy the Diono baby car mirror
---
Summary
Your child's safety is the most important things in the world. So make sure you do not cause an accident on the road by trying to turn around and look at you child when driving. Baby car mirrors are specially designed to help you see you baby while driving, so make sure you but one and avoid a potentially horrendous and unimaginable event.